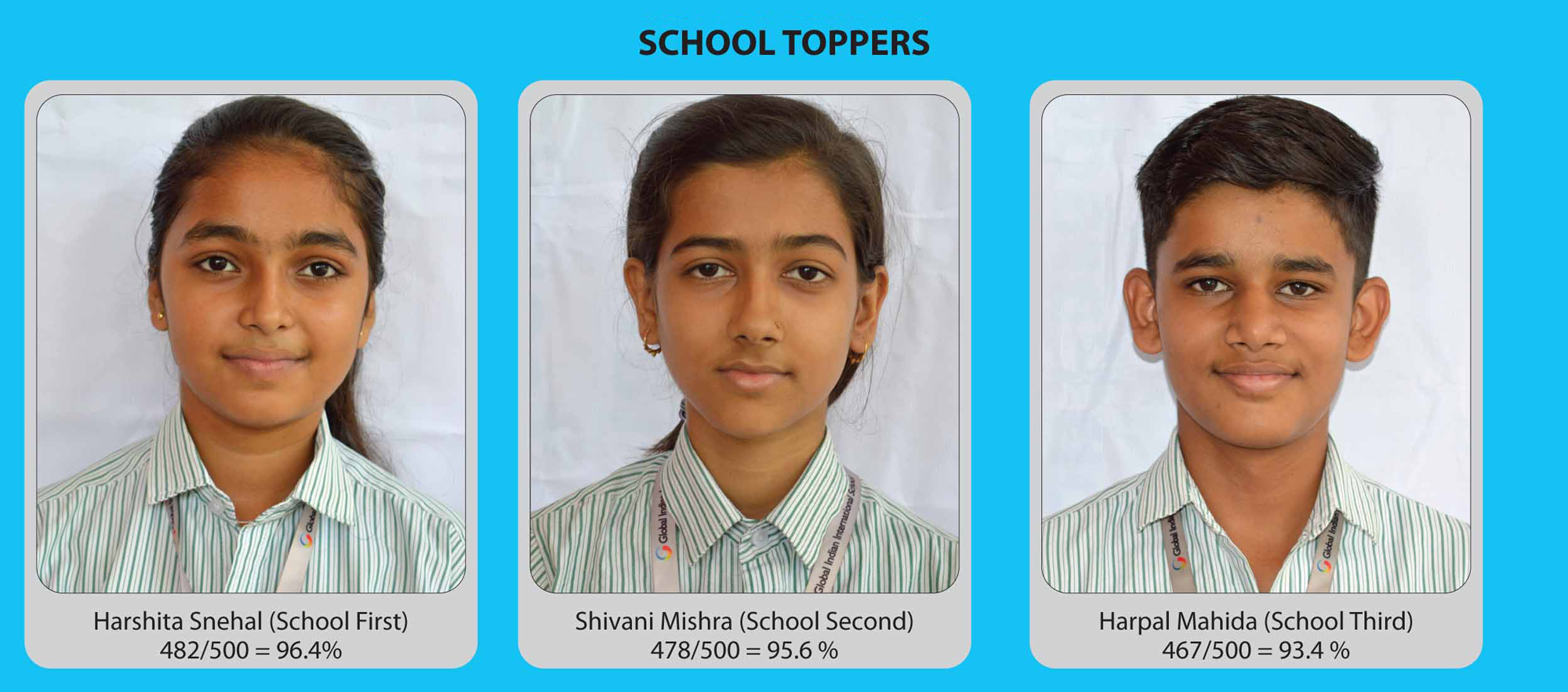 SURAT, 6 MAY, 2019 - Global Indian International School (GIIS), Surat achieved 100% pass percentage in the All India Grade X CBSE Examinations that were held in March, 2019. The result was declared on 6th May, 2019 on the official website of the CBSE.
A total of 53 students gave the exams and passed with outstanding grades; this was the third batch to take the grade X board examinations and has achieved cent percent results.
The school topper Harshita Snehal has scored a whopping aggregate of 96.4% with a perfect 100 in Social Studies and FIT (Fundamentals of IT). Following him are Shivani Mishra and Harpal Mahida with 95.6% and 93.4% respectively.
Keeping with the high quality of education, students of GIIS Surat have performed exceptionally well in all the subjects. Here are the subject toppers of the school:-
| | | |
| --- | --- | --- |
| Subject | Marks/100 | Name |
| English | 97/100 | Harpal Mahida |
| Hindi | 96/100 | Shivani Mishra |
| Science | 96/100 | Shivani Mishra |
| Maths | 97/100 | Uday Bachani |
| Social Sc. | 100/100 | Harshita Snehal |
| FIT | 100/100 | Harshita Snehal |
Commenting on the performance of 3rd batch of class X in CBSE 2018-19 exams, Dr. Ashok Raj, Principal – GIIS Surat said "We are extremely proud that we have achieved 100% pass percentage at our Surat campus. Our 17 students have scored above 80%, out of which 5 have scored above 90%. This has only been possible with sincere efforts of our students and teachers and unmatchable support from our parents. Education excellence has always been of primary importance at our school and these results have proven that. The consistent effort of our teachers to improve and enhance the learning outcomes of our students has paid off really well."
Our students have brought in success and glory to the school and a reason to celebrate their triumph. We at GIIS Surat are extremely humbled and delighted of the teamwork our students and teachers have put in to achieve such stupendous results. This batch has not only matched the previous year's performance but has exceeded the score in every way possible.
Result Highlights -
10 students have secured more than 90%
17 students have secured above 80%
22 students have passed with distinction i.e. 75% and above
46 students have passed with 60% and above
100% pass result
Class Average - 73.51%