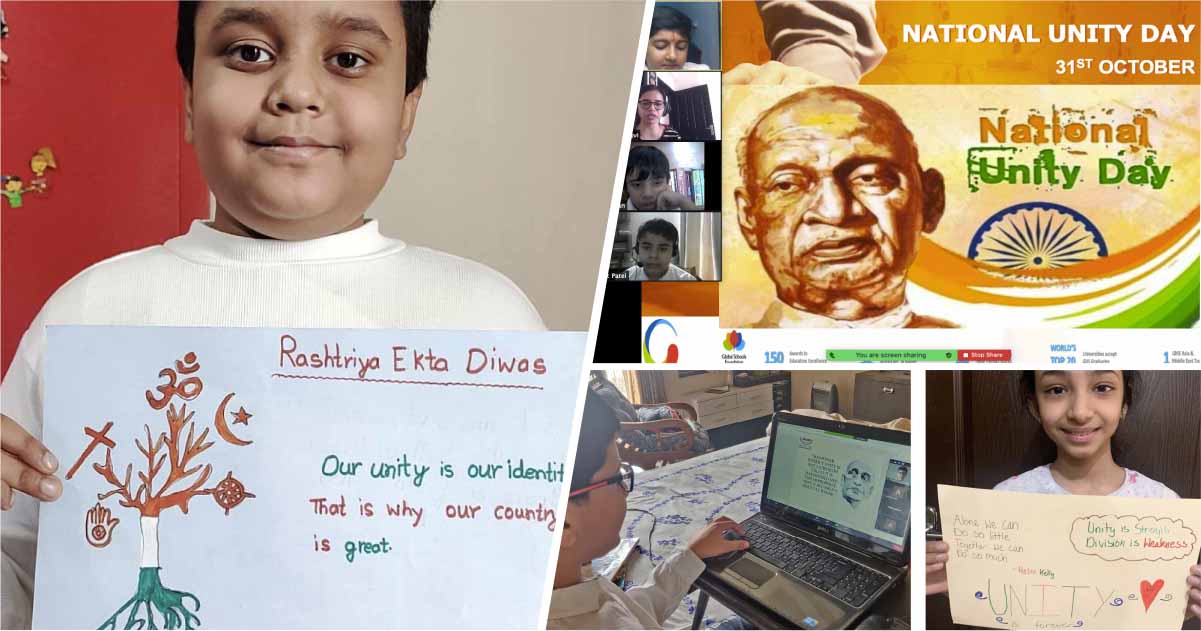 Global Indian International School, Surat, observed the 144th birth anniversary of the freedom fighter and an ace politician Sardar Vallabhbhai Patel.
Sardar Vallabhbhai Patel, who was believed to be the Bismarck of modern India, is the architect of independent India by uniting 562 princely states. Sardar Patel served as the First Deputy Prime Minister and Home Minister of Independent India.
Rashtriya Ekta Diwas or National Unity Day is observed on 31st October every year. The day was introduced in 2014 by the Government of India to commemorate the birth anniversary of Iron Man of India - Sardar Vallabhbhai Patel.
To mark the birth anniversary of Sardar Vallabhbhai Patel, the school decided to conduct various activities on 31st October 2020 on account of Sardar Vallabhbhai Patel Jayanti.
With the ongoing pandemic, the programme was organized virtually, and a plethora of activities were conducted for each class from grades 1-12. The event started with a pledge-taking ceremony followed by a PowerPoint presentation by the teachers on explaining the leadership qualities of Sardar Vallabhbhai Patel.
The students of grades 1 to 8 took part in the poster making on the topic "Unity in diversity." Students participated in this activity wholeheartedly and designed attractive and lively posters.
Children from grades 6-8 took part in the storytelling on "Sardar Patel's life journey" and recited important events. All the students thoroughly enjoyed it and learned the importance of unity and how even today, they're so relevant in the world.
The teacher addressed the respective classes and explained the significance of National Unity Day. Students took notes from the presentation about the life and leadership qualities of Sardar Patel.

The assembly ended with high spirits as the entire school sang the National Anthem. In the words of Sardar Vallabhbhai Patel, "Faith is of no evil in absence of strength. Faith and strength both are essential to accomplish any great work."!