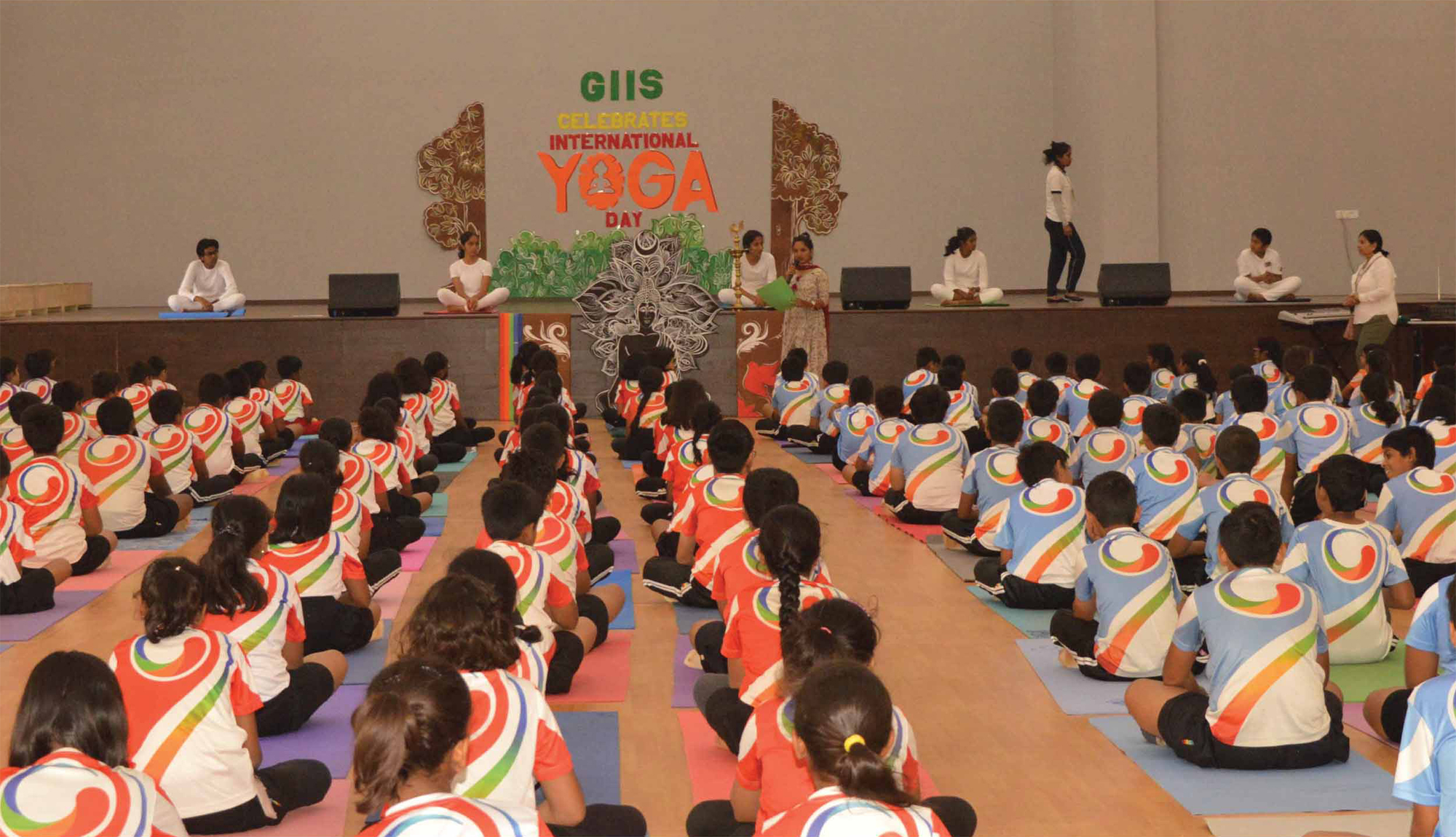 On this International Day of Yoga, Global Indian International School promoted the importance of Yoga and meditation to reduce growing stress amongst students. The school initiated and organized Yoga camps across its 7 campuses in India - Noida, Ahmedabad, Balewadi, Hadapsar, Whitefield, Bannerghatta and Surat.
Commenting on the occasion, Mr. Rajiv Bansal, Director-Operations, GIIS India said, "The modern-day lifestyle brings with itself tremendous pressure amongst students to outperform and stay ahead in the competition, which usually takes toll on the students' health. Therefore, GIIS in its endeavour to develop students holistically promotes the practice of Yoga amongst its students with the belief that Yoga has the power to boost learning, increase concentration and release stress. The school ensures students undertake Yoga sessions and practice meditation to encourage fitness as a way of life."
This year, CBSE also introduced Yoga as an elective subject in the curriculum with an aim to teach students a way of living that helps in developing a healthy mind and body. To further this aim, each of the GIIS campuses conducted unique initiatives to celebrate International Yoga Day in a special way.
At GIIS Noida, International Yoga Day was celebrated in May before the school vacations. The students presented a musical Yoga parody showcasing various asanas performed on stage to kick-start the celebrations of International Yoga Day. Prof. (Dr.) A. K. Uppal, Ex. Vice Chancellor of Jiwaji University, Gwalior and Head (Dean), Lakshmibai National Institute of Physical Education (LNIPE) graced the occasion with his presence and guided students with the benefits of practicing yoga regularly and the positive effects it has on one's body, mind and soul. To increase awareness amongst the audience, an on-the-spot quiz was conducted on the theme, where students were asked various questions, making the session more fun and engaging.
In GIIS Whitefield, Bangalore, the Pre-primary students were thrilled to do an interesting session on rhythmic yoga. A well-coordinated act was presented by the teachers for students on Journey of Yoga. In this act teachers used poetry and songs for the narration of the journey and the characters used easy yoga poses to bring alive the story. Students from Grade 1 to 11 performed basic yoga postures in batches inside the Multi-Purpose Hall and the school lawn. Parents were invited for this session and they joined the students by doing various asanas shown by select trained students on the stage. Dr. Shivananda C S (Principal) motivated the students by sharing amazing health benefits of yoga as a daily ritual, he also emphasized on how yoga is one of the most precious gift given by our ancestors to all the generations.
GIIS Bannerghatta, Bangalore campus, organised a special programme which started with the 'lighting of the lamp' ceremony by Dr. Sharmila Mallick Choudhuri (Principal), along with few of the grandparents of the school. This was followed up with her inspiring message on the importance & benefits of yoga practice. The session began with a speech on the Importance of Yoga in everyday life by a grade IV student, children then performed several asanas with some soft music played in the background. Parents were also present for this session and was overwhelmed to see children's involvement while performing yoga.
GIIS Ahmedabad organized a Leadership Lecture by Yoga and Naturopathy expert - Mr. Bhagirath Gohil to explain the importance of Yoga and its benefits to students. The school also organized various competitions like poster making and poem writing and Quiz on Yoga awareness. More than 1500 students participated in this event, making it a huge success.
GIIS, Balewadi, Pune organized a Yoga camp with the theme 'Yoga for Heart'. A 60 minutes session was conducted where the students practiced Yoga under expert supervision, followed by singing and dance performance by teachers to also celebrate World Music Day.
GIIS Hadapsar, Pune, conducted an interesting session on Yoga Dance camp. The school invited teachers, parents and students to learn yoga and basic asanas that can be performed easily anywhere. The basic motto of this camp was to educate everyone about how to balance physical and mental stress, the camp successfully generated interest amongst students to learn yoga and have fun simultaneously.
Yoga sessions were conducted in each of the 7 campuses, including GIIS Surat with expert Yoga instructors, where participants explored the joy of doing Yoga and learned to perform simple asanas that could be done easily by even the little ones.
These special sessions for students, teachers and parents in the city aimed to promote the excellent health benefits of Yoga and its significance to achieve balance of body and mind.