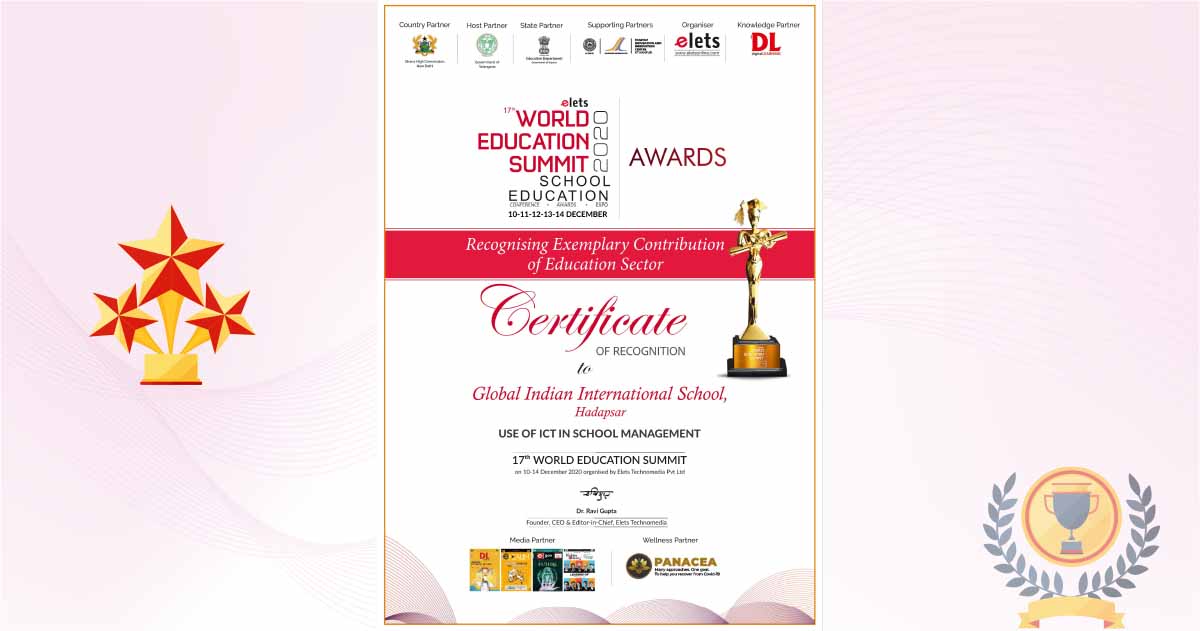 The Global Indian International School (GIIS), Smart Campus received the highly acclaimed ELETS Award for the usage of ICT in school management at the Virtual 17th World Education Summit 2020 organized by ELETS Technomedia Pvt. Ltd, on 10th December. The ELETS award was given to GIIS Hadapsar campus for showing Innovation in Academics during unprecedented times. Through our systematic planning, reliance on technology, and implementation of revolutionary ideas in terms of teaching aids and equipment, infrastructure, and digital connectivity, we worked ahead of time to deal with future challenges.
GIIS Hadapsar was among the first few schools to introduce e-schooling and Virtual classes starting right from March 2020 ensuring the complete health and safety of students, teachers & staff; while focusing equally on child's holistic growth. To ensure this, multiple trainings were given to the teachers before starting the new academic year. This included Virtual classroom teaching readiness; Train the trainer program; Technology training and Microteaching subject-wise.
"Approx. 850 hours of cumulative training was attended by teachers to ensure an uninterrupted teaching-learning process and it gives immense delight to share about the advanced teaching methodologies brought into exercise by the teachers at GIIS, which has brought about a magnificent change in the overall pattern of the learning among the students", said Dr. Lakshmi Prasanna, Principal, GIIS Hadapsar.
She further added, "GIIS Hadapsar has successfully streamlined functioning of offline classes through efficient use of teaching aids like Google classrooms, sending e-assignments, individual interactions, among many other tools and new initiatives to ensure a high level of interaction with the students."
The NextGen facilities at the GIIS Smart campus Hadapsar give emphasis to how GIIS is leveraging on technology to bring about a positive, sustainable, and productive impact on the learning outcomes of students and to make them future-ready citizens.
GIIS Hadapsar had prepared itself to be a smart campus fully equipped with technology in order to provide a better learning experience to students during these extraordinary times too when others were struggling to deliver a proper class. This proactive approach is what makes GIIS different.
The digital world opened new opportunities in every subject for teachers to attempt and implement new ideas and convey key concepts. In the era of virtual learning, GIIS Virtual Classrooms are taking education to a new level of delivery and providing easy access to everyone. Furthermore, ICT plays an important role in enhancing the quality of education during tough times.
Kudos to the entire GIIS Hadapsar Team for contributing towards the innovative practices in school and facilitating seamless education to all our students.