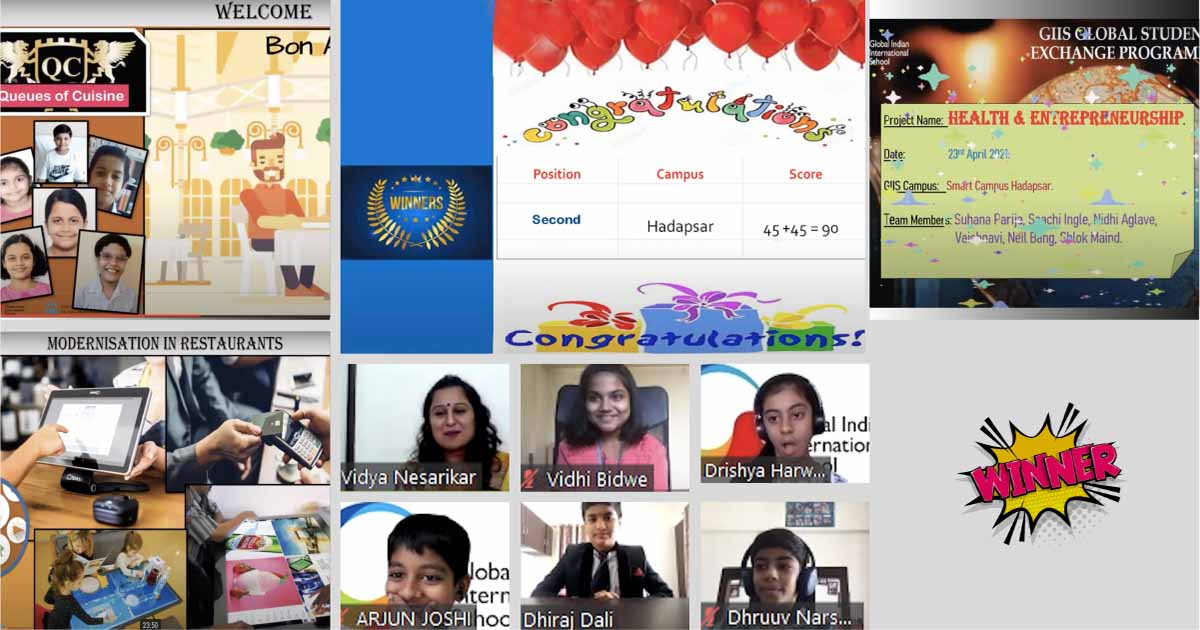 The young minds of Global Indian International School (GIIS), Smart Campus Hadapsar bagged second position in the Global Student Exchange (GSE) competition, which was held on 23rd April 2021. Through this competition, students got an opportunity to participate and present their ideas to a large set of audience and judges.
GSE is indeed a great platform where participating teams get to present unique ideas and share amazing thoughts with each other. This event was hosted by GIIS Smart Campus, Hadapsar in which students from GIIS Tokyo and GIIS Balewadi participated enthusiastically. Each campus team presented their ideas in a very different and unique style.
This event marked the very first GSE competition for the Academic Year 2021-22. The topic was 'Health and Entrepreneurship', and was conducted in a virtual format through Zoom Webinar. The young aspiring leaders and entrepreneurs of Grade 5 were the participants. The competition was thoughtfully weaved and consisted of a short presentation and a round of questions and answers, which kept the students hooked with the same enthusiasm till the end.
The team from GIIS Hadapsar secured the second position, whereas Balewadi bagged first and Tokyo secured third place. GIIS Hadapsar was represented by Nidhi Aglave, Shlok Maind, Neil Ravi Bang, Saachi Ingle, Suhana Parija, and Vaishnavi. Besides making a creative and engaging presentation, they were also very prompt and confident in correctly answering the questions asked by the judges.
The honourable judges of the event were Ms. Vidya Neisaikar, an educationist, and Ms. Gayatri Moras - Vice Principal, GIIS Ahmedabad. They evaluated the participating teams on various criteria like the relevance of content, creativity & innovation, presentation & teamwork. Besides this, the students were also asked relevant questions based on their respective presentations, which they answered very confidently leaving the judges spellbound.
Overall, it was a great learning experience for the students and also the teachers, who had put in a lot of hard work in mentoring the teams and giving the right shape to their projects. The event concluded on a positive note with everyone wanting to be a part of more enlightening, intellectual, and engaging events like these in the future as well.