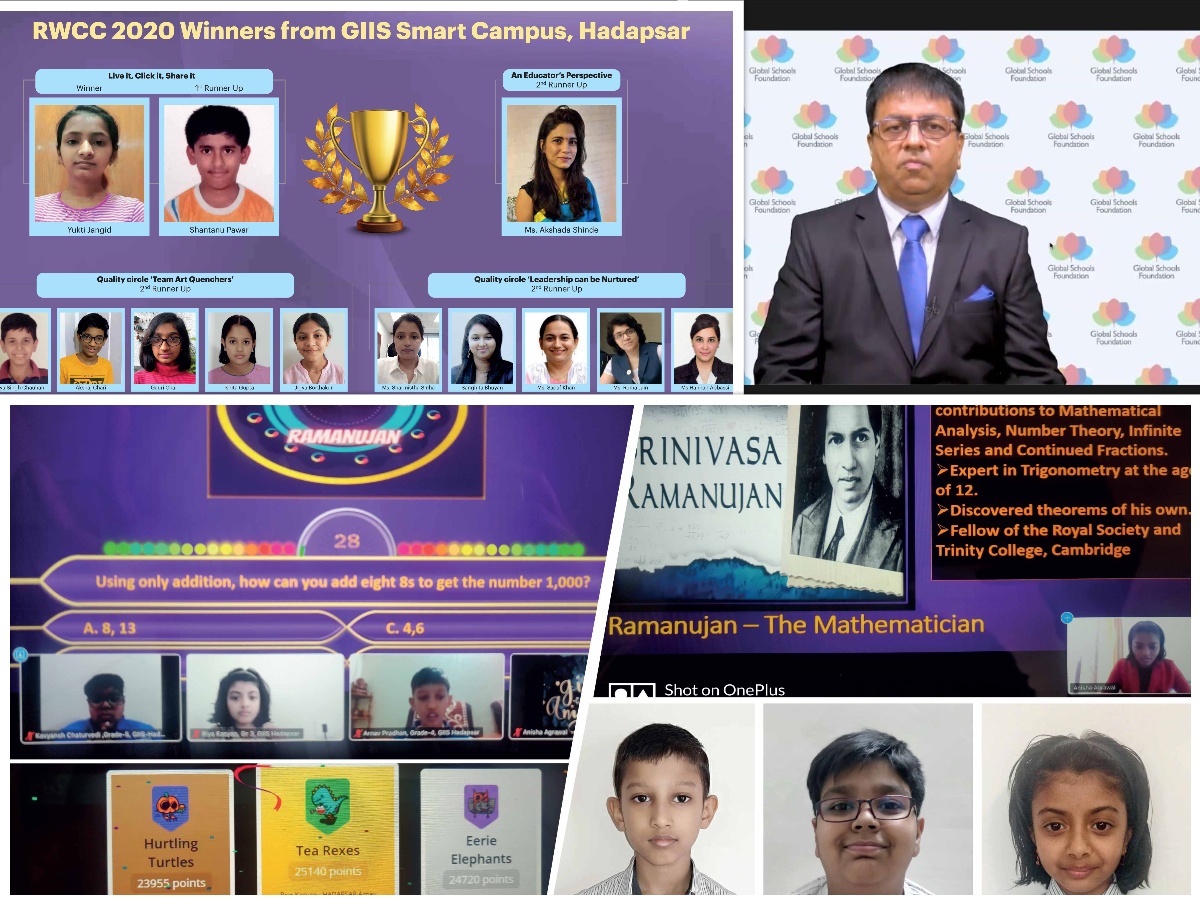 Dear Parents,
Let me begin by wishing you all a Happy New Year filled with many success & continued progress. May the year of darkness fade into a bright morning light during 2021 with full of new hopes & promises. GIIS believes in preparing students for life & expects sincere cooperation from parents, for the attainment of the school's objectives. Many thanks to all the parents who have helped us during these testing times, in running the virtual classes successfully & assisted the students in all the activities conducted virtually throughout the year.
We are extremely happy to share with you a quick highlight of the monthly achievements and activities of GIIS Hadapsar Campus. Even during the testing times of pandemic, we accepted the challenge of providing quality education virtually through the online platform, where our staff & students could achieve their best.
Our global community makes GIIS an amazing place for students to learn, grow, and develop into future global citizens. Each member of our community contributes to its vibrancy creating a remarkable synergistic effect.
We share knowledge and expertise across our various campuses by exchanging ideas of best practices and conducting trainings and brainstorming sessions. GIIS organised GALS 2020 on 12th Dec 2020 wherein the facilitators & Coordinators of Bannergatta, Whitefield & Hadapsar collaborated together and came up with innovative ideas to improvise the whole process of education.
Open communication between parents and the school is an essential part of students' progress & practice that we are known for. Effective parent-teacher-student communication plays an eminent role in helping students achieve their truest potential and contributes to their overall development. GIIS Hadapsar organised its third virtual PTM on 19th Dec 2020 for Grades 1 to 8. The Parents were elated with their child's performance & shared positive feedback with the school about the positivity & friendliness of the teachers.
Extracurricular activities provide a channel for reinforcing the lessons learned in the classroom, offering students the opportunity to apply academic skills in a real-world context, and are thus considered part of a well-rounded education. The students of the primary segment won the first position in the recently held Ramanujan Mathematics Quiz competition under the primary & middle segment. These activities are instrumental in honing the talents and developing social skills, critical thinking, and teamwork.
At GIIS, we ensure that our teachers are experts in their fields with a wealth of experience which makes them an invaluable asset. GIIS Hadapsar added yet another feather to its cap by bagging 4 prizes under different categories for Global Star Awards 2020 held on 19th Dec 2020. The Ambassador Award was bestowed upon Ms. Kavya Atra for promoting the brand & maintaining harmony with the stakeholders. Ms. Deepti Sharma was honoured with the Extra Mile Award for her proactiveness in identifying opportunities to improve and implement new initiatives to achieve students' excellence. Ms. Hannan Abbassi was felicitated with Green Champ Award for initiating & implementing Green Projects within & outside the school and the Innovator Award was given to Ms. Sanghita Bhuyan for proactively taking up new initiatives to enhance student learning/understanding.
The pre-primary wing of GIIS, Hadapsar organised GMP Sports Day for the little stars who participated in several activities and kept the viewers glued to their seats. At GIIS, we believe that parent engagement plays an important role in the overall development and well-being of the students.
We appreciate your constant support throughout the testing time and at last due to the limitation of space we are concluding with highlighting the major event and achievement through the month of December. For more updates please go through the monthly newsletter.
Until then stay safe & healthy.
God Bless!!!
Warm Regards,
Dr.Lakshmi Prasanna
Principal, GIIS Smart Campus, Hadapsar, Pune