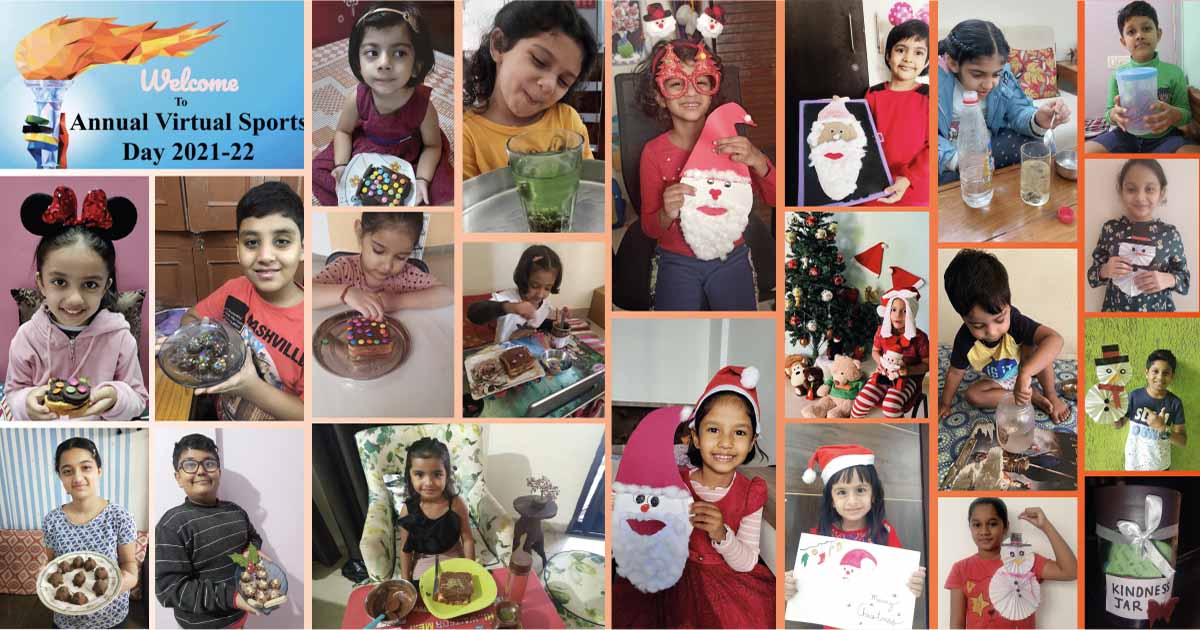 Dear esteemed parents,
Greetings to one and all.
Happy New Year 2022, which I believe will be a year of increased blessings for all of us. I am sure we welcome this New Year with more prayers, happiness & positive energy. As we enter a new year, let's thank God for having given us the strength & patience through the challenging times we'd witnessed in the past years.
January is always about fresh beginnings and positive change. I love the promise of the New Year and all the possibilities that it offers for our children here at GIIS and the potential for great achievement. The school shall now function on a Hybrid mode of teaching students, physically & online from 3rd January onwards. Hoping to have more numbers joining the physical school as the day's progresses. Grade 9 shall have their preparatory tests for the finals to be conducted during February. Wishing all our students the best luck the year could bestow on them.
What good is the warmth of summer, without the cold of winter to give it sweetness. - John Steinbeck
The Global Indian International School has set a benchmark in the quality of education and the outstanding facilities it offers. With a well-structured curriculum, ultra-modern technologies, professional faculty, and organized management, GIIS has emerged as a pioneer institution. It also nurtures students at a very young age as they stand by the thought that students, inculcated with knowledge and values at a young age, achieve success in a better way.
On 6th Dec 2021, the children of Grade 2 did an I-Care activity based on kindness. They made chits of paper to write their acts of kindness & put them in their kindness jars. After a week they saw how the jars had filled to the brim by their acts of kindness. Each child then read out his/her acts of kindness to the class. They were also shown videos on kindness and what kindness meant to different people. They enjoyed the activity and learnt to be kind and helpful.
Cooking activities for kids can teach confidence and skills that can prepare them for a lifetime of healthy habits. On 10th Dec 2021, our tiny tots celebrated Brown Day by making delicious Bread cakes. Working in the kitchen provided kids opportunities to gain a sense of accomplishment.
Building thinking skills happens through day-to-day interactions as the teachers talk with the child, ask open-ended questions, and allow the child to experiment and solve problems. Based on enhancing thinking skills, on 16th Dec 2021 the students of pre-primary enjoyed the Dancing Raisins experiment on a Thinking Thursday. The experiment helped them to learn about things that float or sink.
The parent-teacher meeting is a prominent and notable feature of the school curriculum. The motive is a close interaction of parents with teachers with regard to the progress shown by their wards and finding workable solutions to the problems coming in the way of the development of their ward. GIIS Hadapsar organised its third virtual PTM from 14th - 17th Dec 2021 for Grades Pre-primary – 9. The parents were delighted with their child's performance and shared positive feedback with the school about the positivity and approachability of the teachers. They made a special mention of constant assistance rendered by the teachers to the new/weak students.
When you're riding, only the race in which you're riding is important. - Bill Shoemaker
At GIIS, we believe that parent involvement plays an important role in the overall development and well-being of the students. The parents at GIIS are encouraged to volunteer at the school, as this allows them to feel invested in the community and gives them an opportunity to experience GIIS first-hand. When parents become more involved, they are more likely to take a greater interest in the happenings at the school and in their child's academic and social development.
GIIS has set yet another example by involving parents along with students in the virtual Annual Sports Day event held on 18th Dec 2021. The events varied from Burpees, Wall Ball, Jumping Jack, Roll Around to Speed Bounce and Walking Planks. The students were excited to know the results when declared.
Extracurricular activities provide a channel for reinforcing the lessons learned in the classroom, offering students the opportunity to apply academic skills in a real-world context, and are thus considered part of a well-rounded education.
Mathematics is not about numbers, equations, computations, or algorithms: it is about Understanding. – William Paul Thurston
The students of grades 7-9 took part in Ramanujan Mathematics Quiz under the secondary segment and won on 20th Dec 2021 under the Senior category. The students of Whitefield bagged the first prize, Balewadi second position, and Bannerghatta, Noida & Ahmedabad stood at third place under Junior category. These activities are instrumental in honing talents and developing social skills, critical thinking, and teamwork.
Winter is the time for comfort, for good food and warmth, for the touch of a friendly hand and for a talk beside the fire: it is time for home. - Edith Sitwell
Christmas is the season of joy, of gift-giving, and of families united. Peace on earth will come to stay when we live Christmas every day. GIIS celebrated Christmas virtually on 23rd Dec 2021 with a lot of exhilaration. The celebrations ranged from Carol singing, Storytelling, Poetry recitations, making Chocolate balls and Snowman with socks, enacting the story of Christmas, and many more.
Ideas are easy. It's the execution of ideas that really separates the sheep from the goats. - Sue Grafton
We part knowledge and expertise by exchanging ideas of best practices and conducting training and brainstorming sessions. GIIS organised Campus GALS 2021 on 23rd & 24th Dec 2021 wherein the principal, facilitators, staff, and co-ordinator of Hadapsar, collaborated together and came up with pioneering ideas to improvise the whole process of education. During the presentation, they discussed about Global Citizens and Global Student Exchange, Collaboration with International Campuses, After School Programme, Campus Management, Procurement project to continue for one more year, Recruitment Quality, and many more. GALS 2021 was a stage for the imagination to bloom. Robin Williams once rightly said, No matter what people tell you, words and ideas can change the world.
So once again, it is with the renewed hope and optimism of the New Year and the new season that I welcome you back to school. On behalf of the Management, Staff, and Students of GIIS, I wish you all a very happy, healthy, successful and prosperous 2022.
Thank you for your continued support and may God bless all of us.
Kindest Regards
Dr. D. Lakshmi Prasanna
Principal
GIIS Hadapsar
Pune