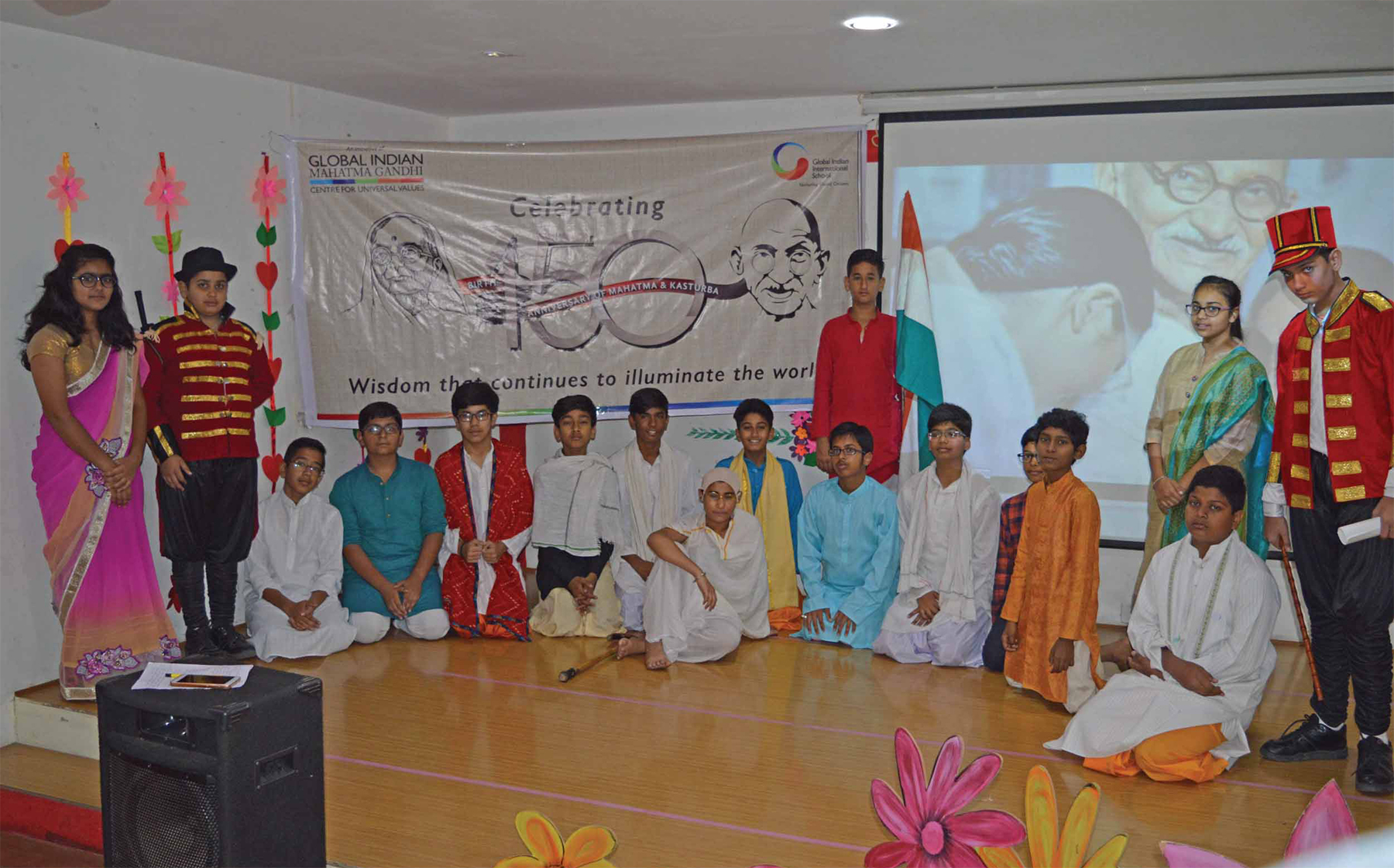 INDORE, 3 OCTOBER, 2018 - Global Indian International School (GIIS), Indore celebrated the 150th birth anniversary of Mahatma Gandhi by celebrating the occasion for seven days ; numerous activities were conducted throughout the week to promote values of non-violence, harmony and brotherhood among students. These activities helped students in understanding the values of virtues that help in peaceful co-existence of both people and nations together.
The first four days of the week focussed on engaging students in competitions like debate, quiz, drawing, bhajan and skit competitions based around the life of Mahatma Gandhi and Kasturba Gandhi. Following the competitions, day five was proceeded by a felicitation ceremony of the kids based on values system (students were given badges based on culture and values) by the esteemed chief guest Col. Karta Sirohi (District Sainik welfare officer). The array of activities made students familiar with the life and struggle of Baa and Baapu and the sacrifices they made to get freedom from the Britishers.
An integrity shop was also set up in the school premises to bring forth pride and responsibility among students; a special display area was put up with mouth-watering eatables on sale that was open for all to enjoy. Each item was available at a small price which was collected in a special donation box.
Day six was all about 26 students from a government school visiting the campus along with two teachers to celebrate the 150th birth anniversary celebrations of Baa and Baapu; a special assembly was organized for the visiting students followed by an interaction session with Ms. Dinisha Bhardwaj (Principal). The visitors were also given a small surprise in the form of a WISH TREE i.e. they were asked to pen down their wishes on a piece of paper and stick onto the tree and the school will make all possible efforts to fulfil their wishes in the coming future. After all, to bring a smile on someone's face is the best gift ever. The school students on the other hand had a fun craft day where they used old craft materials to create something new and extraordinary.
Last day of the weeklong celebrations i.e. 2nd October, 2018 was a day of peace and togetherness for each one at GIIS. Gandhi Ji's 150th birthday celebrations were named as KHADI DAY and saw every member of the GIIS Indore family in Khadi attires. Mr. Hari Narayan - ex Vice Chairman, Indore Development Association along with Mr. Gave Thanewala - member of the Prasi community and an association working for Gandhian values were invited to the grace the occasion for the special celebrations.
We all know, Mahatma Gandhi played a memorable role in upliftment of the untouchables. To promote equality of castes and religion, GIIS Indore came up with the idea of felicitating and honouring the sweepers of the school to make them feel a well-respected and loved members of the GIIS family.