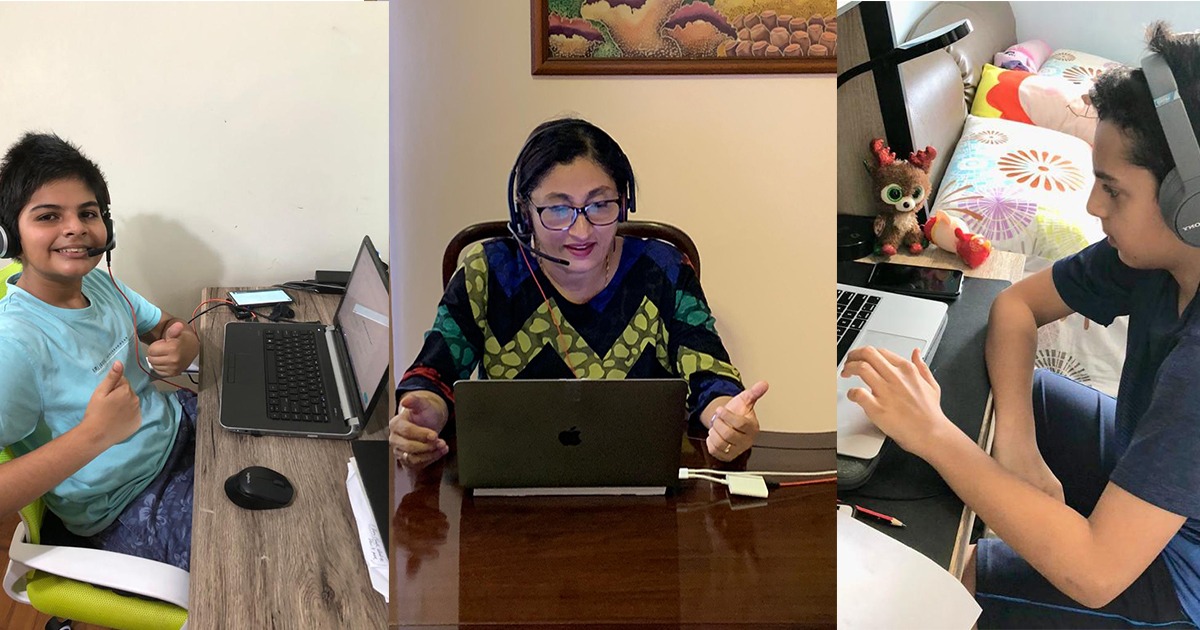 Two students, who won the Earth Day pledge contest, got a chance to host a podcast with one of the teachers which was published over GIIS podcast channel, the Smartcast. The podcast was held on 25th of April.
GIIS had conducted a virtual Earth Day contest where students were asked to send a video monologue with their pledge to protect mother earth. Saksham Varma of Grade 8 and Shlok Rana of Grade 7, won the top two positions and were awarded a chance to host the podcast on GIIS Smartcast.
The two students stepped into the shoes of the podcast host and asked a series of questions from Ms Rema, pertaining to the multiple intelligences and iCare pillar of the Global Montessori Programme, the award-winning GIIS kindergarten Programme environmental sustainability and what each of us can do for a better Mother Earth.
Ms Rema started by congratulating both the winners and then patiently offered responses to all the questions asked during the podcast.
In her responses, she talked about various initiatives that GIIS takes to bring the Multiple Intelligence theory of Gardner into action. According to Multiple Intelligence theory, there are eight types of intelligence in children, while some are active some are dormant. GIIS kindergarten conducts a myriad of activities to stimulate multiple intelligences among kindergarten children by giving them a chance to explore his or her area of interest.
The Kindergarten head specifically elucidated on the 8th intelligence, naturalist, on which the iCare pillar of the Global Montessori Plus Programme based. This intelligence pertains to young students who get inclined towards nature and environment and are readily able to recognize flora and fauna. She said that it is important to make students sensitive towards the environment from an early age and that's why GIIS kindergarten Programme has iCare as an important pillar.
Ms Rema talked about various activities like maintaining a garden in school, compost making in school, recycling activities in association with Tetra Pak and Starhub, every kindergarten student planting a tree at the time of graduating, and many more such meaningful activities performed with students.
Participation in clean and green Singapore, water pledge, poster making for awareness, are some of the ongoing activities that help our kindergarten students to go green at an early age.
Ms Rema also gave the message to the listeners that although at this moment we are all tied up at home, each of us can do our bit for the environment to use our free time in recycling old clothes, paper and other stuff to make things of use.
The podcast was a great experience for the students who learnt to phrase questions, pose questions and listen to the responses carefully in order to engage better with the guest.
Click on the below image to listen to the podcast.