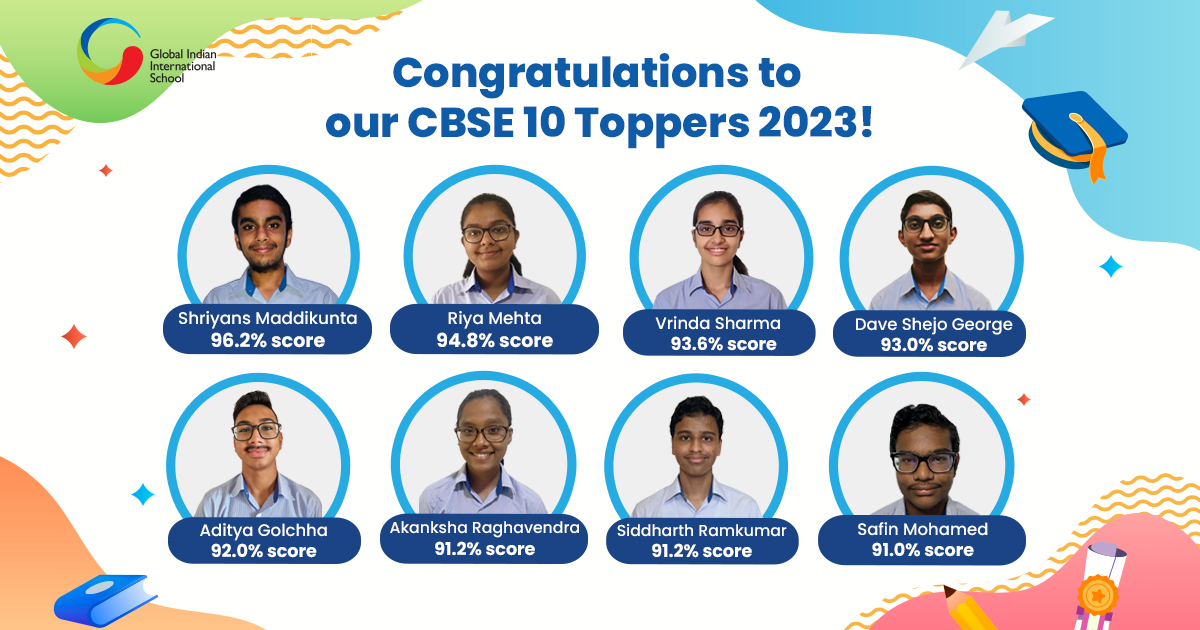 Updated as on June 28, 2023: GIIS East Coast Campus CBSE Grade 10 students of the 2022-23 cohort achieved excellent results in the board exams, results for which were declared recently.
Shriyans Maddikunta emerged as the school topper with 96.2% marks, followed closely by Riya Mehta with 94.8%. Eight students scored an overall of 90% and above and one student scored an overall of 95% and above.
The school average is 86.8%, with 50% of the cohort scoring 90% and above.
Expressing his happiness with the outstanding results, East Coast Campus Principal CVK Sastry, said, "An outstanding result with 100% pass and 50% students scoring 90% and above is achieved due to the consistent focus on regular monitoring and individualized feedback given to the students by all subject teachers."
Result Highlights
100% of the students passed
School Average 86.8%
1 student scored an overall of 95% and above
| | |
| --- | --- |
| Name of the Student | Percentage |
| Shriyans Maddikunta | 96.2% |

8 students scored an overall of 90% and above
| | |
| --- | --- |
| Name of the Student | Percentage |
| Shriyans Maddikunta | 96.2% |
| Riya Mehta | 94.8% |
| Vrinda Sharma | 93.6% |
| Aditya Golchha | 92.0% |
| Akanksha Raghavendra | 91.2% |
| Dave Shejo George | 93.0% |
| Siddharth Ramkumar | 91.2% |
| Safin Mohamed | 91.0% |

5 students scored an overall of 80% and above
| | |
| --- | --- |
| Name of the Student | Percentage |
| Aatreya Mohana Sundaram | 80.6% |
| Nigel Binex Kunnan | 80.4% |
| Samali Umralkar | 89.8% |
| Janani S | 89.6% |
| Abhiraj Menezes | 88.0% |
Shriyans Maddikunta topped the cohort with 96.2%
Percentage of students scoring 90% and above Subject-Wise
100% of students in Tamil
81% of students in Computer Applications
44% of students in Science
44% of students in Social Science
44% of students in Mathematics Standard
40% of students in Hindi
50% of students in English
33% of students in French
Highest Scores Subject-Wise
| | | |
| --- | --- | --- |
| Subject | Highest | Subject Toppers |
| English | 95 | Aditya Golchha |
| Hindi | 97 | Shriyans Maddikunta |
| Tamil | 92 | Janani S |
| French | 93 | Safin Mohamed |
| Mathematics | 96 | Siddharth Ramkumar |
| Science | 95 | Shriyans Maddikunta |
| Social Science | 99 | Shriyans Maddikunta |
| Computer Application | 99 | Siddharth Ramkumar, Riya Mehta and Shriyans Maddikunta |
Subject Averages
| | |
| --- | --- |
| Subject | Average (Percentage) |
| English | 86.5 |
| Hindi | 76 |
| Tamil | 91 |
| French | 75 |
| Mathematics | 83 |
| Science | 81 |
| Social Studies | 85 |
| Comp Applications | 94 |