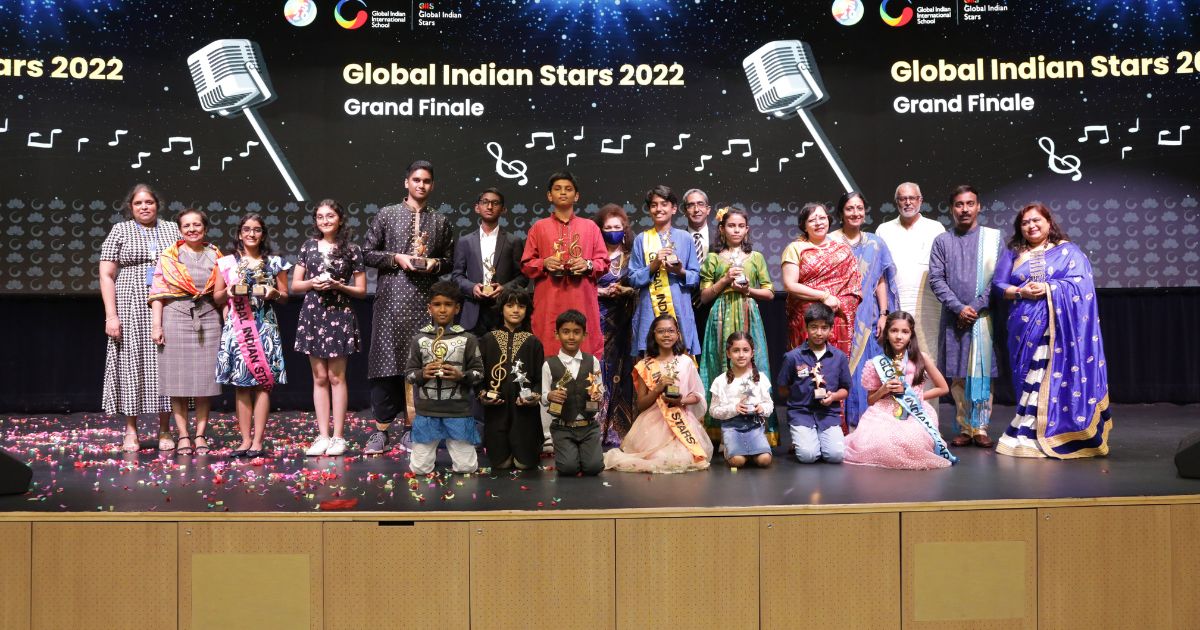 GIIS East Coast Campus organised the Global Indian Stars (GIS) finale at the GIIS SMART Campus on July 22, 2022, providing a platform for budding singers to showcase their talent and compete for the much-coveted titles. As part of the grand finale, shortlisted students from various schools across Singapore gave wonderful performances and in the end, 16 students won titles in various categories.
Students from GIIS East Coast Campus, GIIS SMART Campus, and various International schools such as Middleton International School, NPS International School, Yuvabharathi International School, and DPS International School participated in the competition. The preparations for the finale started several weeks prior to the event with rigourous auditions, quarter-finals, and semi-finals being conducted on the school's respective campuses. The students participated under the Sub Junior, Junior, Sub Senior, and Senior categories and gave their best to reach the finals.
The grand finale started off with an inspiring speech from the GIIS East Coast Campus Principal, Mr CVK Sastry, and also an introduction of all the esteemed judges, Mr Mohamed Raffee, Ms Sudeshna Dasgupta, Mr Ghanavinothan Retnam, and Ms Renu Suresh.
Each participant performed beautifully and displayed their flair for music winning appreciation from the judges as well as the audience. The judges also gave valuable tips to the students like how to hit higher notes and shared the importance of song selection in singing competitions.
The auditorium was filled with cheers as the winners of the grand finale were declared. The winning categories include; Rocking performance, Golden voice, 1st, and 2nd runners ups, and the winners in each category. Beautifully choreographed dance performances by the students of East Coast and SMART Campus were other highlights of the event.
GIIS has always strived to nurture its students with all-rounded development helping them grow holistically. The annual Global Indian Stars truly exemplifies how it encourages the students to explore their talents and skills beyond classroom learning.
GIIS congratulates all the Global Indian Stars winners on their achievements and truly appreciates the hard work put in by the participants in making the event a successful one.
Here are the GIS 2022 winners:
| | | | | |
| --- | --- | --- | --- | --- |
| S.No. | Name | Category | Title | School |
| 1 | Ian Krish Fernandes | Sub Junior | 2nd Runner Up | PG |
| 2 | Jacob Paul | Sub Junior | Golden Voice | EC |
| 3 | Baanee Kaur Bedi | Sub Junior | 1st Runner Up | External |
| 4 | Mishika Tiwari | Sub Junior | Winner | PG |
| 5 | Aarika Vombatkere | Sub Junior | Rocking Performance | EC |
| 6 | Aaratrika Mitra | Junior | Winner | EC |
| 7 | Nivaan Chakraborty | Junior | 1st Runner Up & Golden Voice | External |
| 8 | Darrel Shejo George | Junior | 2nd Runner Up & Rocking Performance | EC |
| 9 | Risheek Nandgopal Kulkarni | Sub Senior | Winner | External |
| 10 | Pranav Krishnan | Sub Senior | 2nd Runner Up & Golden Voice | EC |
| 11 | Pritika Ganesh Kumar | Sub Senior | 1st Runner Up | PG |
| 12 | Dave Shejo George | Sub Senior | Rocking Performance | EC |
| 13 | Jisnu Praharaj | Senior | 2nd Runner Up | PG |
| 14 | Neha Pullarkat | Senior | Winner & Rocking Performance | PG |
| 15 | Sharanya Shanbhag | Senior | 1st Runner Up | PG |
| 16 | Sreevadhana V | Senior | Golden Voice | PG |