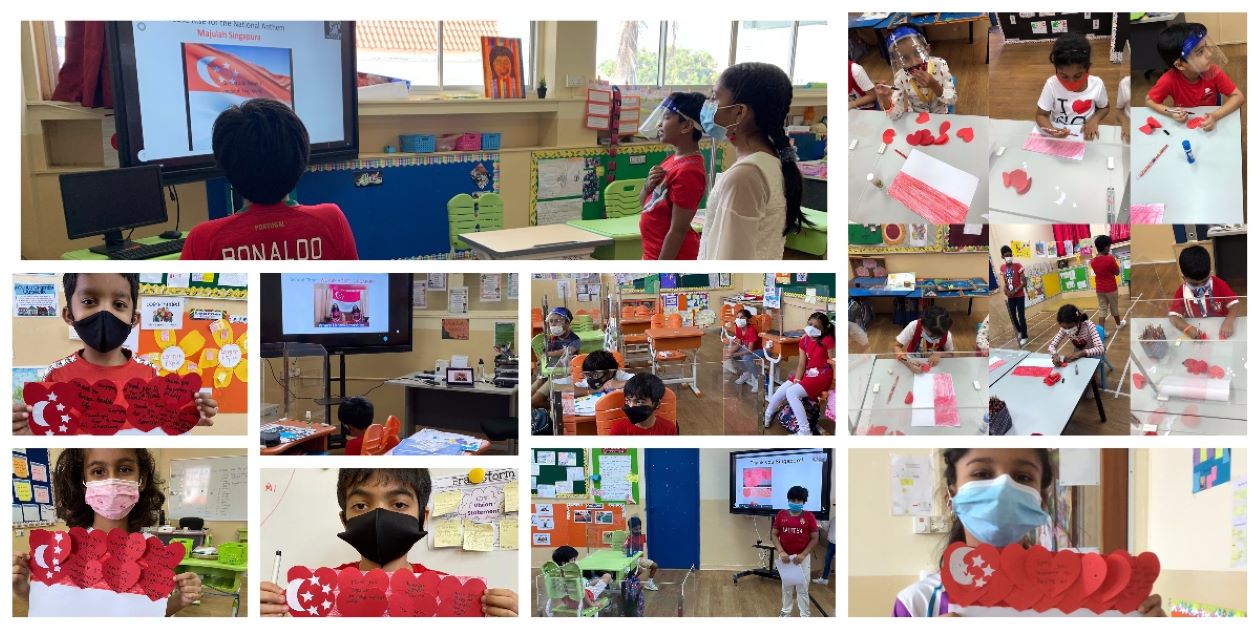 On Friday, 7th August 2020, IB PYP students gathered virtually to celebrate Singapore's National Day 2020- the 55th year of Independence of our host country. The celebration began with a short presentation led by senior grade students and the school choir. It was followed by the address of the Principal, Mr CVK Sastry and the singing of the Singapore National Anthem to which PYP students stood at attention.
Afterwhich, grade 5 PYP students led the second part of the programme whereby they gave away information as to how NDP2020 is going to be celebrated on the 9th of August with specific activities lined up. A peep into how last year's agenda was like and how different or the similar some of the planned activities will be for this year.
Students also took on the #GetActiveSG Workout Dance Challenge. Grade 1 to 5 PYP students danced to the remix of this year's theme song "Everything I Am." This year, Get Active TV, the official media channel for all things Singapore fitness, active lifestyle, health, and wellness, invites everyone to join in this fun workout which is suitable for anyone and everyone. This is an effort to advocate better living through sport, by getting active and emerging Together A Stronger Singapore!
Finally, the celebration ended with an Arts and Craft activity whereby the PYP community created the SG national flag with special messages from each student expressing their heartfelt thanks to Singapore. As most of our students are considered migrants and foreigners of this wonderful country, we took a few moments to reflect and pen down what we are thankful or grateful for as we continue to take Singapore as our second home.
Some of the messages from students are: "Thank you, Singapore for keeping us safe." "Thank you, Singapore for being so clean." "Thank you, Singapore, for giving us a home." "Thank you, Singapore for fighting the virus."
The International Baccalaureate defines International-mindedness as a view of the world in which people see themselves connected to the global community and assume a sense of responsibility towards its members. Being a candidate school for the IB Primary Years Programme, the entire PYP community of GIIS EC has been working towards building a culture that inculcates respect towards and value of the diverse culture of our school.