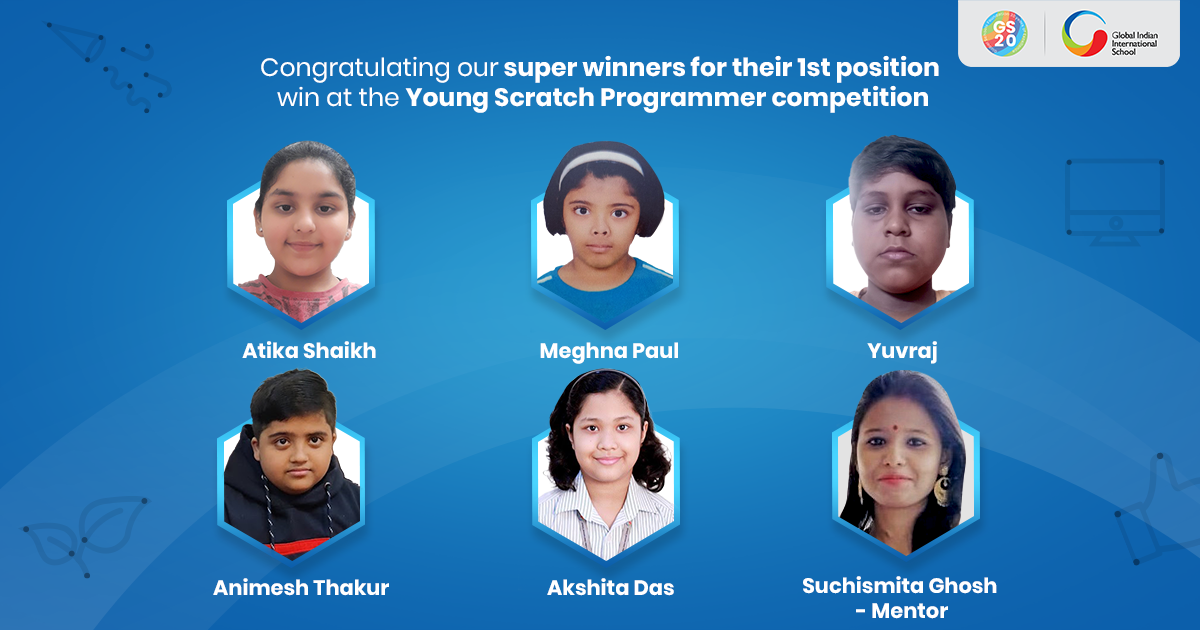 GIIS Global Student Exchange (GSE) is a unique platform that helps students showcase their innovative ideas and express their views confidently and creatively. For the past many years, GSE has helped various GIIS GEOs come together, collaborate, and offer more exposure to the students.
This time, GIIS Bannerghatta was offered the opportunity to participate in the Young Scratch Programmer competition, where our Grade 5 students exhibited their coding talents using Scratch Junior. They competed with their peers from Singapore and Balewadi campus and secured 1st place in the competition.
The team of five- Atika Shaikh, Meghana Paul, Yuvraj, Animesh Thakur, and Akshita Das created a multi-tablet story using the block-based programming platform- Scratch Junior and won everyone's heart with their thoughtfulness. Calling themselves- "Ecovengers", our students chose to address one of the most serious environmental problems of Pollution. They successfully coded their story titled "Mission Earth: Three young Saviours", and explained the contribution of each member of the team in completing this impressive feat. Not only they discussed the causes of pollution, but also the different ways it can be prevented.
Coding is the new literacy. It helps students appreciate the brilliance of digital technology and encourage them to unravel its magical use cases. In today's world where education and technology are inextricably intertwined, coding opens new doors for kids and allows them to hop on the novel learning methods without any difficulty. It develops structural, algorithmic, and logical thinking while also boosting their creativity and willingness to create something new.
We congratulate our young coders for winning this unique competition and wish them all the best for their future endeavors. Keep using technology for raising awareness and bringing positive changes to the world…..