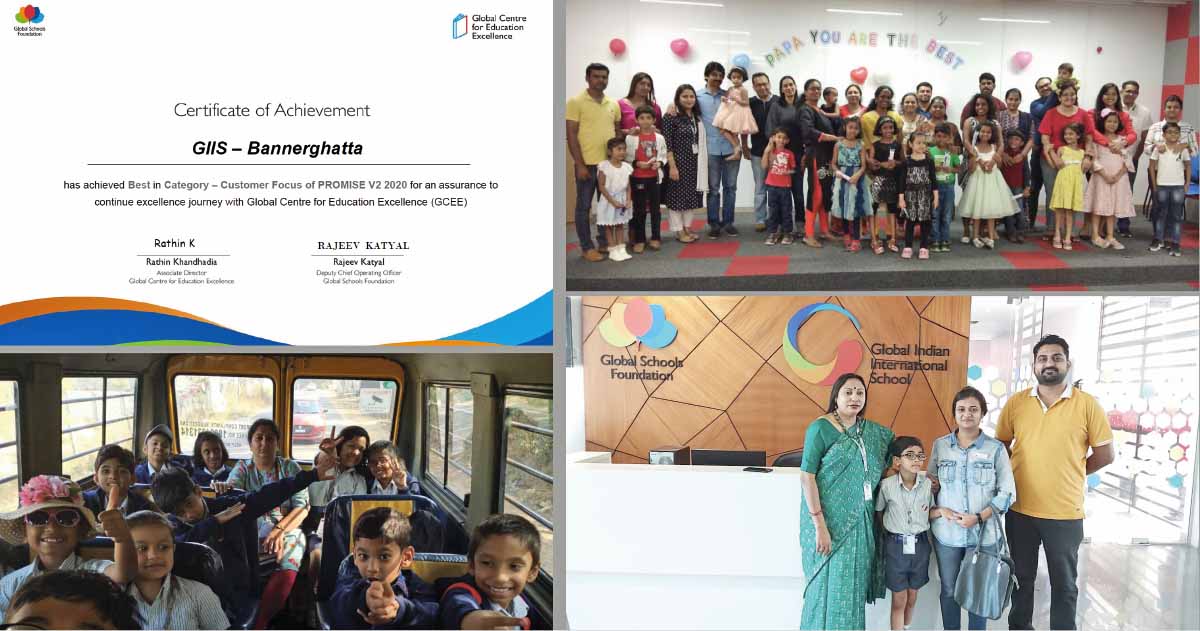 GIIS Bannerghatta SMART Campus has achieved best in the 'Customer Focus' category of PROMISE V2 2020 score for an assurance to continue excellence journey with Centre for Excellence in Education (GCEE).
The Global Schools Foundation (GSF) is relentless in maintaining the highest standards in all aspects of education at schools that are a part of this foundation. Performance-Oriented Management and Information System for Education (PROMISE), an award-winning measurement tool for measuring organizational performance, was created in 2009 by Global Centre for Excellence in Education (GCEE), a dedicated team at GSF, that foresees quality management not only in the area of academics but other aspects of school as well. When the school is upgrading its scale and scope to achieve higher standards of education, then the tool for monitoring and measuring the performance also needs to be updated.
At GIIS Bannerghatta SMART Campus, we have strived to bring in dedicated support and partnership with our stakeholders, we provide them with the best experience, one of the newest campuses to set up under the GIIS conglomerate, we have lived up to the GSF legacy in every sense of the word.
Our Students and parents have born testimony to the school's success in keeping them content.
Ms. Mahuwa Paul mother of Grade 4 student Meghna Paul appreciated the school's role in standing up to the challenges of a pandemic-inflicted world, and how education continued to be imparted with the ease and comfort of the days gone by. Children settled down comfortably and enjoyed this innovative mode of learning.
Ms. Kavita Das, mother of Grade 4 student Akshita Das, commended the school for the multidimensional approach to teaching with its plethora of activities, club classes, new assessment methods, and how in spite of the variety of roles the school played, the quality of education and delivery was never compromised.
Ms. Darshita Niranjan, mother of Grade 4 student Anish Niranjan said "Since this was Anish's first year at GIIS, we were apprehensive about virtual classes and how Anish would cope. But, within a record time, our school has succeeded in giving the feel of a real school with the best of both worlds. Interactions between peers were encouraged which made Anish feel 'at home' in the new environment.
Students too have expressed their joy of learning', which just goes to prove that GIIS Bannerghatta has chartered a new success story even during what was termed as a "tumultuous year' and we believe that this is just the beginning. There are bigger milestones and challenges ahead of us which we will attain all with the goodwill and support of our parent and student fraternity.