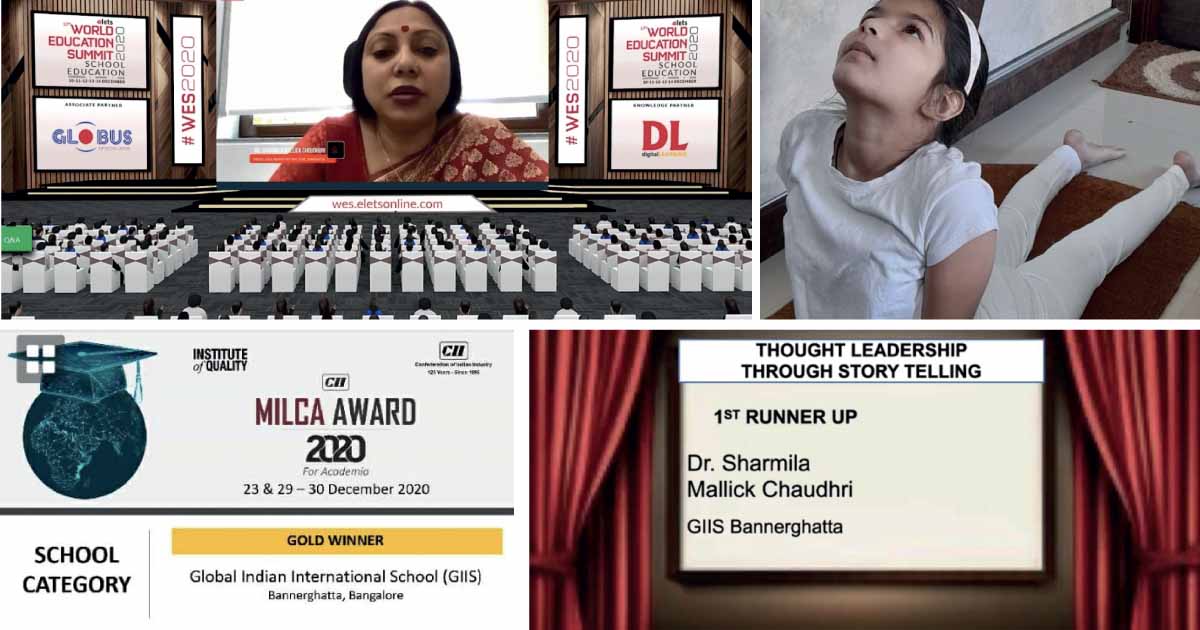 Dear Parents,
December – a month of cheer for all to hear. A month which heralds the end of the year, but holds hope and a message of revival. Time has flown by and we have reached the end of what has been an epic journey especially in the field of education. The year 2020 brought with it changes hitherto unseen and unimaginable. Every effort was made to make the virtual medium stimulating and enriching. My staff stood up to every roadblock and emerged victorious. As we reached the fag end of the year, I can proudly proclaim and say all of us deserve a pat on our backs for a job well done.
Before I draw the curtains on this memorable year, let me run you through the highlights of the month gone by:
Virtual Sports Day was a landmark occasion. It was graced by a multifaceted genius MR K S Biradar and the GIIS National Co-Scholastic Head MS Vaishali Borde . Both had the virtual audience spellbound with their valuable insights and treasure trove of experiences. The enthusiasm shown by the children made us forget the outdoors that is synonymous with sports. Children rejoiced in the true spirit of sportsmanship. I was also impressed by the sheer zest and flexibility they showed despite being home bound for most of the year. Parents too soaked in the celebrations with gusto, which just goes to prove that virtual or non virtual, sports could never take a backseat and is an essential activity enjoyed by the young and the old alike.
The National Mathematics Day was observed on December 22 as a fitting tribute to the legendary mathematician S Ramanujan with a plethora of activities which not only energized the students but also familiarized them with a great personality.
Now, for some accolades that came our way : GIIS Bannerghatta received the ELETS award for Innovation in Campus Infrastructure at the Virtual 17th World Education Summit organized by ELETS Technomedia Pvt. Limited on December 14, 2020. The school is proud to receive this award for "Green Breakthrough to Smart Education" Our maxim of constant connect with nature through education has won many us accolades and that has indeed been a USP of our campus. I also had the privilege of winning an award at the recently concluded RWCC ( Real World Challenges Convention) for my podcast on " Thought Leadership through Story Telling". I dedicate this award to this esteemed institution that inspires me to do my best day in and day out.
I wish to share that we have won the CII MILCA GOLD award in the 'School Category' at the CII MILCA AWARD 2020 - National Award for Academia (virtual). Two of our Grade 5 students , Chethas Harsha Rajanna and Likhit Shivakumar made a presentation on behalf of the school regarding the Green initiatives. It is indeed a moment of glory for the students to represent the school at such a prestigious forum.
Truly , what a year it has been ! I would like to wish each one in the parent fraternity a joyful and fulfilling year ahead. Happy Holidays –enjoy them while making sure you don't let your guard down and look ahead, for there surely is a light at the end of the tunnel. I would like to sum up my thoughts with this beautiful quote by the American Poet TS Eliot ,"For last year's words belong to last year's language. And next year's words await another voice. And to make an end is to make a beginning."
Here's to new beginnings!
Regards,
Dr. Sharmila Mallick Choudhuri
Principal, GIIS SMART Campus, Bannerghatta