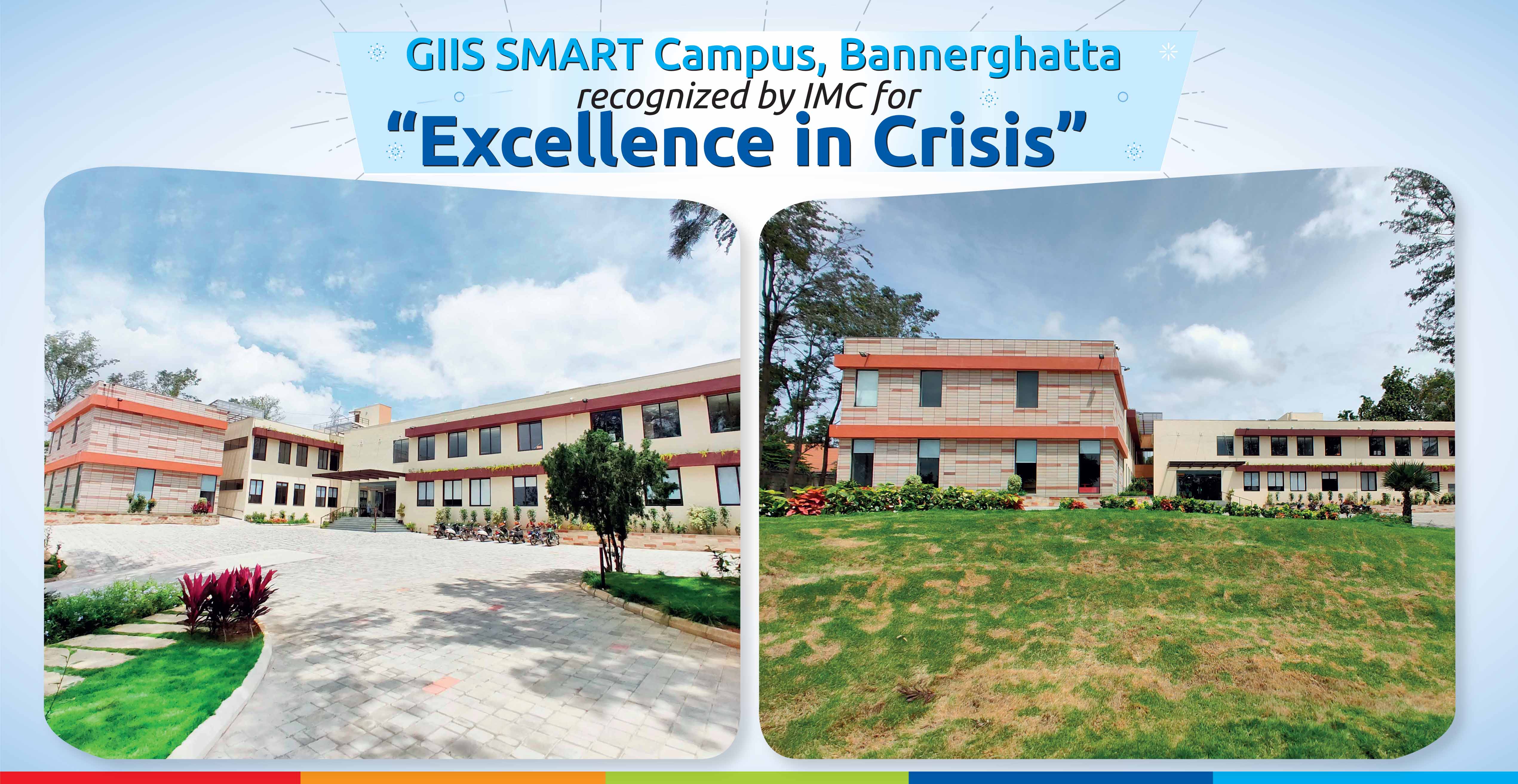 "When you give your best during the tough times, the brightest doors open for you."
Global Indian International School, SMART Campus, Bannerghatta in Bangalore has been felicitated with one of the most prestigious awards, the IMC Award for Excellence in Crisis on 30th October 2020 at the Virtual Event that was organized to celebrate the success stories of all the achievers from various industries such as manufacturing, education, pharmaceutical, clothing, refinery, and FMCG.
Excellence in Crisis Award
'Excellence in Crisis' is a new initiative by the IMC Ramkrishna Bajaj National Quality Award Trust. The purpose of this online competition was to showcase the excellent and challenging work done by organizations during turbulent times. Other achievers of this honorable award were renowned names like Amul (Gujarat), Aditya Birla Fashion and Retail Ltd., (Bangalore), Bharat Petroleum Corporation Ltd. (Kochi Refinery), L&T Electrical and Automation Electrical Systems and Equipment (Coimbatore), among others.
On receiving the award Dr. Sharmila Mallick Choudhuri offered true gratitude to the entire team at GIIS Bannerghatta. Check out the glimpses from our happy success story towards achieving excellence in crisis through our video showcase
Quick decisions and Smart actions in crisis management
As every organization has its unique approach to deal with COVID 19, we at GIIS Bannerghatta had our unique Disaster Recovery Plan in immediate action. We had our best team in place and the crisis impact was assessed on the basis of four parameters - achieving economical sustainability, improvements in tackling the crisis, maintenance of hygiene, and mental health of the workforce within our educational organization.
We prepared our staff, students, and parents with appropriate instructions and practice in how to act and react in case of an emergency. We planned on operating as a shared leadership model that benefited from a greater degree of agility, innovation, and collaboration and now benefit from superior peer-support.
We adhered to all the guidelines by the Government and ensured that our workforce is provided with masks, gloves, and sanitizers at all times.
Our leadership allowed greater autonomy in decision making to the groups and group leaders. Swift and easy modes of communication were activated immediately among different groups, the group leaders were made to report to the leadership.
As part of our agile awareness drive, GIIS Bannerghatta teachers conducted an online workshop to sensitize the parents and students regarding the awareness of the pandemic and preventive measures.
The seamless transition from the physical presence in classrooms to the online classes was so smooth that our parents have highly appreciated and welcomed this new way of schooling during the pandemic.
The various innovative initiatives like Spark a Conversation, Bi-weekly messages of Happiness, launch of GIIS Healthline, and Helpline numbers have definitely contributed to creating the new normal trend of schooling during this crisis. All this was possible because of the continuous support of all teachers, staff, students, and parents.
The Excellence in crisis award by IMC is a big milestone for GIIS Bannerghatta as we complete nearly 2 years of establishment. Our SMART Campus merges traditional education with state-of-the-art technological advancement in the midst of beautiful lush green serene ambiance, one-of-a-kind in the entire vicinity of Bannerghatta.