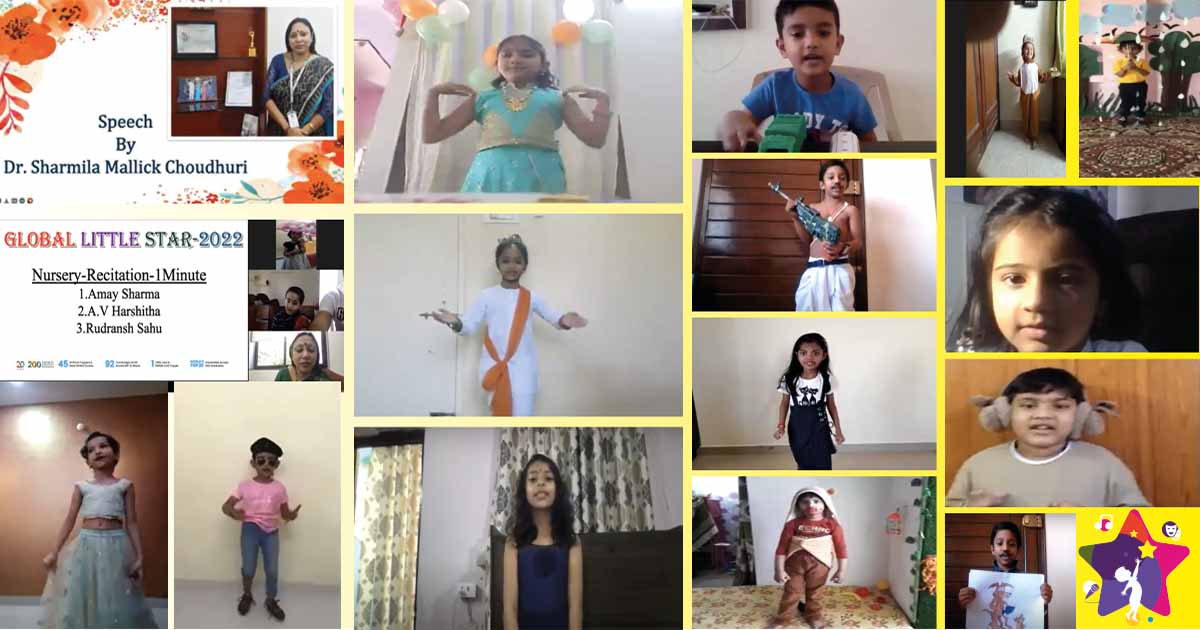 "The tiniest dream that you make happen is worth more than the biggest dream that you never attempt."
Our biggest goals and dreams are made up of many small milestones that are critical in deciding our pace and keeping us motivated to achieve success. These crucial checkpoints prepare us for the future and help us polish our skillsets for the numerous tests we would be facing ahead in our lives. Our aim at GIIS is to provide students with ample opportunities where they can showcase their prowess in various fields and create memories that will keep fueling their dreams for years to come. This aim extends to not only our students at GIIS, but to all the other students from different schools as well who can become global leaders of tomorrow with active support and boundless opportunities. In continuation of our efforts to empower the children across the globe, we organized Global Little Star 2022- an annual event where children take the prime stage and put their best foot forward.
Coming to the competitions conducted at GLS'22, the lineup was undoubtedly very impressive. From singing and dancing to dramatics, dressing-up, and exhibiting exemplary oratory skills- the contests touched upon all the fields that a child might be interested in. Starting with an encouraging address by our beloved Principal ma'am- Ms. Sharmila Mallick Chodhuri, we were also graced by the dynamic presence of our chief guest Ms. Aarti Nevatia who not only judged the spectacular performances but also encouraged the tiny tots with her motivating words.
The event could not have had a better start than nursery cherubs reciting shlokas and poems under the Recitation contest. Dressed as their favourite animals, kids showcased their mimicking skills the next under the Dress-up challenge and thrilled us with their marvelous presentations.
Show and Tell was a unique competition where KG1 students chose specific topics and proved their impeccable command of oratory skills. In the next two competitions- Fancy dress as a national leader and role play as a teacher, kids channelized their inner actors and delivered mind-blowing performances.
Primary segment students left no stone unturned in entertaining the audience and grabbed the stage right after the competitions for pre-primary tots concluded. Beginning with the Sing in the rain contest, they took no time in spreading the magic of their charm and talent in the air. Tapping their feet on upbeat patriotic and contemporary music, kids spellbound the attendees with their bewitching moves with such grace that could hardly be described in words.
By the end of this glorious event, winners of all the competitions were announced and a few words of encouragement were delivered by our dignitaries. It was great to see how so many students and parents got associated with us and took an active part in the GLS'22 activities leading it to be a massive success. We thank all of you for your hard work & efforts. Let's keep on collaborating and nurturing future global leaders.