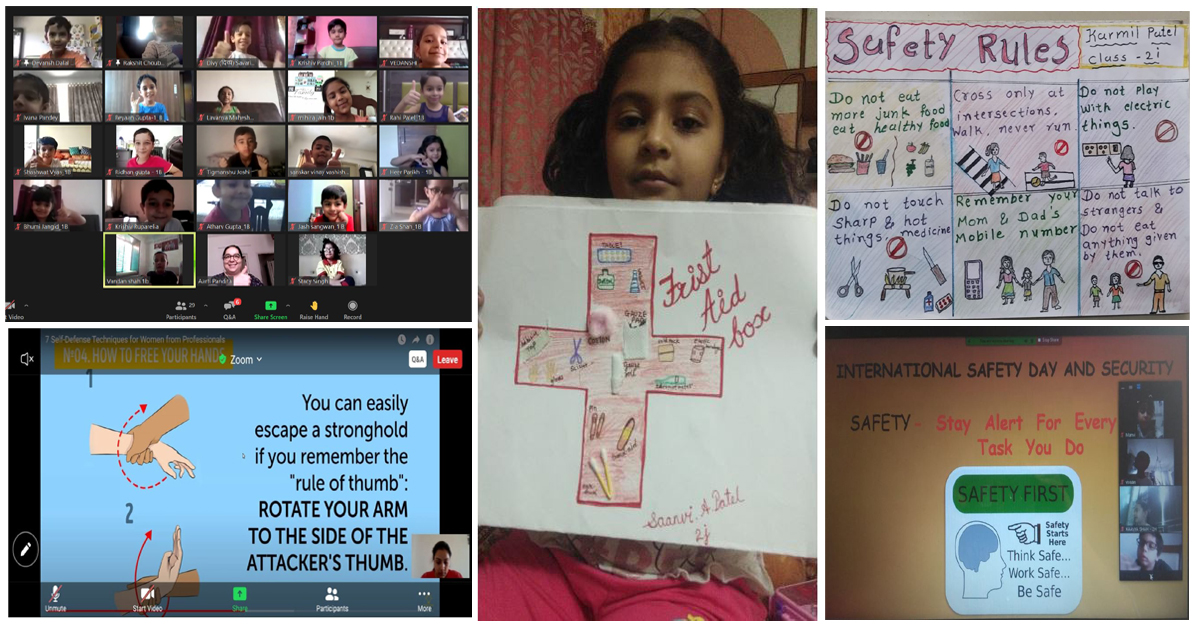 Living a safe, hygienic, and dignified life is the measure of the true success of a country. While proper laws and policies to propagate safety and hygiene in society are necessary, the onus lies on the citizens to maintain their safety and that of their loved ones.
GIIS believes that safety education is extremely important so that our children can keep themselves safe and also contribute to keeping others safe. Hence, Safety Awareness Week was observed across GIIS campuses from 26th of April to 30th April 2021. At GIIS Ahmedabad various grade-wise activities were organized for the students as part of this week-long event.
Being aware and vigilant is the key to remaining safe. Safety Talk in the formative years plays an important role in creating a culture of safety in the students. In view of this, the students of Pre Primary to Grade 4 were shown a series of videos and given talks on safety at home, school, outside, and personal safety during the pandemic by the teachers. They were also given the activity of preparing a first-aid kit for emergencies.
Special sessions on Self Defense Techniques and Immunity Booster Asanas were conducted by the Sports teachers during the PE periods for Grades 5 to 12 through live demonstrations, videos, and PPTs.
During the IT periods, the students of Grades 5 to 8 were made aware of Cyber Ethics and various threats in the Cyber World and how to overcome them. The students also made posters on Cybersecurity.
Poster Making and Slogan Writing Competitions were organized for the students of Grades 6 to 8. The students made thought-provoking Posters & Slogans on the theme of 'Safety' to raise awareness on the topic. The winners were awarded e-certificates.
A session on the policies of Global Schools Foundation(GSF) regarding the safety of all its stakeholders was conducted by the HO for the leaders and staff across all GIIS campuses. They were introduced to the safety manuals, checklists, stringent guidelines, and SOPs of GSF for implementing safety measures in each GIIS campus.
The Principal, GIIS Ahmedabad Mr. Caesar D'silva said on the occasion, "Safety of all the stakeholders is our top priority at GIIS. Safety education can help the children become aware of possible hazards in different areas of their lives, and enable them to make appropriate decisions and actions. It is with this objective that the Safety Week was observed at GIIS Ahmedabad".
The week-long event received active participation from the students and the staff members.