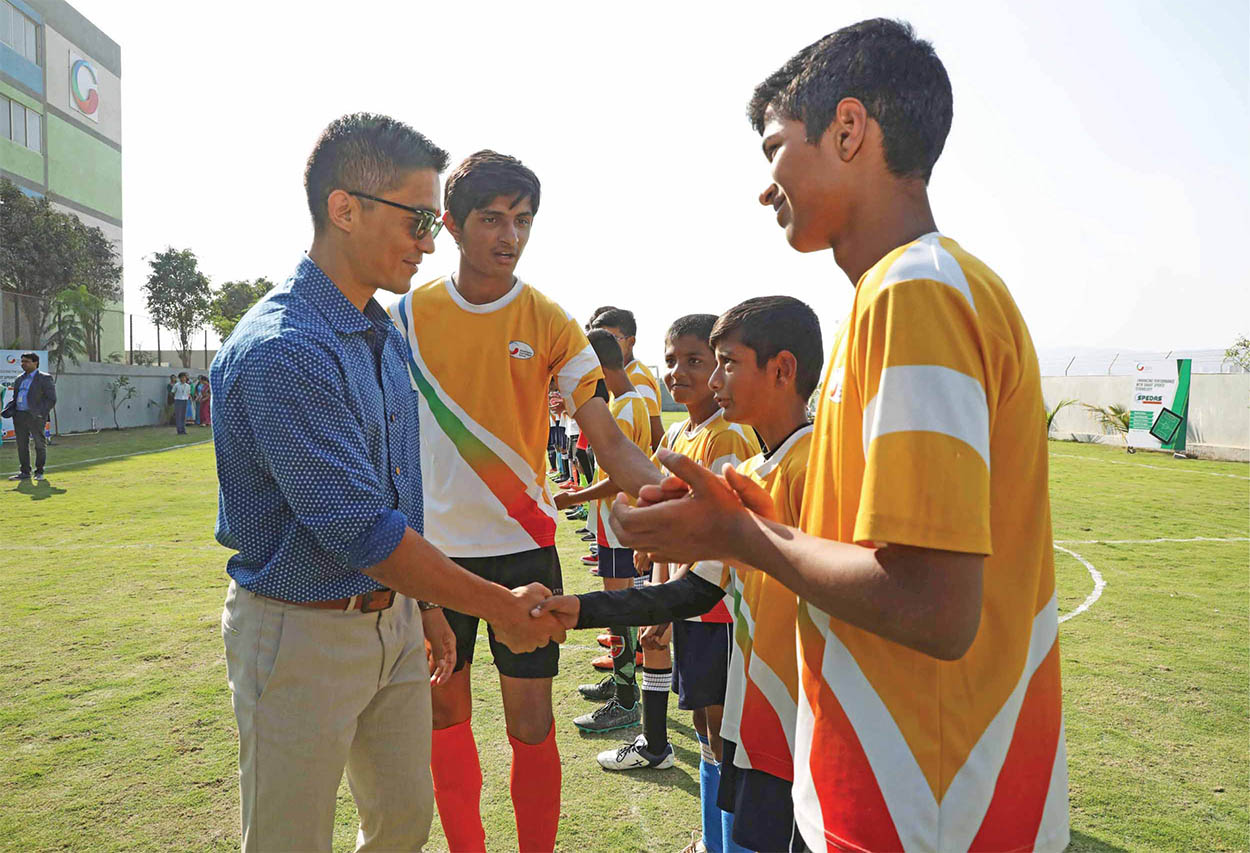 Global Indian International School (GIIS), headquartered in Singapore, launched the first-of-its-kind sports performance-enhancing technology - SPEDAS in India at GIIS SMART Campus, Balewadi, Pune.
The first leg of the launch was inaugurated by the Indian football legend and captain of the Indian football team, Sunil Chhetri. SPEDAS concept was first introduced at our Singapore's SMART Campus in 2018. Following that, we now aim at introducing the technology across all our Smart Campuses in India - starting with Balewadi and Hadapsar campuses in Pune.
Speaking on the occasion and sharing his thoughts, Mr. Chhetri said, "Football is a rapidly growing sport in India. In line with the Khelo India programme, this is the perfect time for Global Indian International School to bring in this cutting-edge football data analytics across its schools in India. This will go on to create and nurture the next generation of football players from schools. It is the first school in India and South East Asia to introduce such a high-end technology, which I believe would help in fulfilling the aspirations of thousands of football players who can immensely benefit from this SMART football technology. I would urge all students who aspire to take up the sport professionally, to make the most of this facility."
SPEDAS has been a part of our "School of the Future" initiative which allows students to develop 21st-century skills. It is a technology that has brought football data analytics to the coaches and students and helped them in enhancing player performances along with team coordination. It uses advanced sensors that are placed on the field, on the players, and in the football, to map the movement of each component in the field in real-time. The players' movements are recorded statistically and can later be analysed by the coach to help improve their performance in subsequent games.
This advanced system tracks each player with very high accuracy and one can see the player move on the field in relation to the ball and the other teams in real-time. Providing crucial data to improve on-field game has been brought into schools for the first time by us for the age group of 3-18 year old students.
At GIIS, we continuously strive to offer the best developmental tool and opportunities to our students. Moving ahead in that direction, we intend to transform the development of football in India and build future national and international players. Such a technique will not only help improve the game for our players, but it will also give them a solid platform to understand the game better and excel in sports right from the school level. This first-of-its-kind initiative is also used by us in other sports like basketball in our SMART Campus in Singapore.
Not only do our SMART Campuses leverage proprietary data analytics software to improve learning and teaching across the school, but will also provide Sports scholarship to deserving students. Using GIIS's global network of schools to our advantage, we will encourage the use of this smart sports technology through our unique student exchange programmes for students across the globe and grant scholarships in sports to deserving students.
Speaking on the occasion, GIIS' Deputy Chief Operating Officer Mr. Rajeev Katyal said: "GIIS believes in giving each deserving student a chance at excelling in the field of their choice. We are offering over 200 GIIS Global Sports Scholarship to deserving soccer players to be part of GIIS and benefit from the SPEDAS SMART Football program.
Excellence in sports is one of the 'Gems' in our award-winning 9GEMS holistic framework which promotes value-based learning beyond academics. This framework focuses on individuality, leadership, and innovation amongst students, as well as emphasises on excellence in visual and performing arts, personality development, universal values and ethics, community and care and overall skill development amongst all students".