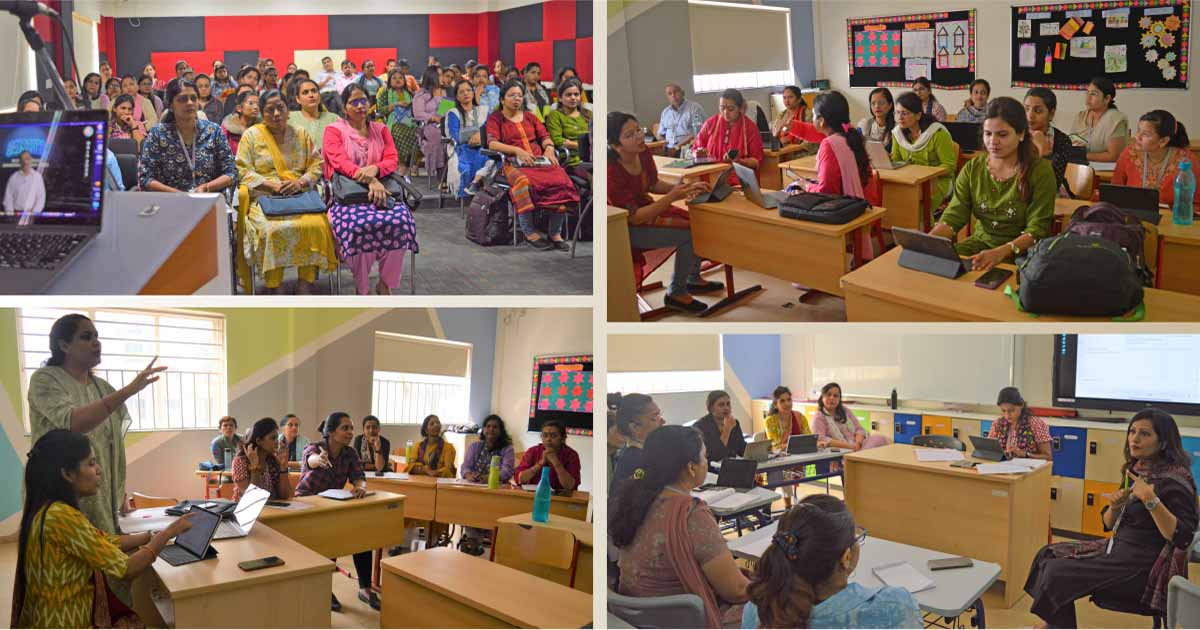 It is an annual event held to promote leadership and improvisations of the current system by brainstorming ideas, thoughts, innovative processes, and existing process enhancements.
This year has marked the eleventh year of the event. Up until the pandemic, 2020 it used to be an event among campus leadership, directors, and top-level management. But as with everything else, if the pandemic had taught us anything, it is to move forward with each other. 2022 was also the year, our session had begun offline, and so was this event as opposed to the last two years of an online presence.
In GIIS Balewadi, GALS'22 was held on November 25 and each staff member of every department was enticingly a part of it. There was no one who didn't show up enthusiastically. The event commenced with introductory and motivating words of wisdom by Mr. Atul Temurnikar, chairman and co-founder, of GSF, followed by messages from Mr. Kaustubh Bondhankar, Mr. Rajeev Katyal, Dy. CEO, Dy. COO and other Directors. Post their display messages, academic and non-academic staff dispersed into five teams for the first round of Focussed Group Discussions in their respective allotted rooms. This continued for the whole day in four batches with five tracks, with a new subject each time. Each time the team shuffled with different presenters and different team members, discussing every possible topic under the sun– what better than including people who are on the first line of operations? So to name a few of the topics; integrated curriculums with IIT/NEET, Procurement and vendor, GSF alumni cell, achievement and appreciation of the students, attracting the best talent pool, etc.
As the event grabbed its hold, things started to fall together and employees gradually were starting to think in a particular direction. Most of us were total newbies to an event of this sort, but as it processed, it didn't feel like it. Not everyone included in each group had the expertise of the same or even had a bit of knowledge of it, even then each soul presented gave their best insights and contributed every ounce of knowledge they had of the subject.
GALS'22 was an experience to have! With each passing day, we take little by little from life, and on looking back, it amazes us how many of the best things we've accumulated. It's largely by the people we interact with, the ideas we discuss, and the progressive mindset with which we step forward. More than a quarter to an hour of one GD didn't feel like it. As the matter of fact, the whole day hadn't felt as if we were putting much of our energy to do this, because everyone was equally invested in it.
Any of this was possible, and at the end of the day, we all could paint a bigger picture with the sheer vision and drive of the school principal Dr. NKP. Ashok Raj. The principal also took up team building activities whereby trying to bring in the importance of staying together, working together, and achieving together. The event, each round of GD, experiences shared, everything had the moral of teamwork, that it always walks us through every situation on a positive note.
Drawing towards the close of the day at 6pm, which began at 9am in the morning, teachers and staff still had the energy to go for one more round of GD, as everyone was actively involved and had derived energy from working and sharing thoughts and ideas collectively. Everyone was thankful to GSF and GIIS for such an exciting and enriching opportunity. We all had a great time learning through this and are eagerly waiting for it to happen next.