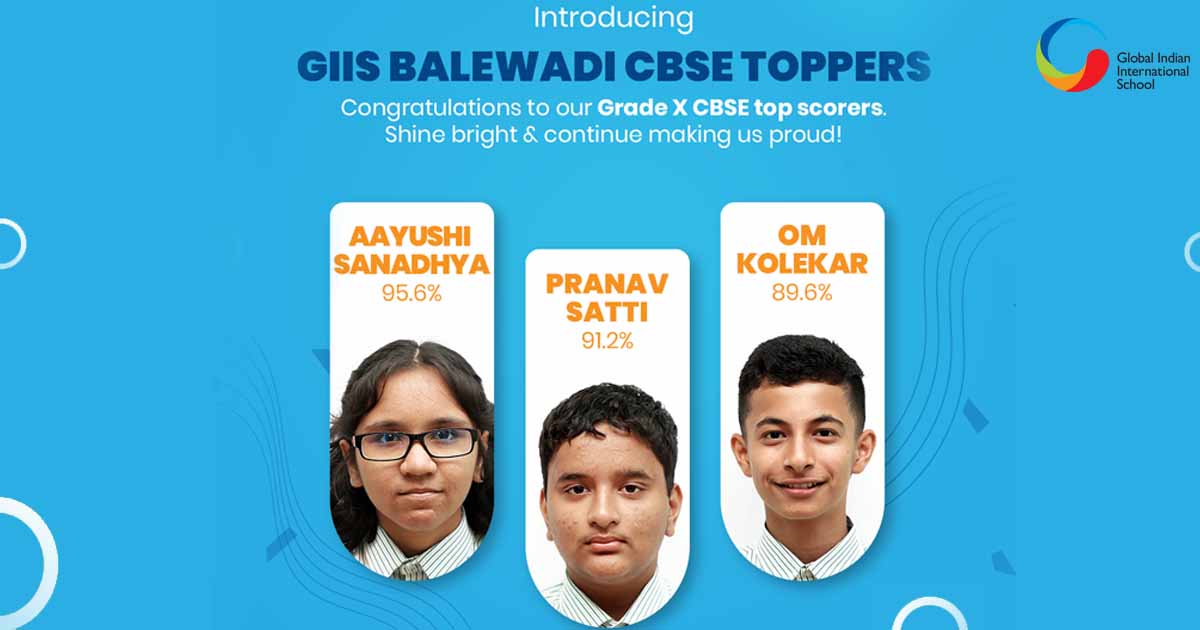 The Global Indian International School (GIIS), Smart Campus, Balewadi, achieved noteworthy academic feats in the CBSE Class X Board results. The result was announced on 3rd August, 21. The board exams were cancelled this year due to the ongoing COVID-19 pandemic and the increasing number of cases in the country.
Representing first batch of Grade X at GIIS Balewadi, Aayushi Sanadhya topped the school with 95.6% while Pranav Satti and Om Kolekar scored 91.2% and 89.6% respectively to secure the second and third positions. The school achieved a 100% pass percentage with 60% students scoring above 80% aggregate marks.
The evaluation criteria for granting the final marks this year were based on the assessment scheme. Due to the absence of Board Examinations, this was the preferred method to declare the results. The results were therefore drawn up considering students' performance in internal evaluations, periodical tests, half-yearly examinations, and pre-board examinations.
Commending the performance of his students, Dr. NKP Ashok Raj, Principal of GIIS Balewadi (Pune) said, "In these extraordinary circumstances it is highly gratifying to see our students perform well in the board exams with many students scoring excellent marks in various subjects. It is imperative to mention that GIIS has a remarkable history of students performing exceptionally well in all appearances of life. GIIS has achieved such commendable outcomes by continuously supporting its teachers and the earnest efforts of the students. We are delighted with our students' achievements and want to thank the parents for their ongoing support. I would also like to thank the students for showing resilience during these challenging circumstances."
Commenting on their board results, some of the GIIS Balewadi toppers shared their experience.
Teachers Support
Aayushi Sanadhya, the school topper said, "Thanks to all my teachers, I am very glad about my 10th board result. In the beginning of the year, online classes were a completely new way of learning, however with everyone's support at school and at home, I think we adapted to it quite well."
Right Planning
"I really feel happy to share my experience of 10th std. Actually the year 2020 was not good due to the pandemic and all of us were tensed because of our board exams, as mostly all of us were in deep stress whether the exam will be held or not. But, I think the planning of studies at the beginning of the educational year helped me a lot. My teachers inspired me from time to time. At first, I planned for a day, then for a week, and then for a month. Also, regular reading is the key feature of success I think. Whenever I used to get bored I picked up a book to read, which helped me a lot in my exams. I practiced Mathematics sums daily. On average, I would have practiced each question almost 5 times in a year. Regular completion of assignments also improves your internal score. I am sure our school will be having more great achievements in the future", shared OM Kolekar, who secured 3rd rank in the list of school toppers.
Right Learning Platform
" The sudden change in the mode of learning was quite challenging initially, but thanks to the amazing teachers, with whose help, I was able to adapt to it seamlessly and score very well in my boards", said Pranav Satti, 2nd school topper of 2020-21 Class X batch.
GIIS' constant endeavour to deliver quality education to its students with a strong emphasis on enhancing their learning outcomes has been a crucial factor in the notable performance showcased by its students. We wish all the best to our students for their future educational journey.