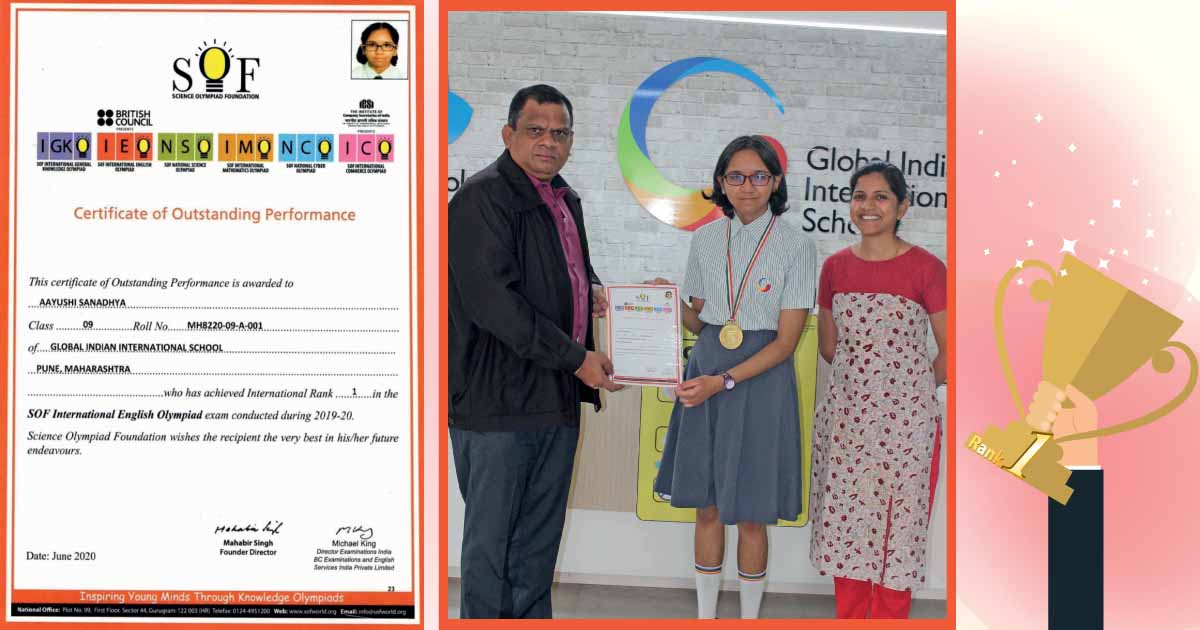 The Global Indian International School, Smart Campus Balewadi is extremely proud of its student Aayushi Sanadhya of Grade 9A, who has secured 1st Rank at the International level in SOF - International English Olympiads 2020. She has been awarded with a cash prize of Rs 50,000 along with an International Gold Medal and a Certificate of Merit, for her remarkable achievement.
Excited on this accomplishment, Dr. N.K.P Ashok Raj, Principal GIIS Balewadi, said "We are delighted of Aayushi's noteworthy achievement in the international English Olympiad. It is indeed a proud moment for all of us at GIIS. We wish her all the success which she rightly deserves, and a bright future ahead."
Overwhelmed by Aayushi's performance, her mother too expressed her happiness during her visit to the campus to receive the certificate, medal, and cheque. She said, "GIIS has always been a believer and a provider of quality education to its students. I would like to thank GIIS teachers for helping my daughter Aayushi in all the competitive exams, and the proficient team of GIIS Balewadi for their constant support in providing various platforms & opportunities to showcase and nurture her talent. Aayushi has won International Rank 1 in English Olympiad and is awarded prize money of fifty thousand rupees besides a gold medal and the merit certificate. It is indeed a very proud moment for all of us. We would like to thank GIIS and the Olympiad Foundation for their contribution to her remarkable feat. It has definitely been a wonderful experience for Aayushi, as her teachers at school have been really supportive in making the online learning process easy during her preparation for the Olympiad competitions."
We are really glad to see our students achieving great milestones in their education journey with GIIS, which is truly driven by the motto of providing quality education to its students by offering them the right kind of platform with guided exposure to showcase and nurture their talent in the field of their choice.
About SOF
SOF is an Educational Organization popularizing academic competition and assisting the development of competitive spirit among school children. The Foundation has been striving to promote scientific attitude and temperament through innovative activities and the use of IT in the learning process that involves school students across the country and abroad. The competition witnessed massive participation from various CBSE schools across India and abroad.