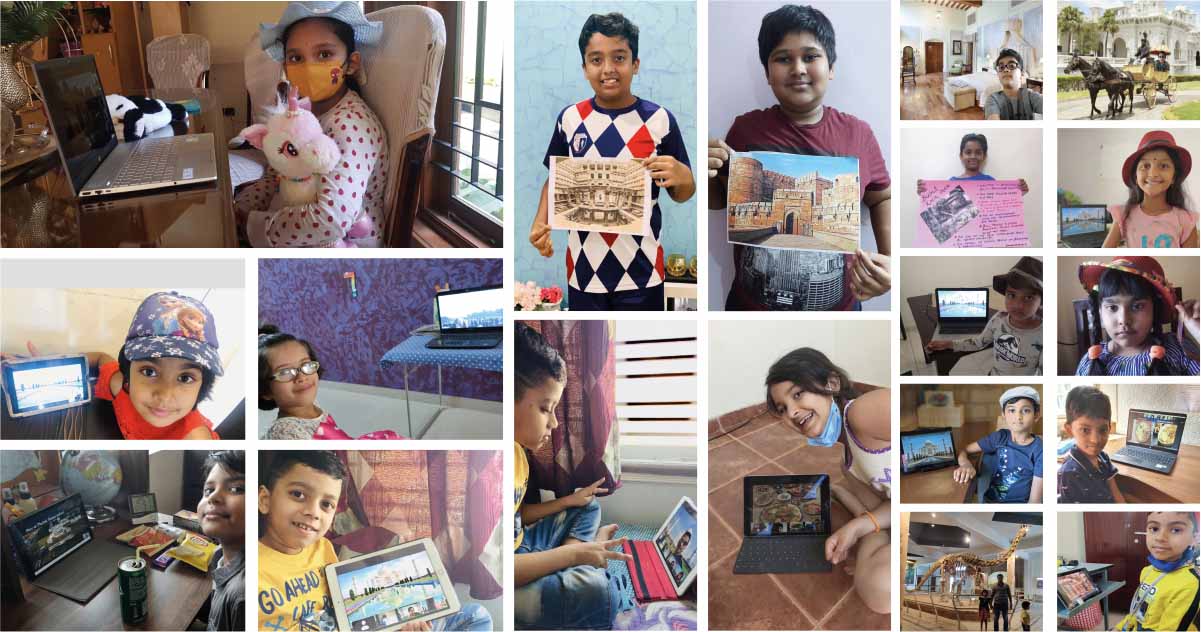 As part of the Heritage Club activity of INTACH in collaboration with GIIS, students of GIIS Bannerghatta SMART campus delved deep into the rich cultural splendor of India. The Indian National Trust and Cultural Heritage (INTACH) is a non –profit charitable organization that works actively towards the conservation of heritage. It is said that "A wise traveler never despises his own country." India is home to a splendid treasure-trove of heritage from the Mauryas, the Marathas, the Rajputs, and the Mughals, Cholas and Wodeyars, the Pride of the Indus Valley Civilizations, and to the natural beauty of the Western Ghats to the Himalayas. The mountain railways to the architectural wonder of a railway terminus, one can name it and they will find it in this great nation.
As part of this activity, our students of Grade 1, 2, and 3 set out on virtual tours to Taj Mahal, the crowning glory of the Mughal Empire, Grade 2 to Hampi – the seat of the southern Vijayanagar Empire, and Grade 3 to the Hyderabad Golconda fort.
In Grade 4, a classroom discussion was held on 'why heritage is an integral part of a country's history and thereby inculcated awareness about heritage sites in one's own state. The students were made aware of the rich heritage of Karnataka, be it with sites or intangible cultural aspects of the state ranging from music to folklore. Children were given the additional task of finding out the Heritage sites in their own city, Bengaluru, and their historical significance. Students immensely enjoyed this exercise and unearthed sites hitherto unknown to them or only those they were partly familiar with.
In Grade 5, a classroom discussion on 'why heritage needs to be preserved for future generations and the role of UNESCO' was conducted, in which the students participated with enthusiasm. The students expressed their thoughts on why heritage is important and what they get to learn through the heritage of a place.
Children learnt about the mission statement of UNESCO too and the role it plays in enhancing the knowledge of the future generations and keeping them in touch with their roots. This was followed by a video on UNESCO world heritage sites in India which familiarized students with the aims of UNESCO and its role in heritage conservation. Students were later given additional tasks to select one among the 38 heritage sites they learnt about and deep dive into its history and significance. It was a boost to their minds and souls and made them swell with pride about their nation's history and culture.