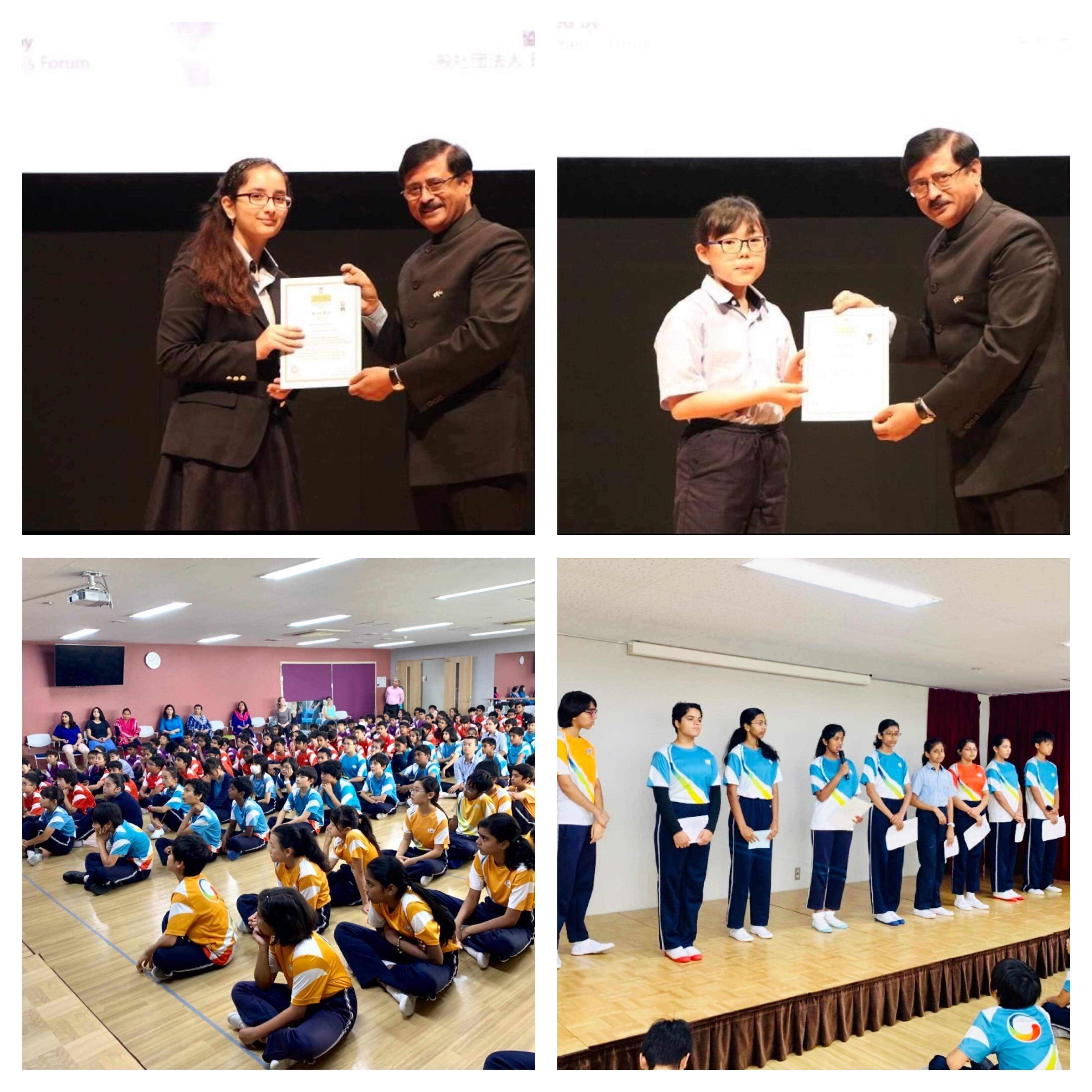 The 150th birth anniversary of Mahatma Gandhi was marked at GIIS Tokyo with a variety of activities. The Higashikasai High School Campus students highlighted the ideologies, principles of truth and harmony of Mahatma Gandhi's life to their fellow schoolmates and teachers during the morning assembly. The students recited poems written by them in Hindi, Japanese and English that spoke of virtues and morals of grit and determination, and of non-violence and communal harmony. They also read stories from the life of the Father of the Nation and performed a skit highlighting Gandhian philosophy and the importance of truthfulness and honesty and why Gandhiji believed and abided by such values all his life.
The students also gave speeches and paid homage to the humanitarian values Mahatma Gandhi stood for. They reminded the audience about his unparalleled contribution to the society.
To mark the occasion, a charkha (spinning wheel) made out of paper by some senior students and their teachers to spread the enriching ideology of Mahatma Gandhi was displayed on the school foyer.
Two students also made the school proud by bagging the first and second positions in an essay writing (English/Japanese) competition conducted by the Embassy of India in Tokyo on the occasion to celebrate the 150th Birth Anniversary of Mahatma Gandhi.
• First Prize - Syed Aleeza (English Essay)
• Second Prize - Serina Kondo (Japanese Essay)
Both the students were awarded certificates of excellence and gifts by His Excellency, Ambassador of India to Japan Mr. Sanjay Kumar Verma at the Vivekananda Cultural Centre, Embassy of India on October 2, 2019.
The topic of the essay writing competition was: "Mahatma Gandhi's Relevance in the Present World".
The Embassy of India brought a compendium of selected essays for the purpose of gifting to various dignitaries in Japan.