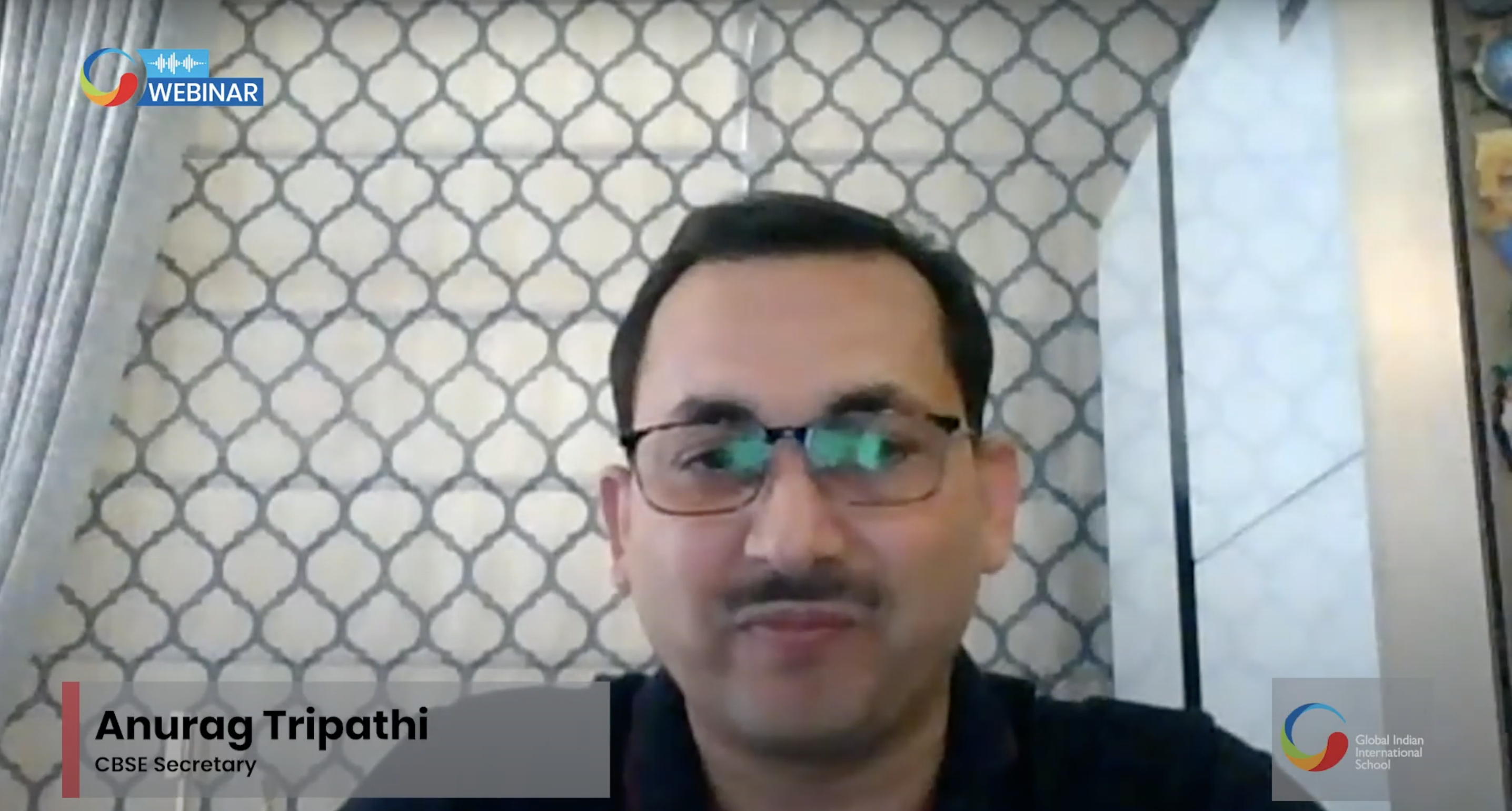 CBSE Secretary, Mr Anurag Tripathi, spoke at length about the new steps taken by CBSE to make the curriculum 21st century compliant and also how is the board gearing up for new ideas in view of the recent pandemic.
The participants were informed of new developments taking place in the curriculum during a Leadership Lecture Series conducted through a webinar on 27th June.
Watch the insightful speech by Mr Tripathi here:
Mr Atul Temurnikar, Co-Founder and Chairman of Global Schools Foundation thanked Mr Tripathi for the board's trust and long association with GIIS. Read the full story here.
Watch Mr Atul's speech here:
Read the entire speech of Mr Tripathi here:
Good afternoon to all the participants. My best wishes to all of you for a safe, secure and healthy life.
And I'm very much hopeful that the world will overcome all these problems very soon, which are affecting not only the education system of the world but the entire economy of the world. Let us wait as every problem has a solution, and I'm very much hoping that this COVID challenge will very soon be overcome.
I am very much thankful to all of you especially Mr Atul and your organisation for giving me this opportunity.
Also thanks to all participants, especially students, parents, teachers and principals who are contributing their best during this COVID time. First of all, I once again welcome all of you. The first question is, "What is the aim of education?"
The aim of education is to prepare future-ready, responsible, committed and values-oriented citizens for any country and holistic development through competency-based learning. What is the meaning of holistic development? What do you mean by holistic development? This is a general term like complete personality development. But i can say that development of complete mental, emotional, physical and social well-being can be a holistic development of the child and lead to the all-round development of an individual.
When we say holistic development, this indicates competency-based learning of a child.
Through competency-based learning, through skill-based learning, we can develop a holistic view of a child. Again, I can refer to what is a competency? There's a general term everyone talking about competency, but when we go in detail, I can say that demonstration of knowledge, skills, ability, attitude to perform a task successfully and efficiently on different occasions, then meeting real-life challenges and analyse the reasoning in communicating ideas effectively. A competent person is capable of applying or use a set of knowledge and skills of different abilities successfully carry out a task.
For example, we quite often say a person is competent enough to handle a gathering of a hundred people. This means that he has the skill sets or abilities needed to handle a group of 100 persons. And in this case, the person has the requisite skill of content knowledge, communication, people management, and leadership. All these skills put together are competencies. When we are saying a person is competent, we can say he is competent with skills with content knowledge with communication skills, and by these skills, he can become a leader. Then, what is competency-based learning? Basically, it is a model of education that enables a student to engage in the learning, exercises, activities and experiences. It focuses on the demonstration and application of learning in real-life situations, thereby developing their 21st century skills. I can repeat it. The aim of education is to develop a child in a holistic manner. And for that, there are two things. There will be two things, 1) competency-based learning and 2) 21st Century Skills. Competency-based learning is a big umbrella which covers 21st century skills, and some other things. But today, I emphasise only on competency-based learning, especially 21st century skills. What are these 21st century skills? The learning outcomes of a child will reflect these 21st century skills
And these are the three L's that denote 21st century skills. Learning skills 4Cs, Literacy skills IMT and Life skills, FLIPS. When I'm talking about literacy skills when I'm talking about learning skills that cover critical thinking, creativity and innovation, collaboration and communication, I am referring to literacy skills, then that will cover information literacy, media literacy, technology, literacy, and finally, the life skills. Life skills we can denote it in five components, flexibility and adaptability, leadership and responsibility, initiative and self-direction, productivity and social and cross-cultural interaction. In a nutshell, education today aims at providing competency-based learning to enable our students to be equipped with 21st Century Skills, for being future-ready citizens contributing to nation-building.
How to achieve this aim? How our schools or parents or teachers can achieve the same, this competency-based learning and 21st century skills? There are four pillars. Our entire schooling system, I can say four years of the teaching learning process. 1) Language and literature 2) mathematics 3) sciences and 4) social sciences. Generally, from nursery to class tenth, or nursery to class twelfth, we teach these four subjects either holistically or different branches of these four subjects. And with these four subjects, our schooling system or teachers or parent can develop 21st Century Skills in students.
Example: integrating 21st-century skills and competencies in subjects, how a teacher can integrate these things?
How you can achieve learning goals or learning outcomes through these routine four or five subjects because he does have a limitation? He has only four or five subjects. Through those subjects, each of those subjects, he has to achieve 21st-century skills as well as competency-based learning.
Like with language and literature, a teacher has to emphasise on the child's communication skills, creativity, innovation, and critical thinking.
With maths: problem-solving, creativity, critical thinking, and I can say innovation and creation.
During this pandemic time, entire schooling and the entire process of the teaching learning process have been stopped. So this is a big question, that how we can proceed during this time? Because schools are almost in a lockdown situation.
And students are staying at their home. Some schools are continuing their online digital classes, some are not able to continue these online classes. And even those schools, who have facilities of online classes, they are facing many problems with teachers training, teachers capacity building, even for practicals, for activities for projects, etc.
One more major problem we are facing is that after 2. 2.5 hrs students are unable to sit in front of the desktop, laptop for this teaching learning process.
First of all, we have to focus ourselves that well-being is the priority. The well-being of a child, of our students, should be the topmost priority for the entire school system.
Nowadays, learning gaps are increasing, but after COVID, after some time he will achieve each and everything if we protect him with health, security and safe atmosphere. And we have to provide the students with a stress-free atmosphere. Parent, teachers, school act as a motivator. And decrease the gap in learning due to closing after schools. This time, the school has to provide opportunities to develop 21st-century skills and competencies through digital technology, through enabling learning through online learning modes, project-based learning online assessment and feedback.
These are the four pillars that fall in this teaching learning process during COVID time during pandemic time. Earlier, the entire burden was on the schools. But nowadays, while we are facing this lockdown situation this COVID situation, basically homes are converted into schools and we are demonstrating, we are enabling, we are giving each and everything to our students from a school-home from online to home.
Schools, parents, students, principals and teachers. These are the four pillars of the entire teaching learning process. And I can say the first and foremost, the most important pillar is the role of a teacher and principal during this Pandemic time. And these are the roles, these are the responsibilities of a teacher, a principal during this time. And I can say that enabling opportunities for continuous joyful and meaningful learning during COVID. Give opportunities for child-centric activities, developing creativity and innovation among the students and equip yourself with the latest knowledge.
Next, the role of the school manager during this COVID time, during this pandemic time, provide safe, secure and appropriate infrastructure. Equip the school with the latest worldwide knowledge and technology enable principle to be the pedagogical leader training to all staff including teachers and bring the latest and current district technology in the school.
This is the responsibility of management, who can achieve, who can avail, who have to do these things for the welfare, for the future of students. And the role of a parent during this time enabling joyful atmosphere at home, especially during COVID. Keeping children is stress-free, do not compare, avoid punishment, physical punishment, etc. A balanced diet with complete nutrition and be the role model for your children. This is the responsibility of a parent
That they can demonstrate by their conduct, by their behaviour, by their attitude, because the affective domain, the emotional development always affects the entire career of a student of a person or a citizen. And this affective domain, this emotional development, especially denotes from the parents. If parents will behave/treat them equal, will be emotional with them, if they inspire, they motivate, if they support their child during this time, this will be a very thing for the future, after COVID time.
What about the role of students? Normally we miss it and during this time, be an active learner. Because everything we are providing to students entire education setup is child centric, and he has to be an active learner during this time. Be physically and mentally fit. Research about the latest knowledge, respect and honour your surroundings and for competency-based learning, for initiatives. For skilling students, CBSE has taken many initiatives which I can show you the next few slides. Transforming a school education, making education competency-based and developing 21st Century Skills among the students.
CBSE have developed more than 20 handbooks and manuals.
Those manuals and handbooks are available on our website and entire teaching fraternity, parents, students can approve on those manuals and handbooks. These manuals refer to each and every area of their main domain. And these are the main manuals and handbooks which we have prepared in last one, one and half year. Like experiential learning for all integrated learning, for 21st Century Skills, for joyful mathematics, for the integration of artificial intelligence, cyber safety, a handbook for students, a handbook for teachers, a handbook for principals, eco clubs, hubs of learning. These are the main manuals, which we have already uploaded on our website. And I request to all teachers and principal who are participating in this webinar that please go through on those manuals. Because if the teacher and principal will be equipped with those things, the entire process will be very smooth and very fruitful. Even besides those manuals, CBSE has taken many, many academic activities.
Like 30% rationalization of the curriculum while retaining the conceptual connect and clarity. The process is ongoing, and we will come very soon with the rest of my syllabus. I advise you to all school to conduct online classes wherever possible, and many schools have been able to contain these online classes. Alternative academic calendar by NCERT that is available on our website as well as NCERT website and I again request to all teachers and principals that please go through on alternative calendar of NCERT.
Circular regarding this has been placed on the CBSE website. Availability of CBSE Diksha platform and Vidyadaan. This is a government portal basically launched by MHRD Ministry of Human Resource Development and any teacher, any principal, any student can contribute their videos, their content, their knowledge, their text on this platform, and with that entire teaching faculty, entire education world can be benefited. Then applied mathematics has been introduced on this system. Last year, we have introduced basically, basic level mathematics in class 10 and this is the next step for introducing applied mathematics for class 11th and 12th students. Self-oriented learning is a better way hence the schools are expected to promote and encourage project-based learning and self-learning among students. Art integrated transdisciplinary projects up to class 10, with minimum 1 project based on pairing up states and UTs under Ek Bharath Shreshtha Bharat as per ekbharat.gov.in. This is a major activity which we have launched, we have issued a circular regarding this that there will be one compulsory project in class 10 with integrated art learning. One other initiative, parental engagement in the self-learning of students advised by the board. Focus on 21st-century skills of creativity, innovation, collaboration, life skills, etc. through these projects. Then, there are many life lessons by experts for holistic well-being of school-going children. For mental wellness, physical wellness CSE and fit India mission have collaborated to provide live sessions by experts covering a range of topics for the holistic well-being of school-going children which will include simple actionable tips around basic exercises nutrition, yoga and meditation and boosting immunity etc. CBSE has also initiated many investment activities for developing 21st-century skills and competencies like we have introduced our Aryabhatta Ganit challenge reading challenge expression series is storytelling competition, creative and critical thinking practices. And besides the academic activities, we know that if, we provide a comfortable teacher, if we provide a capable principal, the entire process can take a long jump and for the CBSE have initiated many training modules to their teachers. Earlier, we earlier we were providing only online training during COVID. We have launched online training courses also. And in the last one and a half months, more than two lakhs teachers have been benefited.
And this training initiative, there are online training of teachers and principals nearly two lakh teachers have been trained till date. Preparation and release of about 400 CBSE podcasts for various subjects available on CBSE Shiksha Vani app and on-demand training, there are many examination reforms before last time, last year, like a paradigm shift from rote learning to competency-based learning, as learning competency-based question to assess the 21st-century skills of thinking creativity, problem-solving analysis. I've been introduced in class 10th last year.
That was only 10% but this year, competency-based questions shall be a minimum of 20% in class 10 and a minimum of 10% in class 12. With this, all subjects have an internal assessment in the form of project and practicals. As you all know, there are 20% marks for internal assignment in all those subjects where there are no practicals. And then the last policy level reforms are mainly policy level reforms initiated by CBSE like new affiliation bylaws, customer oriented bylaws, even this year, we are trying to revise our bylaws that there will be no committee inspection in extensive cases and we will be will provide extension without any committee inspection lifetime directors letter.
And then a school's principal teachers and parents all I have to work together to implement these reforms to bring transformation. All these words, once again, I can say that the entire aim of education is to enable the students with 21st-century skills.
21st century skills and come with these four or five subjects with teaching-learning process and home-based learning. And during COVID time, this is a big challenge, but many schools are trying and successfully doing these things. And this is my humble request that do not stop during this time. Do not wait. The time when lockdown will be open.
Go ahead, start immediately, and whatever you can do in the favour of students, once again, thank you Atul Ji and the entire team for giving me this opportunity.
End of speech