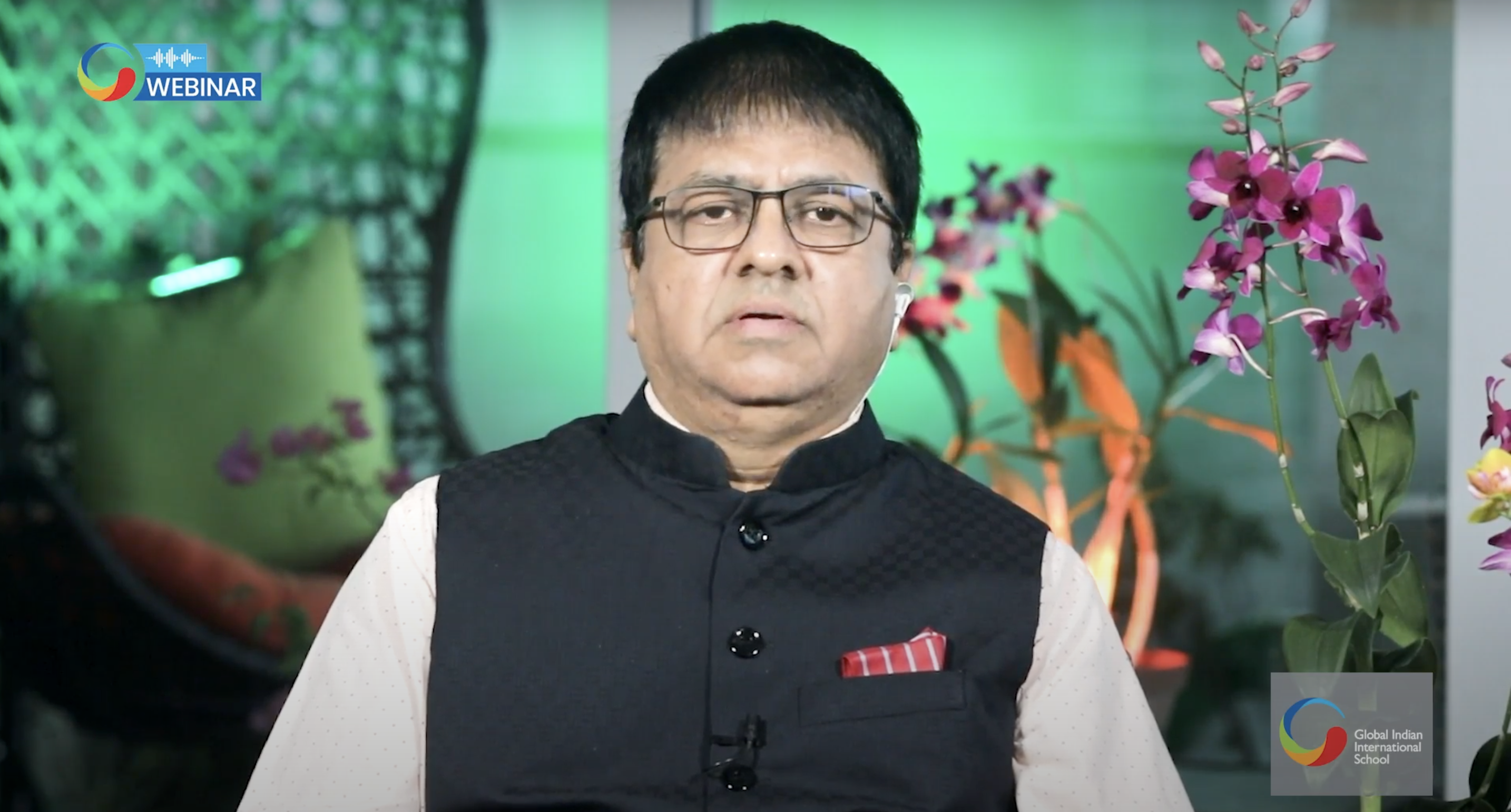 Mr Anurag Tripathi, Secretary of CBSE, interacted with GIIS fraternity worldwide and shared some great insights on how CBSE has effectively incorporated measures to keep the syllabus up to date and coming up with ideas to answer the concerns arising in times of COVID.
The webinar was attended by over 300 participants. In the end, Mr Atul Temurnikar delivered a thank you note to Mr Tripathi, mentioning GIIS' old and strong association with CBSE and how it has helped many GIIS students achieve success in life.
Watch the speech of Mr Temurnikar here:
Mr Tripathi, during his speech, threw light on new developments in CBSE and also appreciated GIIS' initiative of coming up with virtual classes effectively in much less time.
Watch Mr Tripathi's speech here:
Read the entire speech by Mr Temurnikar:
I would like to thank Mr Tripathi, for taking the time to address our students and teachers and talking so frankly, about the issues close to their heart.
Our association with CBSE goes back a long way. Global Schools started working with CBSE as early as 2002. Back then, there were no Indian schools in entire Southeast Asia. Many Indian expatriates were facing challenges for their children's schooling, on account of continuity, a compatible curriculum and affordability. Needless to say, this was leading to unnecessary stress on the entire families & mobility was becoming an issue.
Global Schools Foundation was the first to introduce CBSE curriculum in the ASEAN region. At the time, we were a fledgeling entity, but CBSE showed faith in our ability for which we are ever grateful & obliged. So, countries such as Singapore, Malaysia and Thailand got the first CBSE schools, thanks to the Global Schools Foundation and today we are educating over 12,000 students under CBSE in these countries & India.
Our holistic approach to education, through the international award-winning 9 GEMS Programme - has been an icing on the cake for CBSE students, who become well-rounded students, with strong foundations in academics and skill-based learning.
Over the years, GIIS has been receiving and educating, many students of Indian origin and who are born outside India, and we are pleased to say that for them, CBSE is still the strongest curriculum, due to its undisputed track record around the world.
Besides this, CBSE and GIIS have a stronger association in many other areas. In 2006, when Mr Ashok Ganguly, chairman of CBSE visited GIIS, based on his discussions and interactions, GIIS proposed to him that India should consider starting an international curriculum which will be able to meet the evolving needs of many other nationalities.
The vision was to have an alternative for all nationalities to study in an international curriculum, which leveraged on strengths of STEM education of India and the centuries-old rich educational traditions, such as those imparted by historical Nalanda. The idea was picked up very soon by CBSE and it took some years to bring this to fruition, through a cabinet approval, and thus CBSE International was introduced.
For GIIS, this was a good example of how CBSE has been open to adopting best practices, for the benefit of the student community, as it remains at the forefront, of evolving their systems, in accordance with their requirements around the world. Some more forward-thinking initiatives were implemented by CBSE, like allowing South East Asia social studies, to be learnt by students of other nationalities.
A new version of SEA Social Studies was introduced, for CBSE students to accommodate all nationalities. We would like to put on record, that it was the GIIS teachers that took an initiative, in authoring these special textbooks.
The Indian diaspora, which is making a mark all over the world, finds their educational origins in CBSE.
Time and again, CBSE has proved, that the depth and breadth of their syllabus, excels any other international offering.
The proof is when we see the diaspora, which has an educational foundation in the CBSE curriculum, reaching new heights of success around the world. Even their children or grandchildren, who have studied CBSE, will vouch for the richness of the syllabus and the way shapes a personality.
I am sure, even now, CBSE curriculum is creating many more masters of subjects, in many parts of India, through its sheer amount of knowledge, that is imparted to shape a students' career. It is evident also, from our own results.
Our Asia & Middle east toppers such as Anushka Gaikwad, are making a mark in reputed universities - getting entry into courses of their choice, doing very very well, and emerging winners.]
All these traits, make CBSE arguably, one of the best curricula in the world, yet it is the most under-marketed curriculum, whose value is remarkable. There are many things CBSE is doing exceptionally well. Several initiatives, which are now, first of its kind in India as well as in Asia.
We were deeply indebted to the leadership of CBSE in 2018. Just before the SMART Campus was about to commence, an official CBSE delegation, led by Anurag Tripathi ji, visited GIIS and gave valuable advice.
Data analytics has been used by us in academics since the beginning. Academic improvement of every single child, is managed through data, to ensure that we are able to help, and mentor a child, to grow in a gradual & phased manner, so that they can improve on their learnings during the school.
Eventually, we have extended Data Analytics, to sports as well, such as basketball and soccer. Through on-field sensors and wearable devices, sports performances on the field are gathered, and analysed, to improve their game.
These systems, are highly advanced, and rarely found in schools or even universities or national associations. Yet, we have provided them, as we want students to really gain from these cutting edge Analytics.
I'm very proud to say, that even in the area of music, there has been a lot of work that we have done. We believe that music is a way to build a personality. This is a crucial part of, the 9GEMS, and we believe that this very specific Programme, will benefit a lot of young students. It will be sharpening their music skills, but also in terms of, you know, taking it as a profession.
And very recently, we have announced the "GIIS Shekhar Ravjiani School of Music" with a renowned music director and producer. A video of our joint initiative was circulated by none other than Mr Amitabh Bachchan, on his social media channels.
Our inspiration has definitely been CBSE, which has embraced and introduced, newer methods of teaching and learning, in their curricula.
Artificial intelligence, Robotics, Design and Technology, Machine learning, etc, are all the requirements of 21st-century education. CBSE has been at the forefront, to provide these to their students.
We are thankful to, the Ministry of Human Resource & Development MHRD, for their strong support given to GIIS during the past 18 years. Which is why CBSE will always be a curriculum of repute and continues to give, a strong challenge to any international curriculum worth it's salt.
I am proud that GIIS & CBSE are inseparable, and I can assure you, Mr Tripathi, that we will wholeheartedly support CBSE in all their future endeavours.
Thank You.