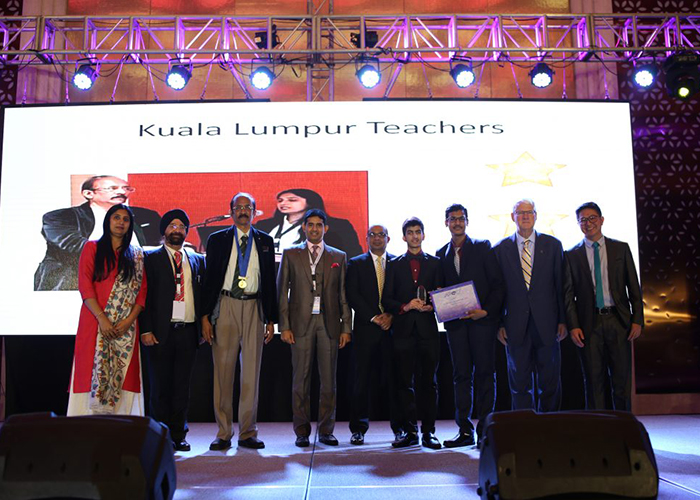 During the annual 23rd APQO International Quality Conference 2017 held at Manila, Philippines, Asia Pacific Quality Organization (APQO) has announced the World Class Winners of the Global Performance Excellence Awards.
This year, APQO had announced six organizations from six Asian and Pacific Rim Countries recongizing as exemplary companies of world-class quality performance. Global Indian International School is very proud and grateful for the recognition received.
It's a great platform to create "best-practice" sharing environment that fosters a healthy spirit of competition, which encourages and rewards excellence.
About APQO
The Asia Pacific Quality Organization (APQO) was founded in 1985 in China and formally chartered in the Philippines where it is headquartered. Its mission is to be recognized as the universal prime mover in terms of continuously improving the quality of goods and services all over the world but also the quality of life for people. The award uses the Malcolm Baldrige Performance Excellence (MBPE) Criteria (formerly the Malcolm Baldrige National Quality Award) and has three classes of winners: World Class (highest), Best in Class (2nd highest) and Quest for Excellence (3rd Highest).
GIIS also participated in the APQO International ACE team competition. Award for Contributing to Excellence (ACE) is a highly participative and interactive team excellence competition designed to recognise teams that demonstrate common values and goals imparting a powerful sense of shared purpose where they combine talents and skills to achieve new levels of performance.
GIIS campuses from Queenstown, East Coast, Balestier, Kuala Lumpur, Tokyo, Abu Dhabi, and Bangalore won awards in the below mentioned category.
| | | |
| --- | --- | --- |
| Award Name | Awards won CAMPUS-WISE | Paper or Award Area / Topic that won |
| Global Performance Excellence Award 2017 - World Class Educational Organisation | GIIS Queenstown | Performance Excellence - World Class Educational Organisation |
| Global Performance Excellence Award 2017 - World Class Educational Organisation | GIIS Balestier | Performance Excellence - World Class Educational Organisation |
| Global Performance Excellence Award 2017 - Best in Class | GIIS East Coast | Performance Excellence - Best in Class |
| Global Performance Excellence Award 2017 - Best in Class | GIIS Kuala Lumpur | Performance Excellence - Best in Class |
| Harrington Ishikawa Award 2017 for Mr. B. G. Shenoy, Director, Global Centre for Education Excellence | GIIS Singapore | Individual Contribution |
| 2 Stars Awarded for Quality Circle: Nurturing Kindness at ACE Team Competition, 23rd Asia Pacific Quality Conference 2017, Manila | GIIS Queenstown | Quality Circle: Nurturing Kindness |
| 3 Stars Awarded for Quality Circle: Water Warriors at ACE Team Competition, 23rd Asia Pacific Quality Conference 2017, Manila | GIIS East Coast | Quality Circle: Water Warriors |
| Special Award - Best In Leveraging Technology for the Quality Circle: Water Warriors at ACE Team Competition, 23rd Asia Pacific Quality Conference 2017, Manila | GIIS East Coast | Quality Circle: Water Warriors |
| 3 Stars Awarded for Quality Circle: Happtitude at ACE Team Competition, 23rd Asia Pacific Quality Conference 2017, Manila | GIIS Balestier | Quality Circle: Happtitude |
| 3 Stars Awarded for Quality Circle: Excelling in Excellence – through our ' Nine Gems'- A Holistic Education Framework' at ACE Team Competition, 23rd Asia Pacific Quality Conference 2017, Manila | GIIS Kuala Lumpur | Quality Circle: Excelling in Excellence – through our ' Nine Gems'- A Holistic Education Framework' |
| 3 Stars Awarded for Quality Circle: Creating Leaders For Life - Student QC at ACE Team Competition, 23rd Asia Pacific Quality Conference 2017, Manila | GIIS Kuala Lumpur | Quality Circle: Creating Leaders For Life - Student QC |
| 3 Stars Awarded for Quality Circle: SEWA, Serving Education With Agility at ACE Team Competition, 23rd Asia Pacific Quality Conference 2017, Manila | GIIS Tokyo | Quality Circle: SEWA, Serving Education With Agility |
| Special Award - Best in Innovation for the Quality Circle: SEWA, Serving Education With Agility at ACE Team Competition, 23rd Asia Pacific Quality Conference 2017, Manila | GIIS Tokyo | Quality Circle: SEWA, Serving Education With Agility |
| 3 Stars Awarded for Quality Circle: Heartfulness Intervention for Student Betterment at ACE Team Competition, 23rd Asia Pacific Quality Conference 2017, Manila | GIIS Abu Dhabi | Quality Circle: Heartfulness Intervention for Student Betterment |
| 3 Stars Awarded for Quality Circle: Falcon team - Encouraging Entrepreneurship at ACE Team Competition, 23rd Asia Pacific Quality Conference 2017, Manila | GIIS Bangalore | Quality Circle: Falcon team - Encouraging Entrepreneurship |
| 3 Stars Awarded for Quality Circle: Smile to Excellence at ACE Team Competition, 23rd Asia Pacific Quality Conference 2017, Manila | GIIS Singapore | Quality Circle: Smile to Excellence |