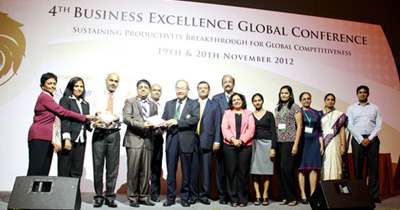 GIIS Queenstown and GIIS Balestier Campuses in Singapore were presented the prestigious Singapore Quality Class (SQC) Star certification awards at the 4th Business Excellence Global Conference on November 19, 2012 at a prestigious ceremony held at the Resorts World Convention Centre, Sentosa. It was a very proud moment for the entire GIIS community as Mr Atul Temurnikar, Co-founder and Chairman, Global Schools Foundation (GSF), was invited on stage to receive the two plaques on behalf of GIIS Queenstown and GIIS Balestier campuses from Prof. Cham Tao Soon, Chairman, SQA Governing Council.
Present at the prestigious event were members of the GIIS team, comprising of Mr Rajiv Vasudeva, Country Director (Singapore), Principals Mr Ramesh Mudgal, Ms Madhu Khanna, Ms Melissa Maria, Principal Designate Ms Meenakshi Mehta, Vice Principal Ms Sheela Karia, Ms Radha Ganesh, Ms Sutha Ramakrishnan and Ms Arati Sekhar - Student Coordinators from GIIS campuses in Singapore, Mr B G Shenoy, Director- Global Centre of Education (GCEE), Mr Kaustubh Bodhankar, Deputy CEO, GSF and Mr Amol Vaidya, Director - Operations, UAE.
It is a commendable achievement for GIIS that all three GIIS schools in Singapore have been recognized by SPRING for Business Excellence. GIIS East Coast Campus received the SQC Star certification award in 2011.
In 1997, SPRING (Standards, Productivity and Innovation Board), Singapore launched the Singapore Quality Class (SQC) scheme to recognize organizations which have attained a commendable level of performance against well defined parameters. These parameters or framework includes 7 categories, namely, Leadership, Planning, Information, People, Processes, Customers and Results.
L to R - Mr Rajiv Vasudeva, Ms Melissa Maria, Ms Arati Sekar, Mr BG Shenoy and Mr Atul Temurnikar with the SQC Star certification plaque for GIIS
Balestier Campus

L to R- Mr Rajiv Vasudeva, Ms Sheela Karia, Ms Meenakshi Mehta, Mr BG Shenoy, Mr Ramesh Mudgal, Mr Atul Temurnikar and Ms Sutha Ramakrishnan with the SQC Star certification plaque for GIIS Queenstown Campus
SPRING Singapore SPRING Singapore is an agency under the Ministry of Trade and Industry responsible for helping Singapore enterprises grow and building trust in Singapore products and services. As the enterprise development agency, SPRING works with partners to help enterprises in financing, capability and management development, technology and innovation, and access to markets. As the national standards and accreditation body, SPRING develops and promotes an internationally-recognised standards and quality assurance infrastructure. SPRING also oversees the safety of general consumer goods in Singapore.