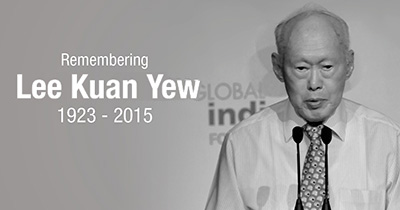 A leader beyond definition and a visionary beyond words, Mr Lee Kuan Yew shaped a strong, dynamic and empowered Singapore. His determined belief in creating a fair, equal and meritorious society, today, is a living embodiment of the city state's unique character. Mr Lee was revered among people and world leaders alike, for his foresight, strategic acumen and statesmanship.
Global Indian International School (GIIS) was honoured to host Mr Lee Kuan Yew at GIIS Queenstown Campus in May 2009, for the launch of Mr Narayana Murthy's book 'A Better India: A Better World'.
GIIS joins Singapore in mourning the loss of its founding father and former Prime Minister. Mr Atul Temurnikar, Chairman and Co-Founder, Global Schools Foundation has written to Hon'ble Prime Minister of Singapore, Mr Lee Hsien Loong, offering his deepest condolences to Mr Lee and his family on behalf of the GIIS fraternity.
Former Mr Lee Kuan Yew addressing
GIIS Queenstown Campus students -
May 11, 2009

Mr Atul Temurnikar greets Former
PM Mr Lee Kuan Yew - May 11, 2009