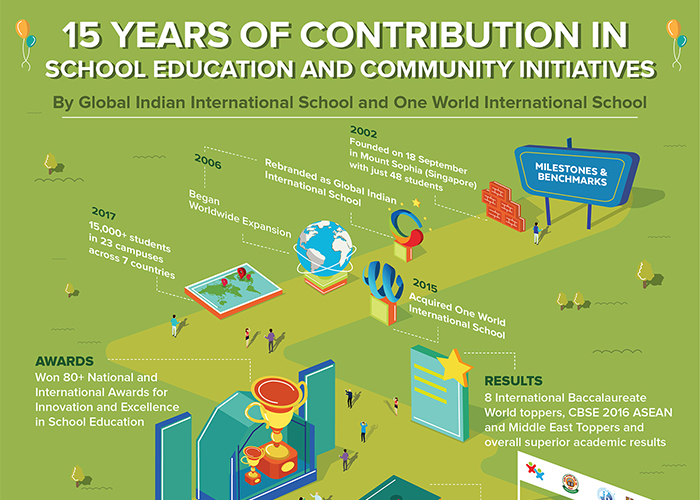 Today, the 18th of September is a very special day for us at Global Indian International School. Global School Foundation has completed 15 glorious years of contribution in the education and community initiatives worldwide.
What started with just 48 students in Mount Sophia and a dream to be a pioneer educational institution for the Indian Expat community living in Singapore, today after 15 years, is present in over 23 campuses in 7 countries, shaping students and making a positive impact.
We have to our credit over 80+ National and International Awards for Innovation and Excellence in school education which reinforces our belief that we have the students best interest in mind always.
Our students have consistently performed brilliantly and have done us proud. We have produced 8 International Baccalaureate World toppers, CBSE 2016 ASEAN and Middle East Toppers overall have had superior results all through. All this off course would not have been possible without the support of our strong teacher community who have helped in bringing innovation in our classrooms and have made learning a joyful experience.
We believe in being able to shape future global citizens who are equipped with a mindset to excel. We also realize that, this is just the beginning to many more glorious years.