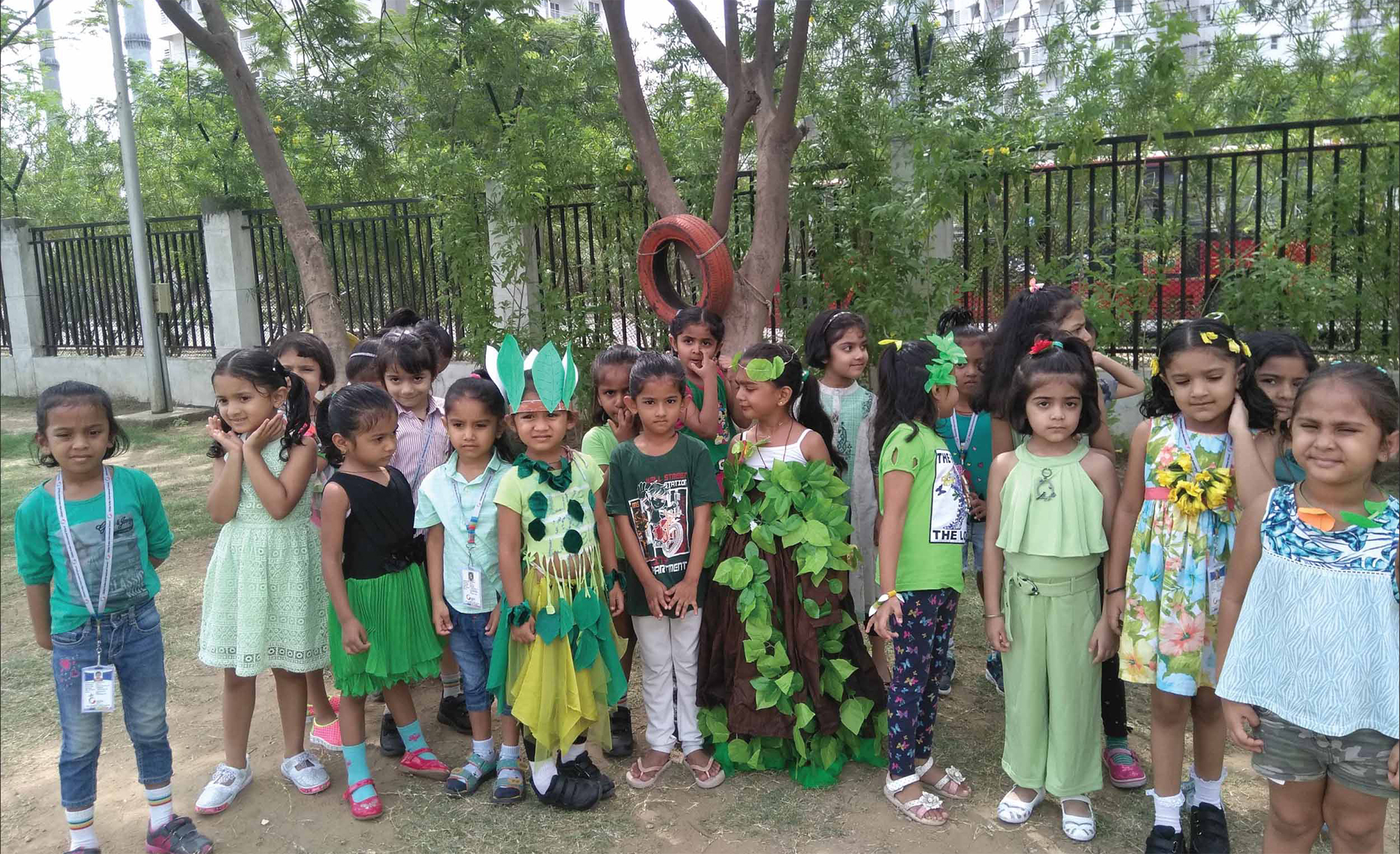 Global Indian International School (GIIS), Ahmedabad celebrated the festival of trees - Van Mahotsav in the campus with absolute zest and spirit. To support the ongoing eco-friendly fervour, students came dressed in green attires.
The celebrations were graced by Ms. Renu Seth who was invited as the guest for the Leadership Lecture Series (LLS). Ms. Seth is the Director of the H B Kapadia Group of schools. She is also the Founder of Green Principal's League, which works for the sustainability of Environment and Humanity.
Van Mahotsav is a festival that supports the cause of saving trees & forests and the green cover to reduce the global warming effect and fighting the issue of rising air pollution. This festival was started to spread awareness amongst people to plant more trees for environmental good.
The special celebrations began with the lighting of the lamp by the school Principal and the esteemed dignitaries. This was followed by a Nukkad Natak based on the disasters of deforestation staged by the students of grade 6.
Ms. Seth appreciated the GREEN ETHICS initiative taken up by all the GIIS Schools. She spoke about the importance of planting trees and suggested ways to conserve our environment. Her inspirational talk encouraged our students to participate in a Q/A session. During her conversation with the students, she emphasized on Rain Water Harvesting and asked the students to volunteer to plant trees in or near areas like Police Station or Blind Schools.
Mr. Ceaser D'silva - Principal, GIIS Ahmedabad while addressing the students and the audience thanked Mother Earth for our existence, shelter and nourishment. He said - "We need to respect and love Mother Earth, only then we can truly understand the power of nature. One must take care of the plants with absolute love and affection." He also encouraged students to participate in the Project - Elevating Greens that have been initiated by the school authorities.
On the occasion of Van Mahotsav, all the classes were given a sapling which they had to plant in the allotted places within the campus. Each class will take care of their plants and help to make the school - a GREEN SCHOOL. Two students from each class were selected as winners based on their innovative ideas to come dressed in green. They were even awarded certificates of Green Ambassador for the same.