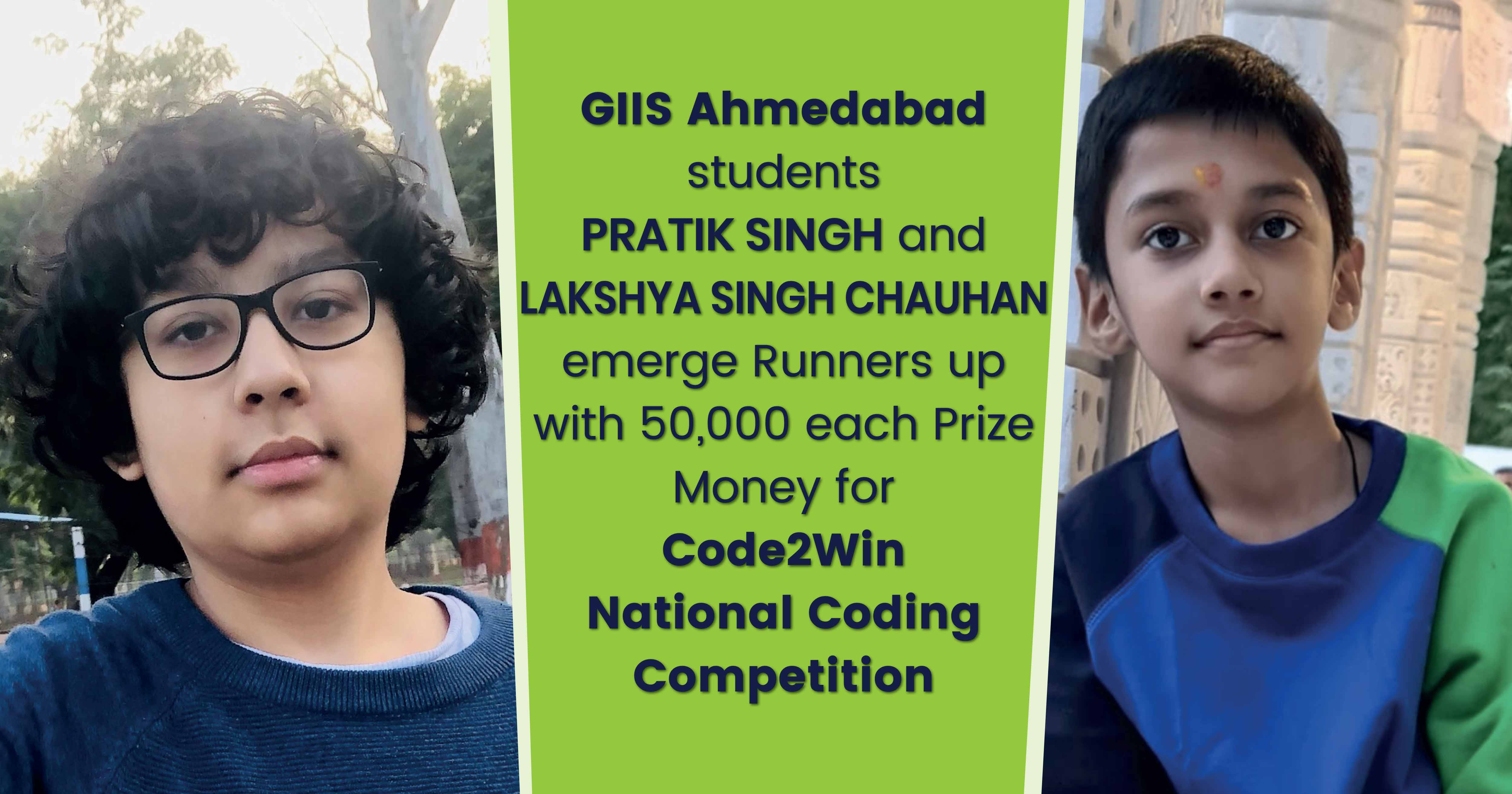 "Champions do not become champions when they win the event, but in the hours, weeks, months and years they spend preparing for it. The victorious performance itself is merely the demonstration of their championship character."
- Alan Armstrong
If you have talent and genius, you are unstoppable! This is indeed true for Lakshya Singh (Grade 4) and Pratik Singh (Grade 8), the coding wizzes of GIIS Ahmedabad, who have secured First Runner Up Positions in the Code2Win- National Level Coding Competition in their respective categories and received a cash prize of Rs. 50,000 each, after competing with several other students across GIIS India and other schools.
Both the coding stars of the school won these positions after displaying remarkable performance in all three stages of the Code2Win Competition- 1: Self-learning and practice round, 2: School round, 3: The gruelling final round that tested their coding knowledge and skills to the optimum.
The GIIS Ahmedabad IT teachers are full of praises for these talented duos. Be it class activities, school or inter-school level competitions related to coding, they are always eager to put in their best efforts and excel.
"Lakshya is a very soft-spoken and shy child. As parents, we tried our best to provide him various opportunities so that he can realize his true potential. He tried martial arts, skating, and dancing, but didn't exhibit a keen interest in these! During the lockdown, we observed that he had a lot of interest in coding and programming. He used to watch programming and coding videos on TV and learnt many things himself. So we encouraged him to attend coding classes. We are very proud to see his growth and success and immensely thankful to GIIS for providing such a big platform to him and all the support during the competition ", say Sarita and Akhilesh Singh Chauhan, the happy parents.
Past efforts repay you in unexpected ways. The young coding star Pratik Singh is elated on hearing the news and shares his feelings, "I have always been an avid video game player. This got me curious about the making of video games and propelled me to learn programming. The COVID lockdown was just the opportunity that allowed me to invest my time in programming. I have been programming since Grade 6 and this achievement is the result of my dedicated efforts in the past." He also owes his success to the inspiration provided by his parents Shalini and Dr. Madhav Krishna Murari and the guidance from the IT teachers at GIIS Ahmedabad.
Mr. Caesar D'silva, Principal GIIS Ahmedabad congratulates both the young champs and says, "It is truly commendable that Lakshya and Pratik have achieved these milestones at a young age. Their hard work, determination, perseverance, talent, and skills are indeed laudable. Kudos to the proud parents and teachers for their contribution in this big achievement. It is really a moment of great honour and delight for the GIIS Ahmedabad family."
We convey our best wishes to these young winners, as a bright and promising future awaits them.