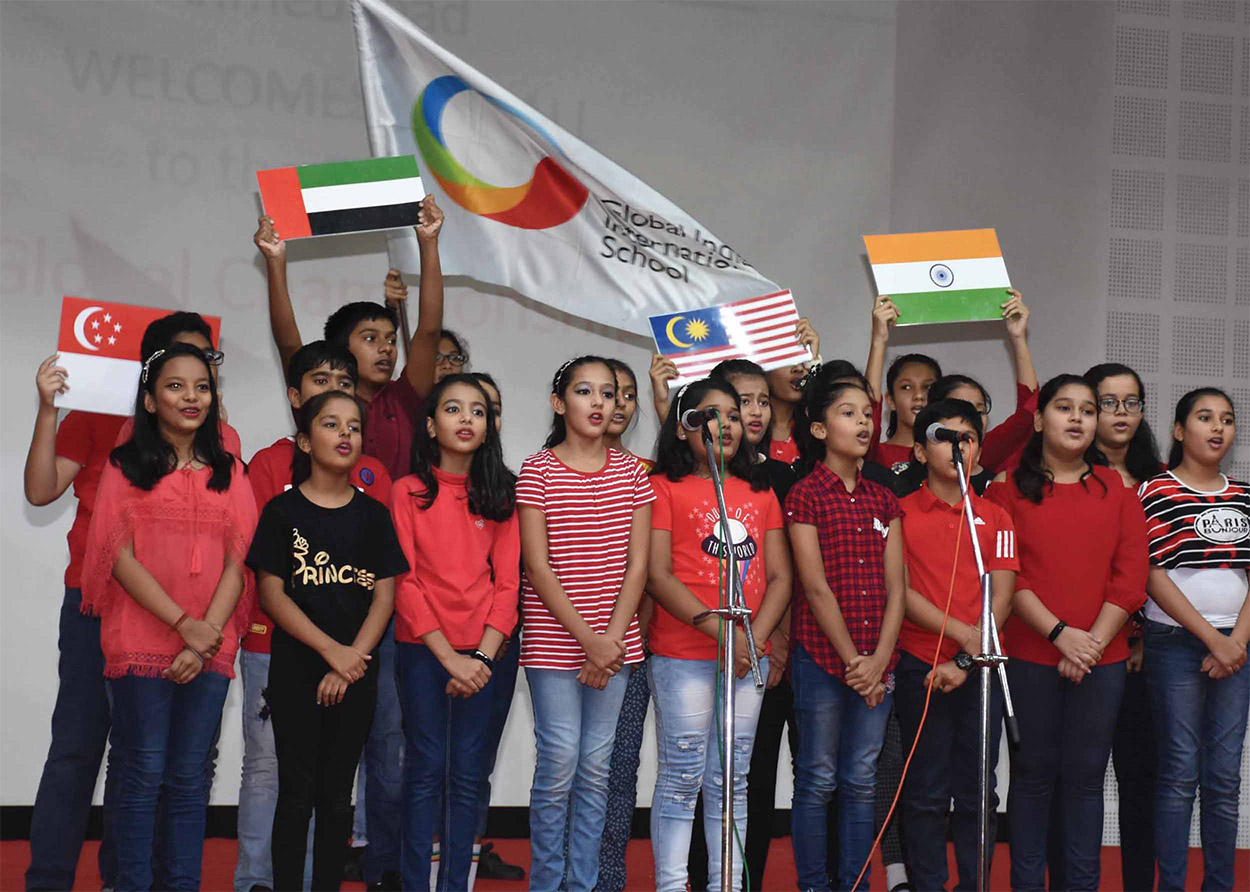 Global Indian International School organized a two-day 'GIIS Global Championship League' at Ahmedabad campus. The Championship League included competitions under three categories - cricket, dance and chess. With more than 160 students participating from various GIIS campuses across the globe including Singapore, Abu Dhabi, Dubai & Malaysia, the event was action-packed as students competed for gold and glory. This inter-GIIS sporting league was aimed to provide an opportunity for students to get global exposure under this unique student exchange program.
Commenting on the initiative, Mr. Rajiv Bansal, Director-Operations, GIIS India said, "Our NINE Gems framework is designed to provide holistic development to students with equal importance to academics, sports, values, ethics and social responsibility. The GIIS Championship League is an excellent opportunity for students to showcase and hone their talent in sports and other non-academic activities on a global platform." During the two-day mega event, for the students across the country and the globe to see the cultural aspect of Gujarat, a "Sheri Garba" night was held showcasing Garba dance in traditional attires. Sightseeing sessions were also organized to ensure that students get to see the rich heritage of Ahmedabad-the first UNESCO world heritage city.
The winners of this global event included GIIS Singapore (1st in Cricket), GIIS Malaysia (1st in Dance), GIIS Ahmedabad (1st in Chess-team). Individual winners from chess included Diya Theyshery (1st-Malaysia), Neha Devadas (2nd Bangalore), Mitul K.H (3rd Bangalore). Ms. Sunita Jaisingh- National academic head, congratulating the students said that "We wanted to create a platform for GIIS students where they all can come together and learn the 21st century skills of collaboration and global citizenship. The message here my dear students, is that set a goal for achievement and aim for excellence. I wish the best for all the children and hope they will take back with them a bag full of learning".
Shri. Dr. Kiritsinh Solanki, honorable MP was the Chief Guest at the opening ceremony of the event. As an active member of Sport Medicine Association of Gujarat, he applauded GIIS for its emphasis on holistic development of students saying, "I am extremely happy to be invited at the GIIS Championship league. The global network of this school and its emphasis on inculcating Mahatma Gandhi's values in its students has impressed me."
Other guest of honors included renowned MLA Shri Arvind Bhai Patel and Shri Bhupendra Patel who also shared their experience with the students of GIIS and expressed their gratitude. Sharing the joy of being the host of first ever Global Championship League, Principle of GIIS Ahmedabad Mr. Caeser D'Slilva said "We are honored to get this opportunity to welcome GIIS family across the globe. The event aims to provide a platform to children having immense potential in Sports as well as Co-Scholastic fields. We hope to see some outstanding performances by national and international teams. The GIIS Global Championship League also aimed at facilitating cross culture teaching amongst students from different geographies. With a network of more than 15,000 students across the globe, GIIS Global Championship League was a step forward in achieving GIIS' vision to become a role model for teaching and learning.