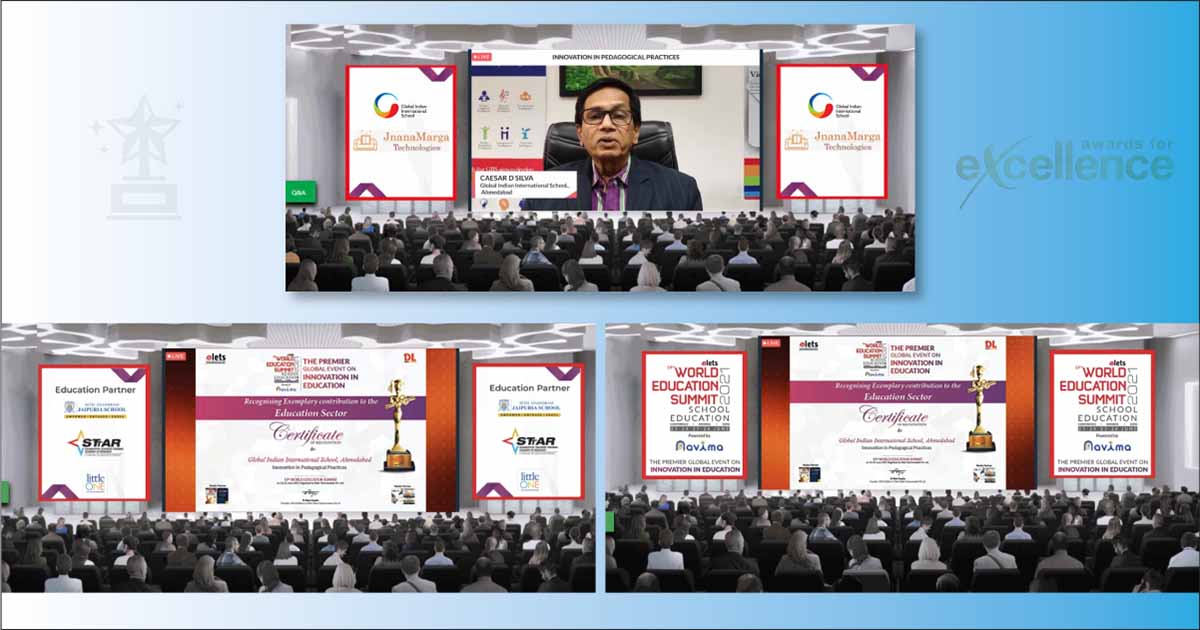 GIIS Ahmedabad operates with an excellent vision to offer high standards of education and this can only be achieved by recurrent innovation of the learning requirements of the students. The school has recently bagged two prestigious International Awards which include- 'Outstanding Contribution to Education' at the Asian Leadership Summit 2021 and the award for 'Innovation in Pedagogical Practices' at the '19th World Education Summit' 2021.
These two awards received by GIIS Ahmedabad are an addition to the 200+ awards won by GIIS in areas of education excellence, innovation, best practices, performance excellence, and more. These awards stand as constant rigour for GIIS to keep innovating traditional education by introducing 21st-century skills, keeping the holistic development of the students in mind for their better future. The proprietary learning frameworks and methodologies of GIIS like the 9 GEMS Framework, 7s Assessment, and Happiness Index are an outcome of continuous R&D by expert teachers of GIIS across the globe.
Mr. Caesar D'silva, Principal, GIIS Ahmedabad was invited during the 19th World Education Summit' to share the innovative practices of GIIS Ahmedabad with the Education Sector. Expressing his happiness over these achievements, he stated, "We are delighted to receive these prestigious awards. These awards are a recognition of our team's collective hard work towards achieving excellence in education and innovation. We, at GIIS Ahmedabad, will continue raising our bar of excellence in our efforts to redefine education, an exercise not only in accepting change but leading change and in the process open new vistas in the area of education."
We'll continue with perseverance and set a benchmark for ourselves.
Congratulations to all associated with GIIS Ahmedabad family!
About 'Asian Leadership Summit'
Asian Leadership Summit is organized by Global Leaders Foundation (GLF), a non-profit organization by the successful leaders for the emerging leaders of different fields of society belonging to education, research and development, health and medicine, law, information technology, manufacturing and service industry, engineering and technology, travel and tourism, media and entertainment, social and public services, nature and environment and so on. Since inception, GLF has been actively involved in organizing many successful Exhibitions, Seminars, Conferences and Award functions for strengthening and upliftment of the social and economical base of society. GLF has always recognized and encouraged emerging professionals and organizations from time to time.
About 'World Education Summit'
World Education Summit is India's biggest congregation summit on creativity and innovation in Education. It is a forum where the flag bearers of Indian and Global Education fraternity express their views in an exclusive discussion to re-invent, re-design, revamp the education sector.