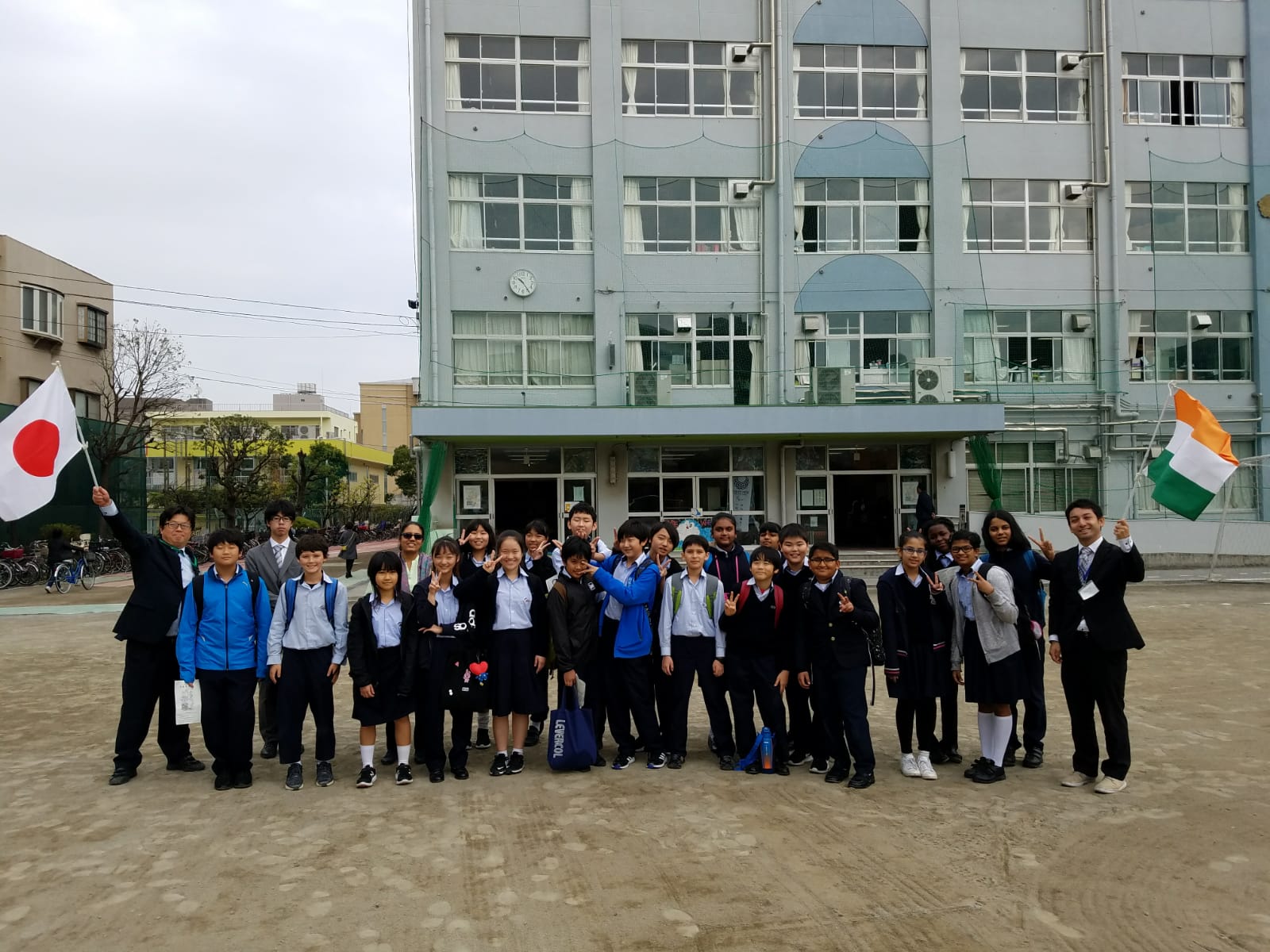 TOKYO, 10 NOVEMBER, 2018: Grade 6 students of GIIS Tokyo enjoyed various performances and eye-catching artworks during their visit to the Junior High School in Nishi Kasai on the occasion of their Annual Day. This is a yearly exercise where GIIS students are invited by the Junior High School, a municipal school in the Edogawa ward of Tokyo, to watch their Annual Day show and take a school tour.
On 26th October 2018, GIIS students, along with their parents and administrative staff, Mr Hayami Mizuno, Mr Yohei Obuse and the class teacher Ms Kavita Patil went for a tour to the school.
The students, parents and staff were first escorted to the auditorium to watch a part of the Annual Day performance. The show began with a spectacular performance of Taiko – traditional Japanese drums by the students. There were beautiful variances to the performance. The students wielded the drumsticks in perfect rhythm. They also tossed them in the air and caught them back within the perfect timing of the drum beats. It was an exhilarating experience to watch the performers.
GIIS students also got the opportunity to have a look at the CCA projects and enjoyed visual delights in the form of embroidered cloth satchels and file covers made by the sewing batch students of Junior High School. A section was dedicated to sketches of famous personalities made using pixel drawing. Clay Art, Origami, Science Projects, Short Movies made by students and multiple other students' creations were also on display. The students were also taken to the music studio where they enjoyed a pop music performance by Japanese High School pupils.
Later the parent support group of the school invited the GIIS students to take part in the traditional Japanese Tea ceremony. The students were served Japanese tea and Okashi – a traditional sugar-based sweet. During the tea taking ritual, the students were taught the customary way of drinking tea, which was served in traditional Japanese ceramic bowls by the students.
The two-hour tour to the Junior High School ended with a group photograph taken in front of the school building.