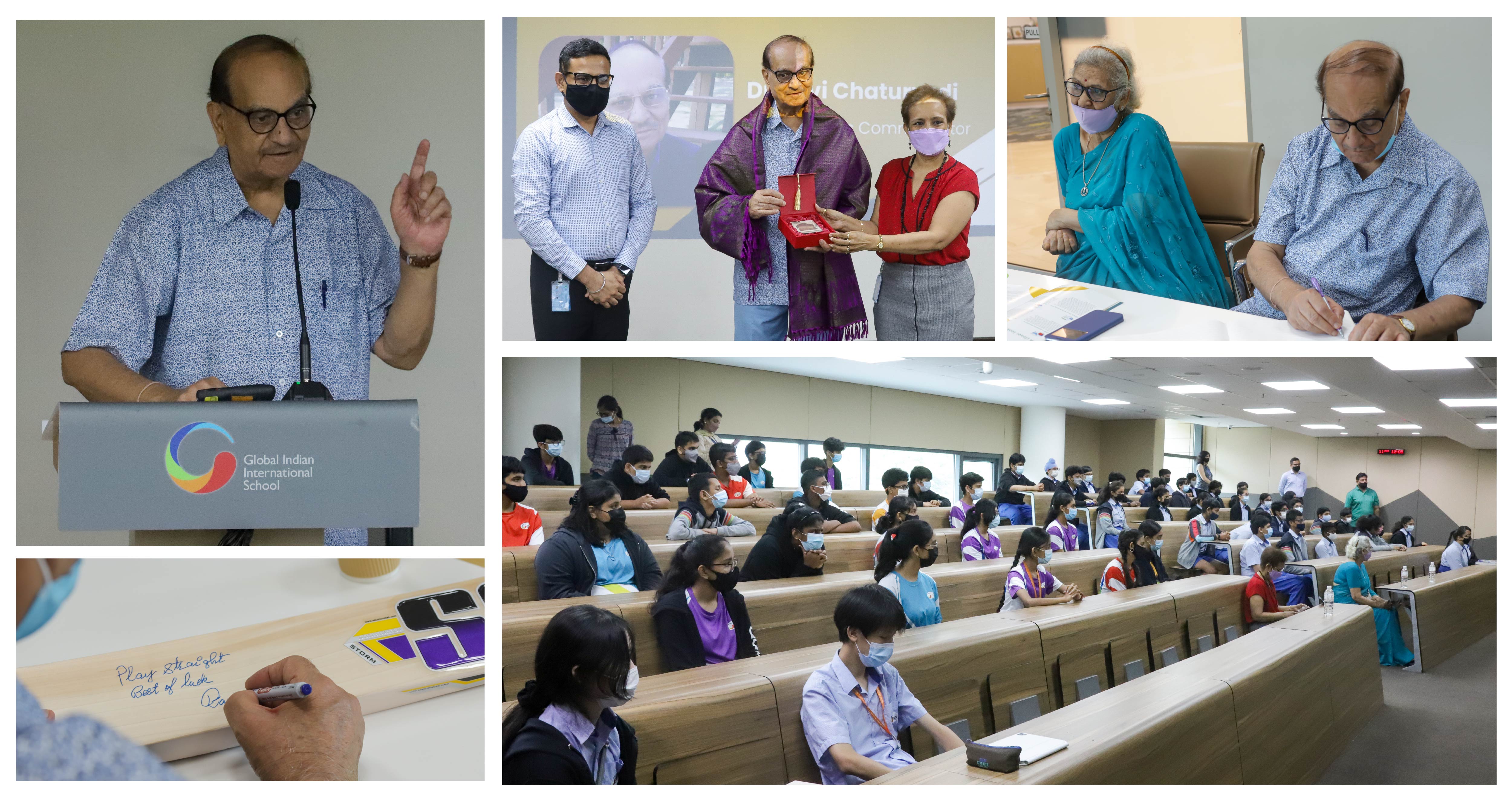 One of the eminent names in the Indian cricket commentary arena, Padma Shri Dr Ravi Chaturvedi visited the GIIS SMART Campus on May 11, 2022, to share his inspiring life experiences and encourage students with his words of wisdom as part of the Leadership Lecture Series. Students from Grade 9 participated in the insightful session and were enthralled to be a part of it.
During the session, Dr Chaturvedi motivated the students and shared numerous success stories to emphasise that hard work is the way to achieve one's goal. He further shared how amidst all odds Sunil Gavaskar, one of the greatest cricketers of all time achieved numerous milestones such as becoming the first cricketer to score 10,000 runs in Test cricket by playing against the fastest bowlers in the world and scoring numerous centuries without even wearing a helmet. He thus encouraged the young learners to strive, dream big and work hard towards realising their dreams.
As part of his address to the students, he talked about the hardships he faced playing cricket and how he faced them. He shared that even though he couldn't pursue playing cricket further, he expressed that even today his love for the game still remains. He further shared that later he got the opportunity to work as a Hindi commentator for All India Radio which helped him make his mark in the international arena.
During the Q & A session, Dr Chaturvedi responded to students' questions on his experience as the Hindi sports commentator at the All India Radio, tips for budding cricketers of the Gold Squad Programme offered by GIIS, etc. The students were motivated hearing his answers based on in-depth knowledge.
The session came to an end with Ms Melissa Maria, Principial SMART Campus giving a vote of thanks and felicitated Dr Ravi Chaturvedi by presenting a memento while Mr Prashant Bafna, Associate Country Director honoured him by presenting a shawl. Dr Ravi Chaturvedi was accompanied by his wife Chander Mohini Chaturvedi.
GIIS through its holistic learning the framework encourages each child to work towards excelling in various other areas such as music, dance, art, sports, etc. beyond academics. By participating in events like this, the students get motivated to work towards touching new heights in their careers.