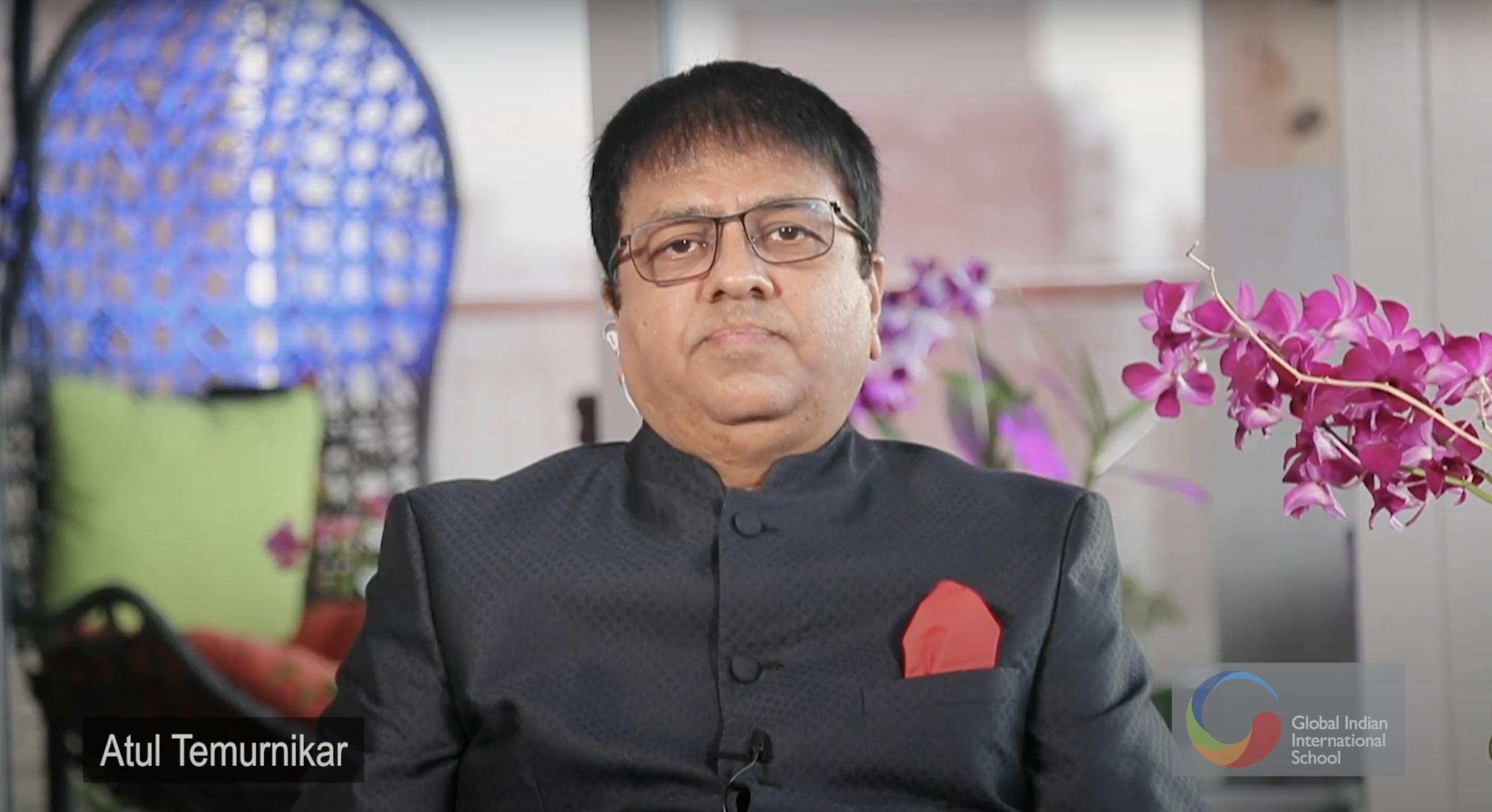 Mr Atul Temurnikar thanked H.E. Jawed Ashraf, the High Commissioner of India to Singapore, for his immense encouragement and guidance that he has offered to GIIS fraternity for the last few years.
The thank-you note was delivered by Mr Atul as part of an LLS webinar where Mr Jawed addressed GIIS parents, staff and students and spoke at length 'engaging with Indian Expatriates in Singapore during COVID Pandemic'. He also advised valuable advice to the students as to how they can contribute more to the community in these trying times.
Mr Jawed has visited the school multiple times in the last few years and has been a source of inspiration for the students. Mr Atul's thank you speech elucidated a number of occasions when Mr Jawed has shown support and appreciation for GIIS community.
Watch Mr Atul's thank you speech here:
Read the entire speech here:
A thank you note is the hardest part of any programme, especially when you have to thank someone as esteemed and accomplished as His Excellency, the High Commissioner of India to Singapore Mr Jawed Ashraf. Words will certainly fall short if I try. But if I try to cover in full, then even days will not be enough. On the other hand, there are a few things we want to share today.
Firstly Thank you, Your Excellency, for taking time from your busy schedule during Phase 2 of the circuit breaker, to engage with the GIIS community, on such an important topic as 'Engaging with Indian Expatriates in Singapore during COVID'. It was such a lively and engaging experience.
I am sure the students who have heard you today, have taken valuable life lessons from the entire interaction. And after the interaction, we will be sharing this on all social media platforms and the school internal channels, to ensure every student gets your important messages.
Secondly, I want to thank you for all the kind acts of support, encouragement and guidance to the entire GIIS fraternity of students and teachers and their parents, over the last few years. So much has been accomplished in just 3 years, but It feels like it has been a long journey since you came to Singapore as India's envoy - a representative of 1.3 billion people.
In you, Singaporeans and the expat community found a learned human being of great wisdom, wide worldview and smiling countenance, who would further strengthen the deep-rooted bonds of friendships, between the two great nations. Singapore and India have hugely benefited, from one of the greatest diplomats India has ever produced in the past few decades.
You came here as a known figure, with a commendable track record in Indian administrative services, and vast knowledge of the history and traditions of the two wonderful nations. The deep-rooted understanding & respect you have of all faith and cultures, something that even Late Sushma Swaraj ji pointed out to you, makes you a perfect representative of India and its rich cultural heritage.
If anyone else knew and articulated about India's culture and heritage so well, it was none other than Late Dr Abdul Kalam, who was the ultimate.
GIIS students were fortunate and privileged to meet him personally at their campuses, while he was on a state visit to Singapore, as President of India, and on two other occasions, once to inaugurate the GIIS Balestier campus and another to speak at the GIIS Leadership Lecture. Something makes you a very unique person. You have a fantastic dual perspective of a diplomat and of an entrepreneur.
Very rare to find such a combination. Your creativity and leadership skills were evident, whenever India & Singapore came together for community or business get-togethers or conferences.
After your speech at the Republic day celebrations recently, Ambassador Gopinath Pillay, one of Singapore's well known former diplomat and entrepreneurs, paid you a rich compliment, that that you were perhaps the BEST SPEAKER anyone can find in Singapore. And I can second that, to say that you may even be THE BEST SPEAKER that one can find at the United Nations.
I would request you to share your speeches with GIIS students so they would like to use them in their research work. They are so informative that many times, I personally get to learn so many new facets of Indian culture through your views.
An Economics graduate, an IIM Alumnus, a respected diplomat, a morally upright global citizen - the list is long, so excuse us if we have missed out on anything. Since your arrival, you have successfully helmed many programmes that have not just added colour to the diversity of Singapore's social fabric.
Your hard work and dedication were visible at the Singapore edition of the Pravasi Bharatiya Divas in 2018. That event was a success beyond measure. More participants had turned up than at any other Pravasi event held in India. I have attended over half the editions of pravasi, and can tell you that with 4000+ attendees at Singapore Pravasi, this was the largest congregation and broke all previous pravasi records. and that too with most relevant attendees. I remember Late Sushma Swaraj-Ji, paying you a rich compliment to you, saying you had worked passionately and relentlessly with every Indian of all faiths and cultures.
GIIS students had the unique privilege to meet Sushmaji twice, and what a great leader she was. Amazing, and what a speaker. I remember she was speaking at the University cultural centre at NUS, and after a few minutes in English, she said, ab HIndi mein ho jaye.. And crowds broke the ceiling. She was so eloquent, precise and articulate, a precious gift she has passed over to her daughter Basuri Swaraj. Sushmaji's speeches are now used by the present Alpha generation for reference materials. Our Hindi teachers too, tell our students to listen to Sushamji's speeches, made at UN & at other events, so that they can become good Hindi speakers like her.
Coming back, your Initiation of fintech activities such as "inspreuner" which seems to be acronymed from India, Singapore & Entrepreneurs, is a step in the right direction and serves as a huge platform to showcase the joint strengths of India and Singapore. More so, your reassuring presence among the community during these challenging times of Covid-19, was a great source of strength and power for the expat community, who knew they could trust your wisdom and ability to lead from the front, for their welfare.
You lived up to those expectations and went beyond the call of duty to ensure that every Bharatiya felt safe with you as the 'sarathi' - a charioteer, in this fight against COVID. You have also added depth and sincerity to the ideas of community service and universal brotherhood.
On behalf of the entire GIIS community & all expatriates in Singapore, we sincerely thank you, for working towards strengthening relations between the two nations and taking their relationship to a new high of cooperation, trust and brotherhood.
On a more personal level, we would like to thank you for your intellectual and moral contributions to the growth of GIIS students. Your Excellency, you were always encouraging towards GIIS students in all our endeavours.
When we inaugurated the SMART Campus in 2018, you had hailed the GIIS efforts for setting high standards in School of the future and 21st century education - which had made our students and teachers beam with joy and pride.
Your appreciation for the Mahatma Gandhi Center at GIIS was evident, when you mentioned it at all forums, how the Gandhi Centre is a symbol of harmony, and how the statue of Gandhi is a great inspiration for young children, to follow Gandhian principles of peace and harmony.
The Indian community was deeply touched by the mention of our very own "Gandhi Centre at GIIS", by none other than PM Lee, during his speech at the Gandhi celebrations event by India, on the sidelines of UNGA or United Nations General Assembly.
Be it scientific projects like Solar Urja Lamp making for the underprivileged in India, or Fitness initiatives like International day of yoga, or first of its kind Arts performances like those during Independence Day celebrations, you always found time to give GIIS students, the necessary encouragement to showcase their patriotic talents on every platform. Your support during the Inspreneur Conference 2019 which highlighted the achievements of our students before dignitaries, was a big boost to the students' morale. Some of our student projects were even mentioned by the Maharashtra government on their twitter platforms.
You have been humble enough, to roll up your sleeves and help plant a tree at GIIS, in commemoration of Gandhi Jayanti, and when needed, serious enough to impart your knowledge, on the importance of sustainable living, to young minds. We clearly remember the advice you gave, to our young students during UN Day of Non-Violence last year, when you said: Moral strength will always outweigh physical strength.
You invited GIIS students to the Netaji Subhash Chandra memorial when prime minister Narendra Modi visited the memorial at Raffles Place. These students were so fortunate and thrilled to see PM Modi in person. They thought they were being taken for a field trip but little did they know, they were going to be with the Prime Minister of India.
We cannot be more grateful for your reassuring presence, and your kind words of wisdom, in our students endeavour to become global citizens. Be it individuals, associations or entities, you have always found time and engaged with everyone, in your unique style of warmth and camaraderie. Not to forget your articulate and heartfelt speeches.
I have said this before and I say it again - You have always managed to effortlessly capture the TRUE essence of each gathering, and your words have always been deeply meaningful, touching and inspiring. Your smiling yet a disciplinarian persona has been a perfect demeanour. Now as you move on to bigger things, I am sure you will continue to give the best to the community and the nation, in your signature style and make us all proud.
During your stint in PMO and as HC in Singapore, you have worked very closely with Prime Minister Narendra Modi. When I first got to know from the media, that you were destined for France, the first thing that came to my mind was, hey, this is not just a normal posting. There is something big lined up for you. Maybe a major role for activating a permanent seat at UNSC. With you around there, we can all say, nothing is impossible.
Your mother is also an educationist and Teacher. Once I had a chance to ask her how she trained you to become what you are, she just smiled, exactly the same way you do, and said well you have to do it. Just like our parents are being made proud by GIIS students, I am sure you have made your mother extremely proud, of being able to serve the community & the nation in this distinguished manner.
We hope to meet you in Paris, or in the future, and wherever you are, whatever you do, we know you are going to make 1.3 billion Indians proud.
This interaction with young and bright GIIS students is perhaps the best way possible to thank you, for your contributions to the GIIS fraternity, to Singaporeans and the Indian diaspora in general.
Thank You.
Jai Hind. & Bharat Mata ki Jai.
End of Speech
Watch the highlights of the webinar here: