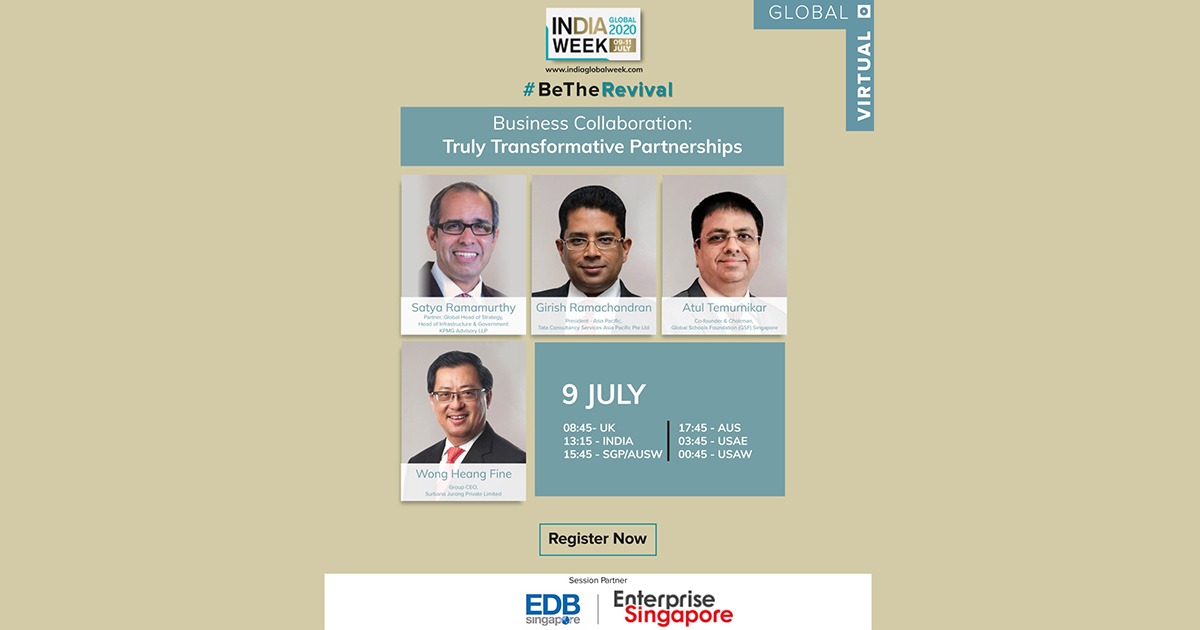 Mr Atul Temurnikar, Co-founder and Chairman of Global Schools Foundations was a Speaker at the India Global Week 2020 which was held virtually from 9th to 11th July 2020.
He gave a speech on Truly Transformative Partnerships in Business Collaboration Areas which was joined by eminent speakers from the industry like Mr Wong Heang Fine, Group CEO, Surbana Jurong Private Ltd, Mr Girish Ramachandran, President Asia Pacific, TCS, Singapore and Mr Satya Ramamurthy, Partner, &Global Head of Strategy & Head of Infrastructure & Government, for KPMG.
Watch the coverage of the event by Indian Inc. TV:
Mr Atul spoke on various issues during the webinar, including the thriving business relations between Singapore and India.
Watch the opening and closing speech of Mr Atul Temurnikar at India Global Week:
Read the insightful speech here:
Hello Everyone. It is a pleasure to be with, this August gathering, at the India Global Week 2020. Joining from Singapore, I am Atul Temurnikar, co-founder and chairman of Global Schools Foundation.
Among the many social and cultural projects we do, We also run the Global Indian International Schools and the One World International schools in Asia and the Middle East and educate over 15,000 students. Today we are going to have an interesting conversation on, Truly Transformative Partnerships in Business Collaboration, with some of the most creative and innovative minds on the subject.
Joining me are, Mr Wong Heang Fine, Group CEO, Surbana Jurong Private Limited, Mr Girish Ramachandran, President, Asia-Pacific, TATA Consultancy Services, Mr Satya Ramamurthy, Partner, &Global Head of Strategy & Head of Infrastructure & Government, for KPMG.
Around the mid-'90s, Singapore's then Prime Minister Mr Goh Chok Tong took exceptional steps to engage with India, at economic and many other levels.
Since then, the partnerships between Singapore and India have grown, from being just umbilical to one of the strongest social to the powerful economic one.
It led to substantial improvements in business engagements and made lives better for their citizens.
Today, we shall explore areas, for industry collaboration, in key areas such as infrastructure and skills development, and in areas such as technology, life-sciences and other emerging sectors.
In these post COVID times, our focus shall be, to explore major business transformations, that will attract Singaporean companies or MNCs based here, to grow their businesses in India and, Indian MNCs & businesses grow in Singapore.
I believe that the most important and transformative initiatives, by India, is that of Atma Nirbhar Bharat, or Self-reliant India, announced recently by Prime Minister Shri Narendra Modi.
This is not just a call, for scaling up manufacturing to the next level, but it is also a well thought out program that will be a win-win for people of India and also for the investors, to grow their business in one of the fastest-growing, and reliable economies.
Today India is in the world's top 2 positions for startups and is adding 4 startups per hour, which is speed, arguably unprecedented in the modern world.
The government is giving ample capital support by promising a whopping US$1.5B in funds.
In fact, one of our alumni, Jayasimha Pasumarthi, is one of the youngest entrepreneurs, and a proud part of India's Startup ecosystem.
Jayasimha, is one of the thousands benefitting from the Incubators, futuristic ideas and schemes, supported by the government, and mentored by leaders of the private sector.
This phenomenally positive Startup change is happening across the country, not just in big cities but across the length and breadth of the country.
Almost half of the new job opportunities & SMEs, in the country, are created in Tier 2 and 3 cities, which means ideas, talent and capital are spreading far and wide.
For India, Singapore is its largest trading partner, with bilateral trade estimated to hit S$50 billion by 2025.
India too is looking at ways and means, to stretch its GDP to 5 Trillion USD, which is not a question of whether, but merely a question of when, it will happen.
One way of looking at transformation, in present times, is to explore, where Singapore's business strengths lie, and how both countries can leverage on that.
One such example could be that of Silicon manufacturing, which India can spin the entire value chain in that sector, and the best part, semiconductor design talent is abundantly available.
Today, India has launched Schemes for Electronics Manufacturing, In order to position India as a global hub, in Electronics, System Design and Manufacturing (ESDM).
India also supplies, to the world, all the talent that is needed to operate these chip industries. In fact, Indians since the '80s, been involved in VLSI chip design and development, from the times of 8085 processors to Pentium chips, and have a massive talent base.
So Samsung, Hynix, Intel and TSMC, can now easily look forward to setting up these plants in India. Tesla too, I understand, is exploring India as a base for manufacturing their EVs.
Having chip manufacturing will help the entire electronics products value chain.
However, when it comes to execution, there are some good lessons that India can take from CHINA and Vietnam, who have established a vibrant manufacturing sector, and India can offer a complementary proposition to investors, rather than a competing one.
Among the most attractive factors, that make India a destination of choice, for multinationals are:
-Logistics & Maritime Potential
-Large domestic Consumption Base
-Massive Investment in Physical and Digital Infrastructure, it already has the world's longest fibre networks across the country.
-Historic Tax Reforms, GST etc, the speed at which they were introduced speak volumes of leadership.
- Business-friendly Government and increased Ease of Doing Business
- Youngest Workforce
-High Technology Adoption Rates
-and Focus on Sustainability and Environment Conservation
Singapore and the world should realise that entrepreneurship, technology and innovation are at the heart of transforming India.
The Start-up India movement has created a dynamic ecosystem, and India's start-ups are revolutionizing, service delivery and quality, across several emerging areas of growth.
India has the second-best ecosystem for start-ups in the world.
The recent moves will cause explosive growth of India's own social and digital app platforms.
A large number of them are finding solutions for the unique challenges, and several of them are leveraging technology, to enhance health and education outcomes as well.
Finally, for ease of doing business, this pandemic will help India, accelerate
Thank you.
***** END *****