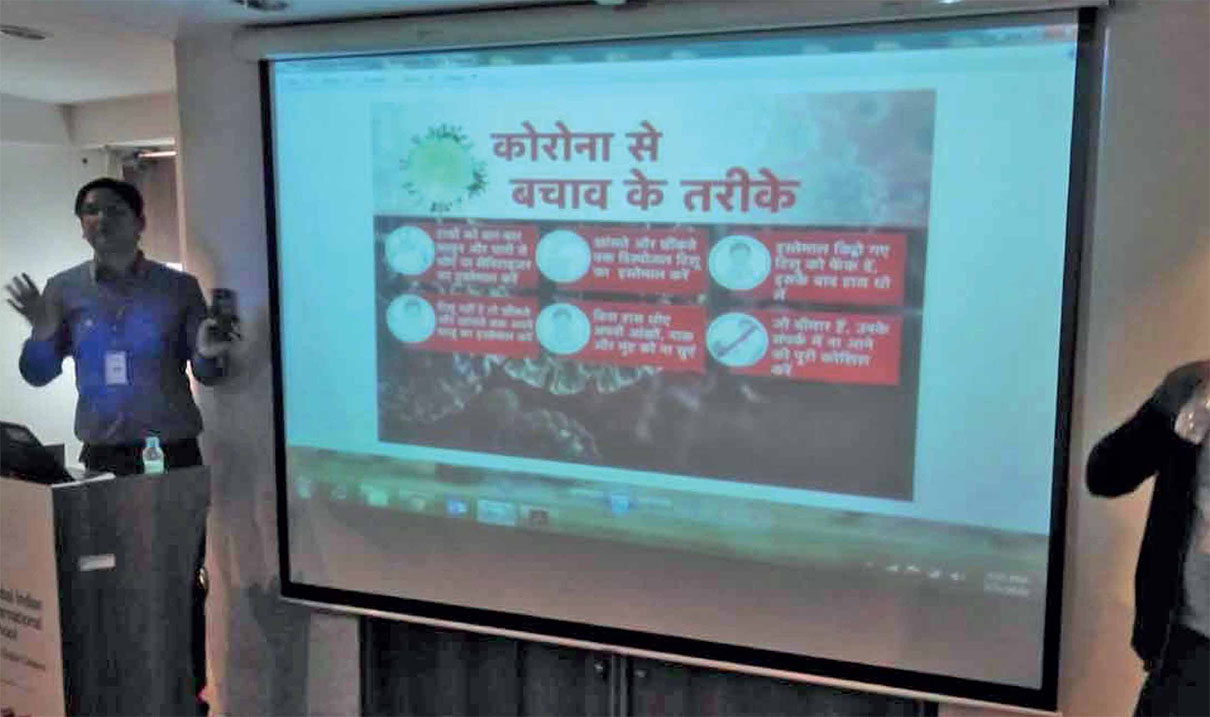 NOIDA, MARCH, 2020 - The staff and teachers of GIIS Noida attended an informative session on the Novel Corona Virus scare that has hit our country recently. The session was taken by Dr. Ankur Sethi - Sr. Pediatrician from Yatharth Hospital, Noida to apprise the teachers and staff about the ongoing hoax that has been doing rounds in the media. During his session, Dr. Sethi enlightened the attendees with some facts about the virus and precautions that must be taken in order to be safe at home and work. He even shed light on various myths that have scared people all around the world.
During his session, Dr. Sethi shared that the coronavirus is far less fatal than other viruses like Sars, Ebola, Swine flu, etc., and its mortality rate is much lower than these viruses which means that the virus outbreak is a matter of concern but can be managed at the individual level. He also said that there is a situation of panic all over the world, and the root cause of this panic is the unethical usage of social media by 3 billion users worldwide. People are using their social media accounts to spread false information and amplify the issue beyond one's imagination.
He further shared that the fatality rate for people below 50 years is just 0.2 percent and the global mortality rate outside China is just 1.55 percent i.e. there are only 0.2% chances of people dying because of the virus in India. He even explained that the symptoms of COVID-19 are just like common flu and one may or may not be able to distinguish between the symptoms as and when they occur. The only precaution one can observe is to maintain good personal hygiene besides the following:
Washing hands with alcohol-based soap and water thoroughly
Avoid touching any surface area used by large number of people frequently like doorknobs, handles, etc. If one has to touch then they must wash their hands afterwards
Maintain a distance from anyone suffering from common cold or flu
Cough and sneeze with mouth covered.
Avoid touching your eyes, mouth, or face.
People having a cold should wear masks; healthy people need not wear masks as COVID-19 cannot spread through the air
To report someone who has recent travel history from COVID-19 infected countries
Avoid the crowd and large gatherings.
It was quite an informative session as it cleared many doubts, warded off panic and fear among the teachers and school staff. The event proved to be quite fruitful. It was one of the tasks as a part of the series of measures and precautions being taken by the school management to prevent and control the spread of this virus.
GIIS Noida has taken several measures to ensure the safety of students and some of these include temperature screening of all staff, students and visitors to the school, daily temperature checking by parents, and implementing special sanitizing of entire schools as per WHO guidelines, on all days.