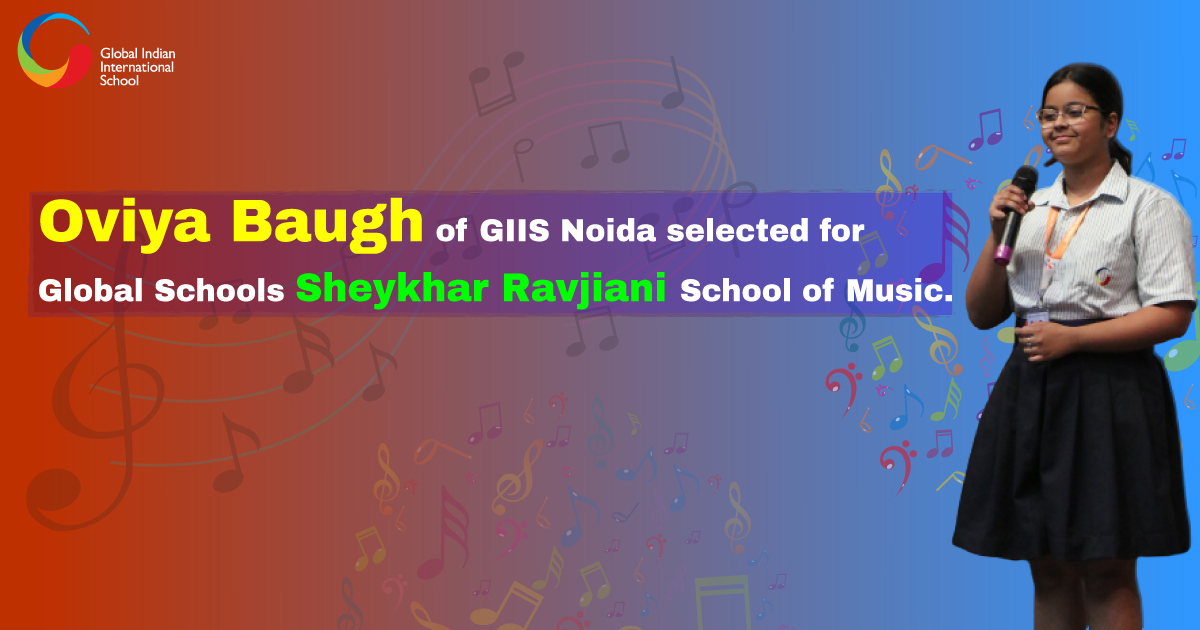 I am a student of class 8A at GIIS Noida and my name is Oviya Baugh. I have always been a part of the Music Club and am really fond of singing. On the 14th of April, 0ur music teacher Ms. Haimontee informed us that Mr. Sheykhar Ravijiani will be visiting our school on 24th April and we have to perform before him. We were excited and delighted to hear about this and at the same time were grateful that we were being given such an opportunity.
Our preparations for the performance began from the very next day. We were asked to sing a song of our choice and a few of us were selected to perform on the final day. I also had to sing a solo song on the final day and my song was "No time to die" by Billie Eilish. We practised hard for the next few days in order to give our best performance.
Finally, the day came and Sheykhar sir arrived at our campus. We had jitters in our stomach and all of us were both excited and nervous at the same time. Sheykhar Sir shared some wonderful stories from his childhood. He answered questions that the students asked about his life and shared about the kind of difficulties did he faced in the music industry in his initial years.
Soon, we were called onstage one by one to give our solo song performance. I was the second one to sing on the stage. I was nervous but knew that I had to give it my best shot. I noticed my choir-group applauding and cheering me up and that gave me the confidence to sing well. I forgot who all were there in the room and sang from my heart.
When all the performances were over, Sheykhar Sir announced the result. When I heard him calling out my name first, I could not believe what I had heard and almost teared up. I was called in on stage where he gave me a hug, shook my hands and congratulated me. I was elated and on cloud nine literally. I had not expected to be selected for the Global School Sheykhar Ravijiani's School of Music! He then asked the crowd to guess the name of the second selected student and as the crowd guessed, it was indeed Aryaman Chhabra who was the second student to be selected for the School of Music.
I will never be able to forget my experience of that day. Almost everyone in the school came to us to congratulate us both. Aryaman and I was thrilled!
I am indeed very grateful to be given this opportunity and will ensure that I give my best. I will work hard and focus on all the lessons/tips shared by the Maestro himself in the future classes. I would like to thank Principal Sir, Sheykhar Ravijiani Sir, Haimontee Ma'am, Puneet Sir for giving me this wonderful opportunity and I will not let anyone down.
Oviya Baugh,
8 A
GIIS, Noida