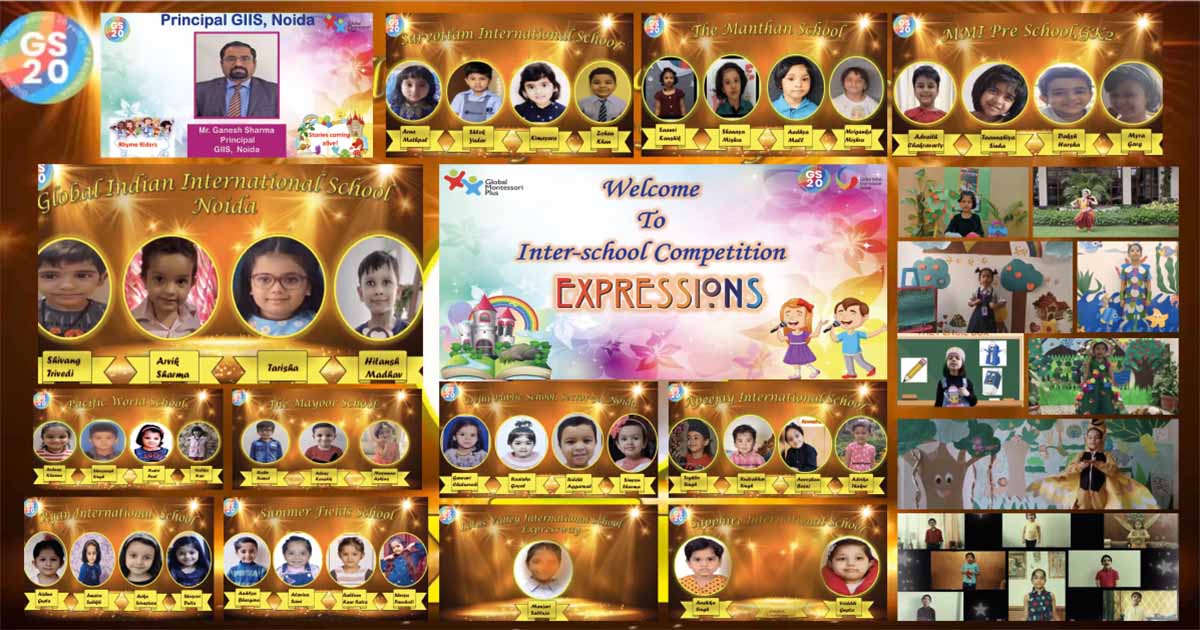 Listening to Rhymes and Stories is 'edutainment' and narrating them is an art! It helps the children to learn language, enhance public speaking skills, improves vocabulary and boost their confidence.
To promote the art of expressing and narrating, and to motivate children to use their imaginative power creatively, GIIS NOIDA had organized an Inter School Rhyme and Story-telling competition "Expressions" on 20th November, 2021 for pre-primary students, various schools of Delhi NCR participated in the competition. The competition was conducted as a part of 20 years celebrations of Global School Foundation's legacy.
The competition was held among Nursery (K1) students for rhyme recitation and Kindergarten (K2) students for story telling in which many prestigious schools of the tricity participated. The event was graced by Dr. Surender Kr. Bhandoria, Deputy Director of Education, South Delhi Municipal Corporation, Ms Vaishali Borde, (National head, GMP Co – Scholastic, GIIS, India), and the Principal GIIS Noida Mr. Ganesh Sharma. We had Ms. Ruchika Dhingra (HM GIIS Ahmedabad) as Judge of Rhyme Riders, and Ms. Preetha D Mello (HM GIIS Whitefield -Bangalore) as Judge of Storytelling- along with the parents and students.
The day began with a song presentation by the young GIISians to celebrate successful mark of the beginning of 20th year of GSF, followed by the virtual lamp lighting ceremony and prayer. One of our students from the pre-primary wing, Aratika Bhatt presented Saraswati Vandana to seek blessings from the Goddess of Music and Arts. The esteemed guest of honour i.e. Dr. Bhandoria addressed the audience with his insightful words which was followed by addresses from the school Principal – Mr. Ganesh Sharma and GMP Head Ms.Vaishali Borde.
The event furthered with sharing of the participating videos from students across Delhi/Ncr and result declaration of both the categories by the respective judges. As the event moved further, a splendid dance performance was staged by our very own dancing star – Naina Madan, the performance mesmerized the audience. This was followed by a video glimpse of the campus and the newly upgraded infrastructure with modern and high tech facilities for the students.
This competition gave the little ones an opportunity to explore and enhance their hidden talents which they used incredibly well to recite the rhymes and narrate the stories of creativity and imagination, and props and costumes to add to their performance. It was a treat to watch such young kids present their bit with so much of confidence and valour.
Vote of Thanks was given by Head mistress GIIS Noida, Ms Rachna Jain. She thanked all the esteemed guests, teachers, parents and lovely participants. Lastly, she emphasized on the fact that more than being competition, it was celebration of student's talents and varied expressions.