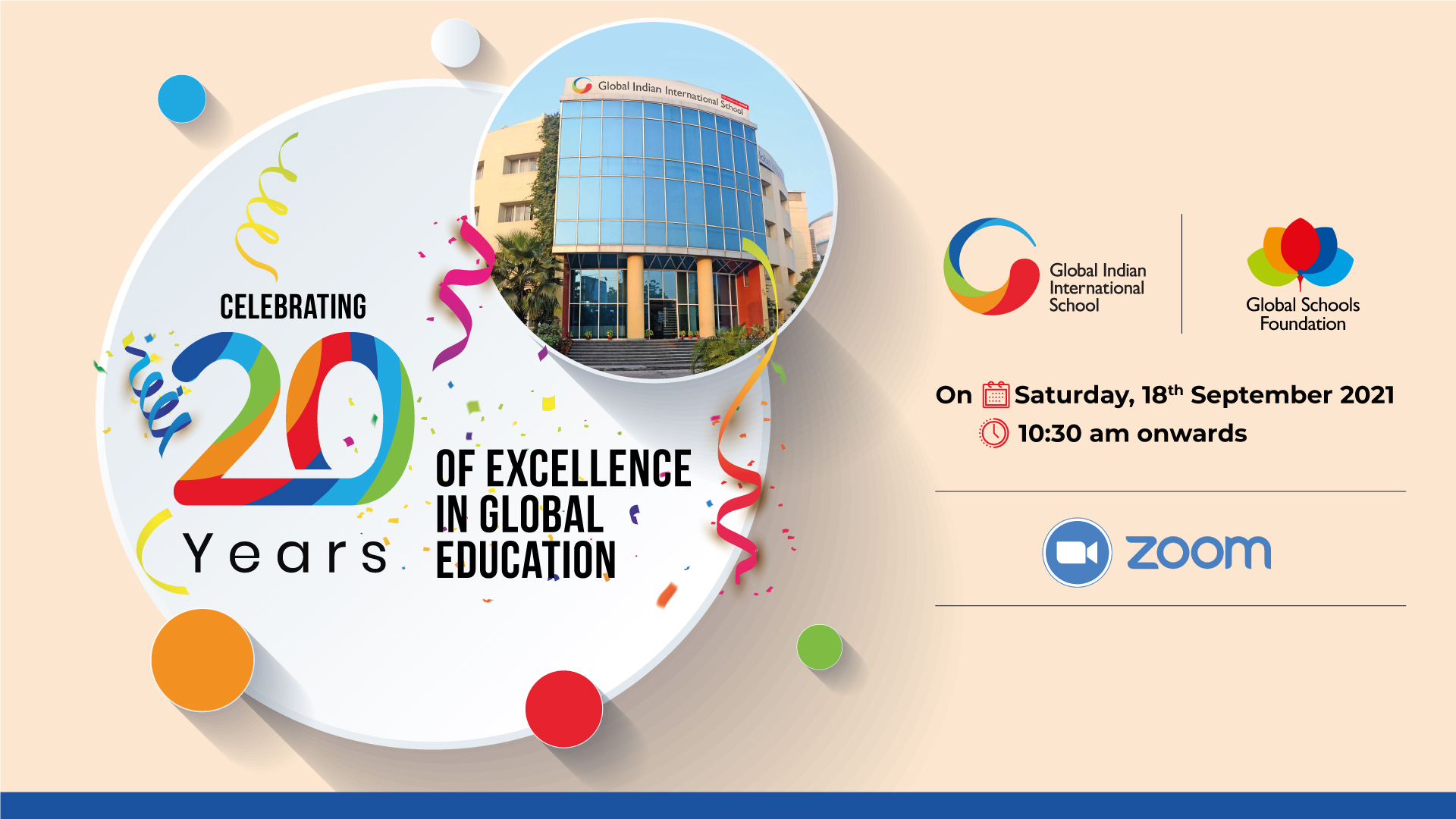 Global Schools Foundation, the parent organization of Global Indian Schools (GIIS) laid its foundation in the year 2002 with a vision of providing a world-class education to children. What began as a humble setup of 48 students at Mount Sophia, Singapore is now a chain of schools spread across 22 countries with campuses in Singapore, Malaysia, Japan, India, Thailand, UAE, and Vietnam. Today, GSF is recognized for its innovative, modern, and trendsetting educational practices that have transformed the lives of many students across the globe.
To honor the 20 glorious years of educational excellence, Global Indian International Schools (GIIS) across India have planned yearlong activities to celebrate the milestone across segments of each campus. GIIS Noida, to mark its happiness on the achievement, conducted a 'Launch Program' on the 18th September 2021 which was witnessed by students, parents, teachers, and our followers on social media channels.
All the teachers, staff, and students had put up an enthralling show which was inaugurated by the school principal – Mr. Ganesh Sharma followed by a Lamp Lighting ceremony and a welcome dance by the dance club students. The launch program celebrations began with Mr. Atul Termurnikar (Chairman & Co-Founder, GSF) and Mr. Rajeev Katyal (Deputy COO, GIIS) speeches addressing the audience on exciting facts about the campus that was started in the year 2012.
As the event progressed, Mr. Ganesh Sharma shared the school's journey and progress over the last nine years of its existence. He took this opportunity to share how the education system has drastically evolved and how the teachers and students of the campus have accepted every opportunity/challenge coming their way with open arms.
Flipbook – GIIS Noida's journey to success was also presented during the virtual celebrations, which took everyone back to the time when it all began. It was truly nostalgic to see how the campus has grown manifolds over the span of nine years with approx. 1400 students and 80 teachers today.
Parents of GIIS Noida have always been at the forefront of activities and played a vital role in helping us reach where we are now. We got an opportunity to share the thoughts and views of some of our parents who have been associated with the school for a long time. In addition to this, we even received a few pre-recorded messages from our Alumni students who shared their stories that how the school transformed their lives and helped them grow exponentially.
Energetic performances by music and dance club students and a poetic rendezvous of the literary club students left everyone spellbound and joyful. Lastly, the event concluded with updates on ongoing initiatives that make GIIS Noida truly global in all respects.
The first-ever event that is a precursor to the yearlong celebrations ahead, ended with a Vote of Thanks by Ms. Sunita Virmani acknowledging the teachers and staff for their continuous support and trust in the processes laid by the management.