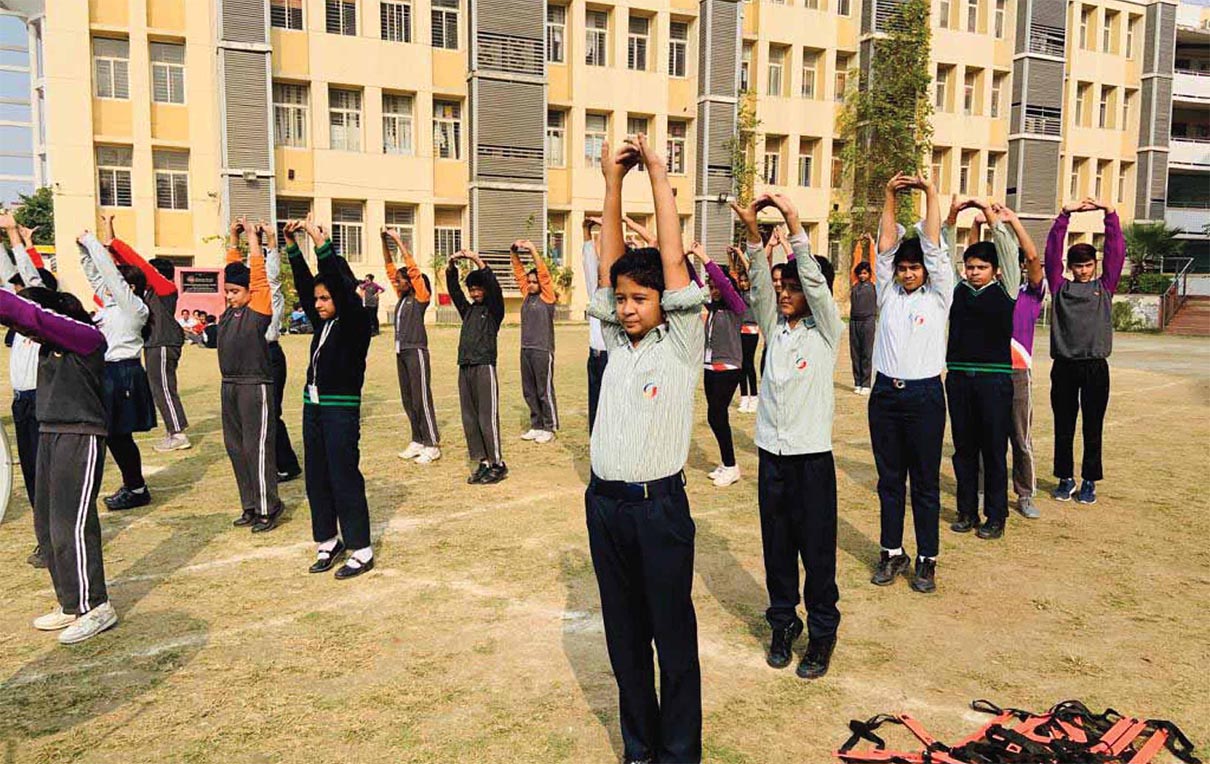 In an attempt to promote fitness among school children, the Central Board of Secondary Education has instructed all its schools to observe 'Fitness Week' in the month of November as part of 'Fit India Movement'. The prime objective of this initiative is to bring a behavioural change in school children by spending "Passive Screen Time" to "Active Field Time".
articipate in this commendable initiative taken by CBSE, Global Indian International School (GIIS), Noida observed Fitness Week from 25th November to 29th November wherein numerous activities related to fitness were organised for the students of grades 6th to 8th. The activities conducted were as follows:
Day 1: Group Discussion
As per guidelines given by Prime Minister Mr Narendra Modi, "Fit India should become a part of an individual's life naturally and comfortably. It should become a mass movement and efforts shall be taken to create mass awareness on the fitness issue." Keeping this in mind, a Group Discussion on the topic "Health and Nutrition" was conducted in the class wherein students expressed their views related to the topic wholeheartedly.
Day 2: Debate
The aim of this movement started by the Prime Minister is to address both the physical and mental fitness needs of the children which are the need of the hour. To enable the students to come up with their views regarding the same, a debate was conducted in the classes on the topics: "Physical Fitness is better than Mental Fitness" and "Outdoor Games vs. Indoor Games." Students seemed enthusiastic about expressing their views on these topics.
Day 3: Poster Making
To enable the children to express their feelings in the form of art and draw them on the canvass, Poster Making Activity was organised on the topic: "Fit Body- Fit Mind- Fit Environment". All the students participated with full zeal and enthusiasm and created beautiful art pieces on the theme shared.
Day 4: Essay and Poem writing
With great zeal students penned down their feelings in the form of essays and poems. They realised how important it is to stay healthy. They exchanged their views also after essay writing.
Day 5: Quiz
Students seemed excited when they were asked to participate in the quiz about the games played in India. They were eager to get their knowledge tested and also enhance it about their favourite games like Cricket, Football, Kho-Kho, basketball etc. They were thrilled to participate in the quiz conducted in their classroom.
This week proved to be very fruitful. Students got to learn many new things about how to keep themselves healthy and fit which will help them to become fit both mentally and physically.