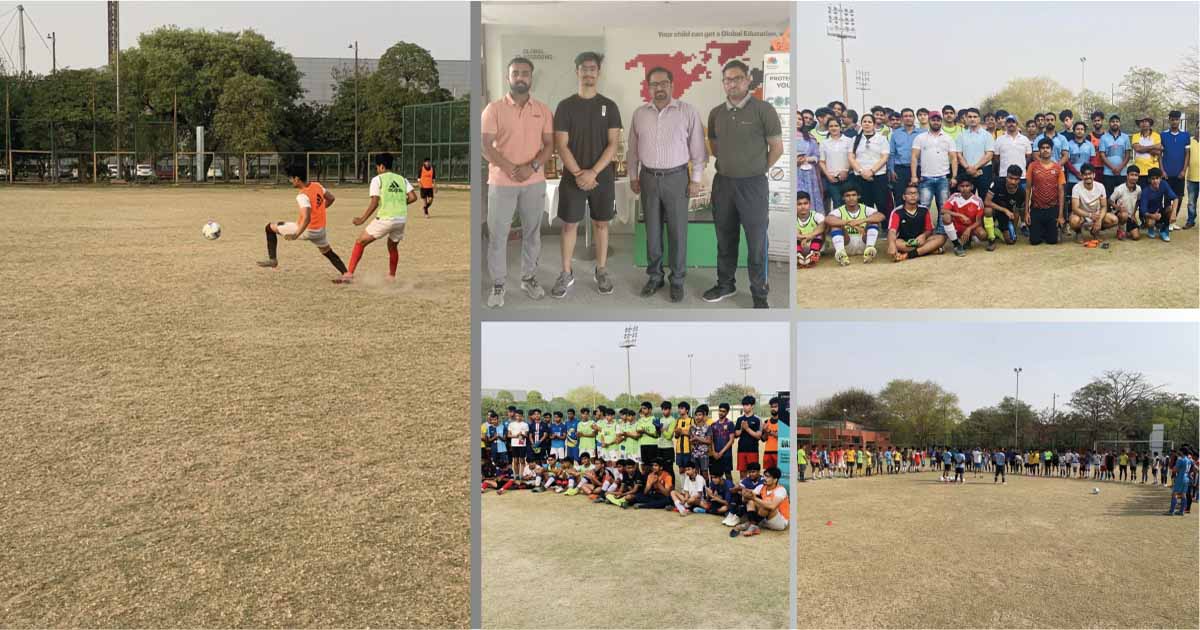 Success comes to those who work hard and smart for it. This holds true for GIIS, Noida's budding footballer Kunal Kedarnath Jha, who has recently been selected by the Physical Education Foundation of India (PEFI) to represent the Delhi State team at the first-ever PEFI National Football Championship, 2021 to be held in April 2021.
Kunal is a Science student of grade 12 and has been selected for the Under-17 boys' category. The PEFI championship is being organized by the National Sports Promotion Organization of the Ministry of Youth Affairs and Sports (Govt. of India) in collaboration with the Uttar Pradesh Olympic Association.
This success for Kunal hasn't come overnight. It is the result of eight years of hard work and sweat, and the sacrifices he has made all along. Years of training and practice has led him to this milestone. He has played Subroto Cup while studying at one of the Delhi Schools and got trained at FCBescola Delhi, BBFS Noida, Delhi Youth League (DYL), Dehradun Zonal Tournament. He has even played as the School Captain for GIIS Singapore (NPS Tournament) as well.
Sharing his happiness, Kunal said - " It was hard to accept that I have gone through the trials and will be playing the Nationals very soon. The whole experience was quite thrilling as numerous kids came in for the trials. With great humility, I must say that my joy has no bounds today. My parents have been my biggest support. They have been counselling me all along and made me have faith in myself. They have always taught me that when one is on their way to a big mission, then should live every moment of the journey, and not focus on the end result."
Further adding to his comments, he said - "I can't forget the pain my mom went through the years while I was training. There were times when she herself was sick but made it a point to take me to my practice sessions regularly. The Almighty blessed me and my dream by sending someone very special to me - Lakshya Sir! Without him, my football dream would have died by now. I have no words how to thank and show my gratitude to him. Lastly, I must thank all my teachers at GIIS Singapore and Noida, and all my school friends who call me NJr (Neymar Junior) who have always been motivating me to excel in the game."
This competition is a big platform for upcoming footballers as it will provide them with an opportunity to showcase their talent, skill, and love for the game at the national level. The aim of the championship is to promote the love for sports among the youth of the nation and give them a platform to witness a variety of talents across the country, interact, and learn from one another as they deliver sheer excellence.
Feeling ecstatic about Kunal's achievement, Mr. Ganesh Sharma - Principal, GIIS Noida said - "We are extremely proud of Kunal. He has set an example of hard work and dedication and proved that one can triumph with sincere efforts and clear focus. I wish Kunal all the best for the upcoming Nationals, and I am sure he is going to make it big for himself and make his parents and the school proud once again."
GIIS constantly encourages its students to pick up at least one sport/game of their choice and get professionally trained so that they can participate in competitions like these. Such competitions give students a boost to their physical, mental, and emotional development and make them ready for a future full of possibilities and success.