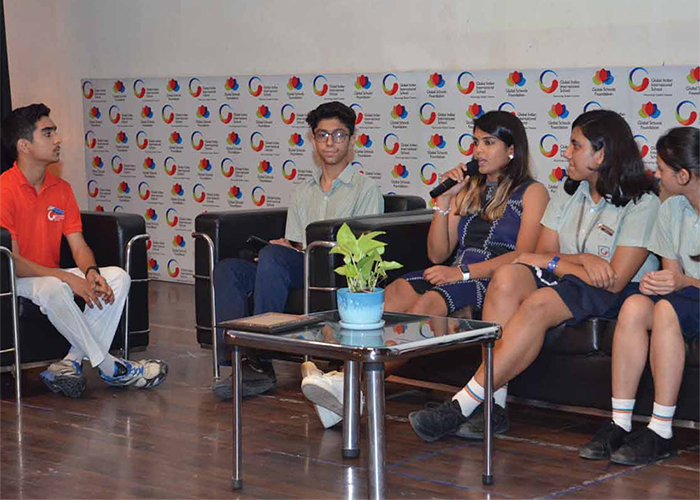 A day in September, 2017 saw applause, cheers and excitement roll over Global Indian International School (GIIS), Noida as Ms. Veda Krishnamurthy – Cricketer, Indian Women National Cricket Team visited the campus to be the guest of honour at the GIIS Leadership Lecture Series.
Ms. Veda Krishnamurthy is an all-rounder, right handed batswoman who played an instrumental role in paving Indian women cricket team's way to the ICC Women's World Cup finals held last month. She hails from a small town in Karnataka, and has a black belt to her credit. At the age of 12 years she completed her training in karate, and the next year she started preparing herself for her dream of playing for the country at an international level.
The lecture series began with a thunderous applause as Veda entered the jam packed Multipurpose Hall of the school. Head Boy- Ronit along with Literacy Captain – Jigyasa welcomed the guest of honour Ms. Veda Krishnamurthy along with Mr. Rajeev Katyal – Country Director, GIIS India & Japan, Ms. Sunita Jaisingh – National Academic Head, GIIS India, Mr. Anurag Sharama – GM, Mr. Naveen Pandey – Officer on Special Duty, and Mr. Mayur Rastogi – Head Marketing, GIIS India. After the lamp lighting ceremony and the customary handover of the Tulsi plant to the chief guest, the event began with the heartfelt Sarvadharma Prayer.
Ms. Vandana Midha – Principal, GIIS Noida took an opportunity to welcome the cricket star and all the dignitaries to event. While sharing her happiness on the occasion, she said- "It gives me immense pleasure to see Ms. Veda Krishnamurthy - a blazing figure in the field of Indian cricket scene doing such great deeds for the nation. She is not just an inspiration to each one of us present here today, but an answer to all those who dare question the power of womanly existence itself. On the background of recent achievement of Indian Women Cricketers making a mark in the sports fraternity, I strongly feel that a motivational Interactive session by a living legend Ms. Veda Krishnamurthy is going to leave deep long lasting imprints on the minds of our young brigades."
Moving further former Indian cricketer Mr. Chandu Borde, President, Global Schools Foundations, who has been associated with Global Indian International School as part of the 'Chandu Borde Global Cricket Academy' that hones budding talents in cricket, also shared his feelings on this occasion through a video message. He shared his happiness and gave his best wishes to the young lady who is making India's name globally.
As a part of the leadership lecture series, Ms. Veda also shared her journey from being 12 years old and how she finally pursued her passion of playing for the International Cricket Team. She shared some of the most important life lessons with the students and enlightened them with her knowledge and experiences. Students had an interactive Q&A session with the famous cricketer that inspired them to be better individuals. The leadership lecture concluded with a vote of thanks by Mr. Rajeev Katyal, Country Director, GIIS India & Japan to Ms. Veda Krishnamurthy and around 200 parents who were present to witness this inspiring leadership lecture.
While addressing the parents, Mr. Rajeev said- "Developing students' and making them ready for life is a partnership we share with the parents. As a part of our responsibility and to help children succeed, it is important for them to have role models. Ms. Veda Krishnamurthy represents the young generation and has connect with students. She represents qualities that are admirable and at the same time inspirational. Whether it is resilience and the fighting spirit that made her pursue her passion as her career or her determination, Veda has managed to be successful in the limited resources that she had. We would want our students to imbibe these qualities and become better individuals and be successful leaders in every aspect of their life"
Signing autographs, pictures, postcards, and bats for our students, Ms. Veda Krishnamurthy gave us and our students some really important points of parenting. She ended the event on note that goes as follows:
"Lucky are those whose parents support their dreams, like I was because we need our parents to understand our capabilities and push us to do our best in whatever passion we choose to make our career in."