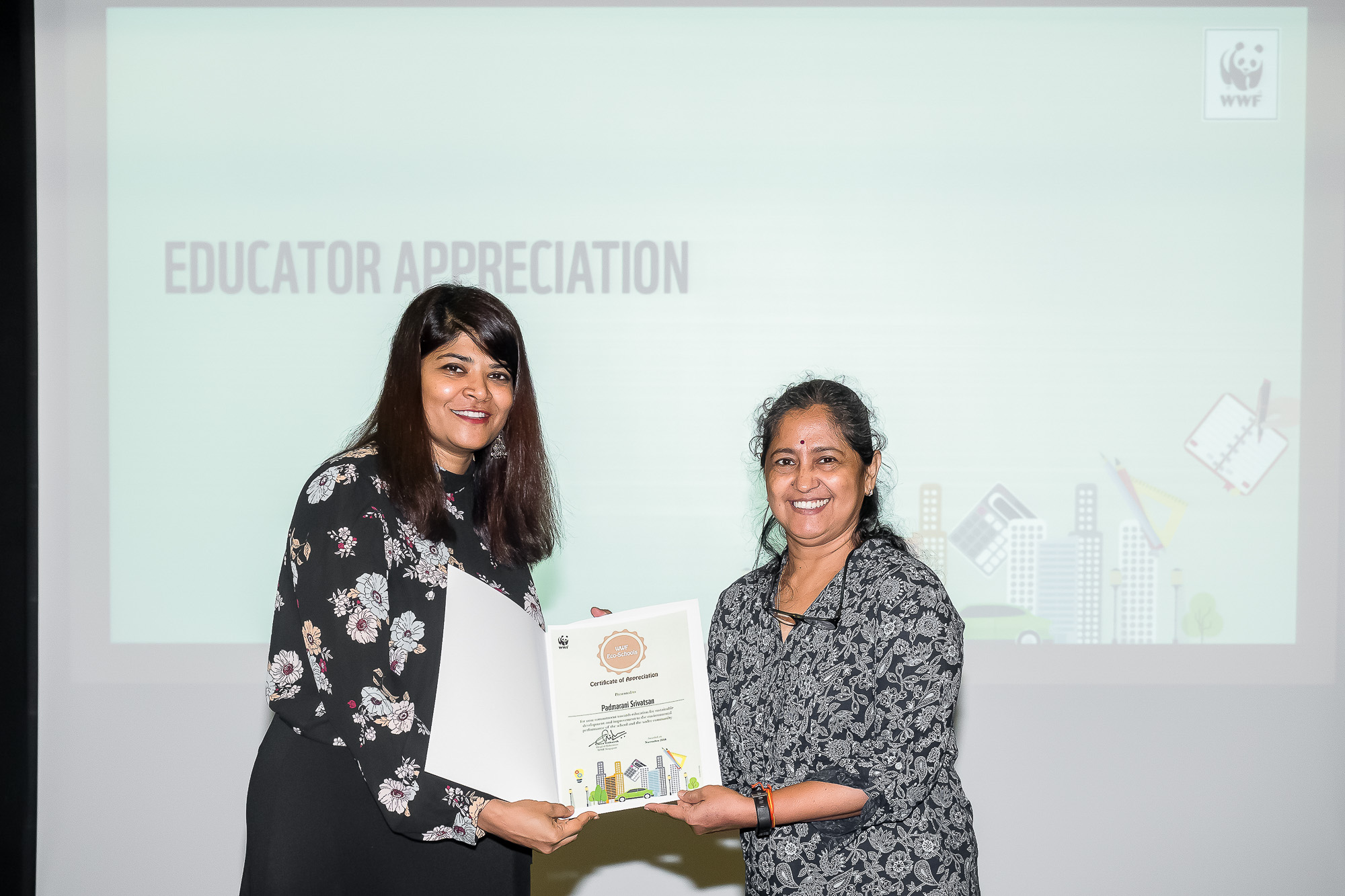 SINGAPORE, 4 DECEMBER, 2018: GIIS Mountbatten Kindergarten is known for its green initiatives and teaching the basics of environmental sustainability to students since a young age. One of such efforts was recently recognised when a teacher, Ms Padmarani Srivatsan was given a Certificate of Recognition by WWF Eco Schools for her commitment towards education for sustainable development and improvement to the environment. The award function was held at the Multipurpose Hall, Aliwal Arts Centre on Friday, 9th November 2018.
Apart from teaching the kindergarten students, Ms Padmarani also overlooks the Green Initiatives at the campus for both internal and outreach activities.
GIIS is part of Eco school programme that encourages young people to engage in environmental activities and provides them with the opportunity to actively protect nature. The initiative starts at the classroom level, expands to the school and home and eventually fosters change in the community at large.
Under the guidance of Ms Padmarani, the Mountbatten campus has introduced i-care initiatives that encourage students to take a number age-appropriate but impactful steps. Some of the initiatives are introducing Tetra Pack recycle where students recycle the Tetra Pack in special bins and are urged to bring empty Tetra Packs from home for recycling. The campus keeps the count of the number of Tetra Packs recycled every month.
Recent activities include:
Bring Your Own Bag (BYOB): Students visited NTUC at Jalan Tiga to encourage shoppers to bring their own bag for shopping and reduce the use of single-use plastic.
Aerobic-composting: Students composted raw fruit peels (banana, orange etc) and made compost for the school garden.
Students sold the compost and plants at Charity sale organised at the campus by Garden City Management Pte Ltd.
Beach clean-up with parents and students to create awareness.
Students brought E-waste from home and also reached out to offices near the school to contribute to the E-waste drive. The E-waste collected is sent for recycling.
For all the above environment activity the Mountbatten campus received the top award "Vanda Miss Joaquim" Award" from Singapore Environment Council".
GIIS Mountbatten is proud of Ms Padmarani for her achievement and constant efforts that have brought the campus a number of awards and environmental consciousness among young children.