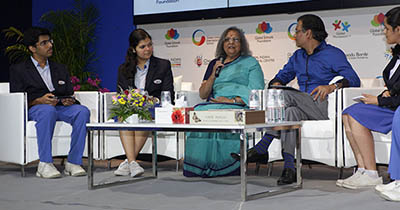 Ms Ela Gandhi (3rd from L) during her interaction session with GIIS students as Mr Rajiv Vasudeva (4th from L) looks on
As part of the GIIS Leadership Lecture Series, Global Indian International School (GIIS) hosted an educational talk by Ms Ela Gandhi on 28 August 2015 at GIIS Queenstown Campus. The granddaughter of Mahatma Gandhi, Ms Gandhi has followed in her late grandfather's footsteps - having played a leading role in aiding the struggle against apartheid alongside the late South African leader, Nelson Mandela.
Ms Ela Gandhi at GIIS Queenstown
Campus during the GIIS Leadership
Lecture Series
The inspirational event was simulcast live across 20 GIIS campuses in Singapore, Malaysia, Japan and India, giving thousands of students and parents the opportunity to view Ms Gandhi's speech via a live video link.
Ms Gandhi was welcomed by the warm applause of staff and students before engaging in a dialogue session chaired by Mr Rajiv Vasudeva, Country Director (Singapore), GIIS. From queries about Mahatma Gandhi's principles to her experience as an anti-apartheid activist, Ms Gandhi answered a broad range of question fielded by GIIS students across all four regions.
When asked about the role of compassion in an increasingly competitive world, Ms Gandhi expressed that competition is crucial to unlocking a person's fullest potential and that success should not come at the cost of others. "Try to achieve the best you can. Your ambition should not be to reach the top at the cost of putting other people down, but to try to achieve the best you can," she shared with the audience.
Ms Gandhi also addressed a student's question on being a "peace crusader" by saying that we can all play a part by working towards an ideal society without discrimination on race or religion - and that this can be achieved by spreading a message of tolerance, love and compassion, just as in Singapore.
During her visit at GIIS East Coast
Campus, students showcased MGCUV
Centre activities to Ms Gandhi
Ms Gandhi's trip to Singapore also brought her to the GIIS East Coast Campus. There, she had the opportunity to review the school's Early Childhood Programme, as well as activities conducted by the Mahatma Gandhi Centre for Universal Values (MGCUV) at GIIS.
"I must say I am very overwhelmed by the work going on in these institutions," she said, while making a point on the importance of cooperation in her quest to pursue non-violence, "The awards I have received are not for me personally; they belong to a whole lot of people who achieved a number of things."
Through the course of the talk, Ms Gandhi touched on her work during South Africa's struggle for freedom and fairness as well. She admitted being impressed by Mr Mandela's presence, "As a leader, he was awe-inspiring. He would ask everyone for their opinion. He would say that every view counts in making a collective decision. We should learn the value of everyone's voice from great men, like Mr Mandela."
Encouraging young students to follow the principles of her grandfather too, Ms Gandhi said, "When people put Gandhiji on a pedestal and think that we cannot do what he has achieved, then we have lost the battle. Gandhiji wasn't born with those ideas. His experiences changed his thinking. We can put his teachings into action in our own lives, not by looking at them in absolute terms, but as our own contribution."
At GIIS Queenstown Campus, Ms Ela
Gandhi spoke to students about [email protected]@s
values and its importance in present time

Students interacted with Ms Ela Gandhi
during her visit at GIIS East Coast Campus