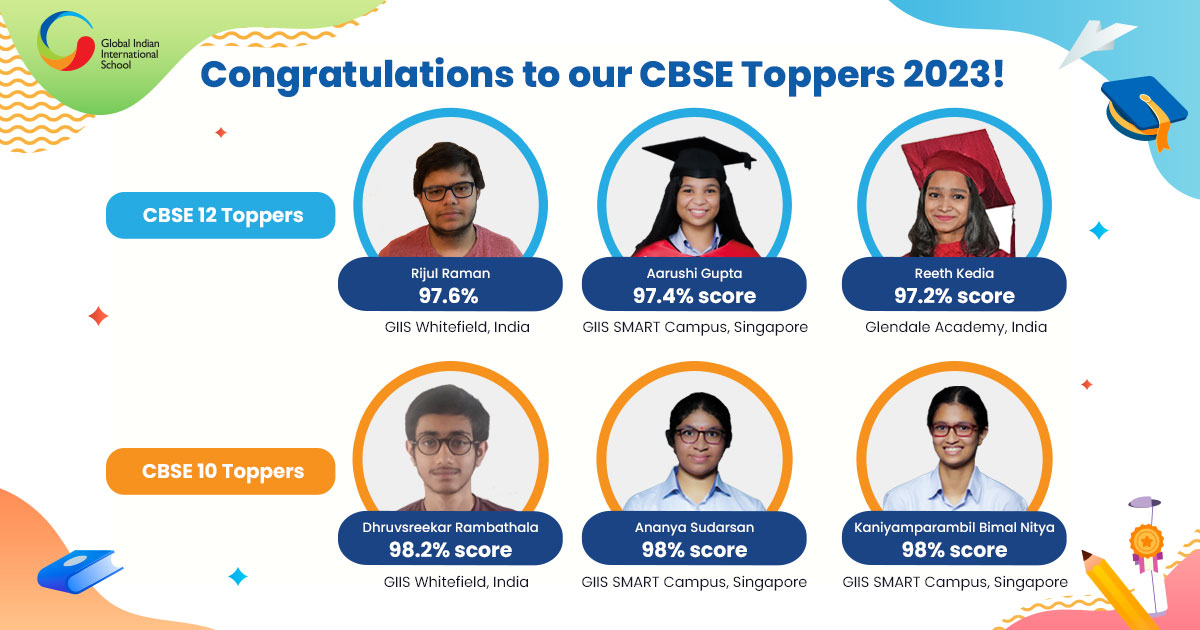 International Schools under Global Schools Foundation (GSF) recorded fantastic results in the CBSE 12 and CBSE 10 boards, results for which were declared last week. The 2022-23 batch is the first one to have their exams in the post-Covid period, which makes the results a commendable achievement for students.
For CBSE 12, GSF's Global Indian International School - Whitefield topped the list of achievements riding on the marks of its science student Ms Rijul Raman who scored 97.6%. A close second was Commerce student Ms Aarushi Gupta of GIIS SMART Campus-Singapore who scored 97.4%. Glendale Academy student Reeth Kedia rounded off the top 3 spots with 97.2% marks in the Humanities stream.
In CBSE 10 board results, the highest percentage also came for GIIS Whitefield with 98.2% marks by Dhruvsreekar Rambathala, closely followed by GIIS SMART Campus students Ananya Sudarsan and Kaniyamparambil Bimal Nitya taking the podium with 98% each.
Expressing happiness over the results Sr. Deputy COO, GSF Mr Rajeev Katyal congratulated the schools and students for the exceptional accomplishment in the 2023 exams.
"Their remarkable performance not only reflects their personal dedication, but also exemplifies the unwavering commitment of our school to provide an environment that fosters academic excellence and holistic growth," he observed. "These achievements are a reflection of our school's commitment to excellence. We are confident that with the solid foundation they have received, they will continue to flourish and make us all proud in their future endeavours," Mr Katyal said.
Students of 11 schools under GSF appeared for the CBSE 12 and 10 board exams held earlier this year. These schools, equipped with state-of-the-art facilities and implementing innovative learning methodologies, are dedicated to nurturing and empowering students, enabling them to soar to greater heights and showcase their full potential.