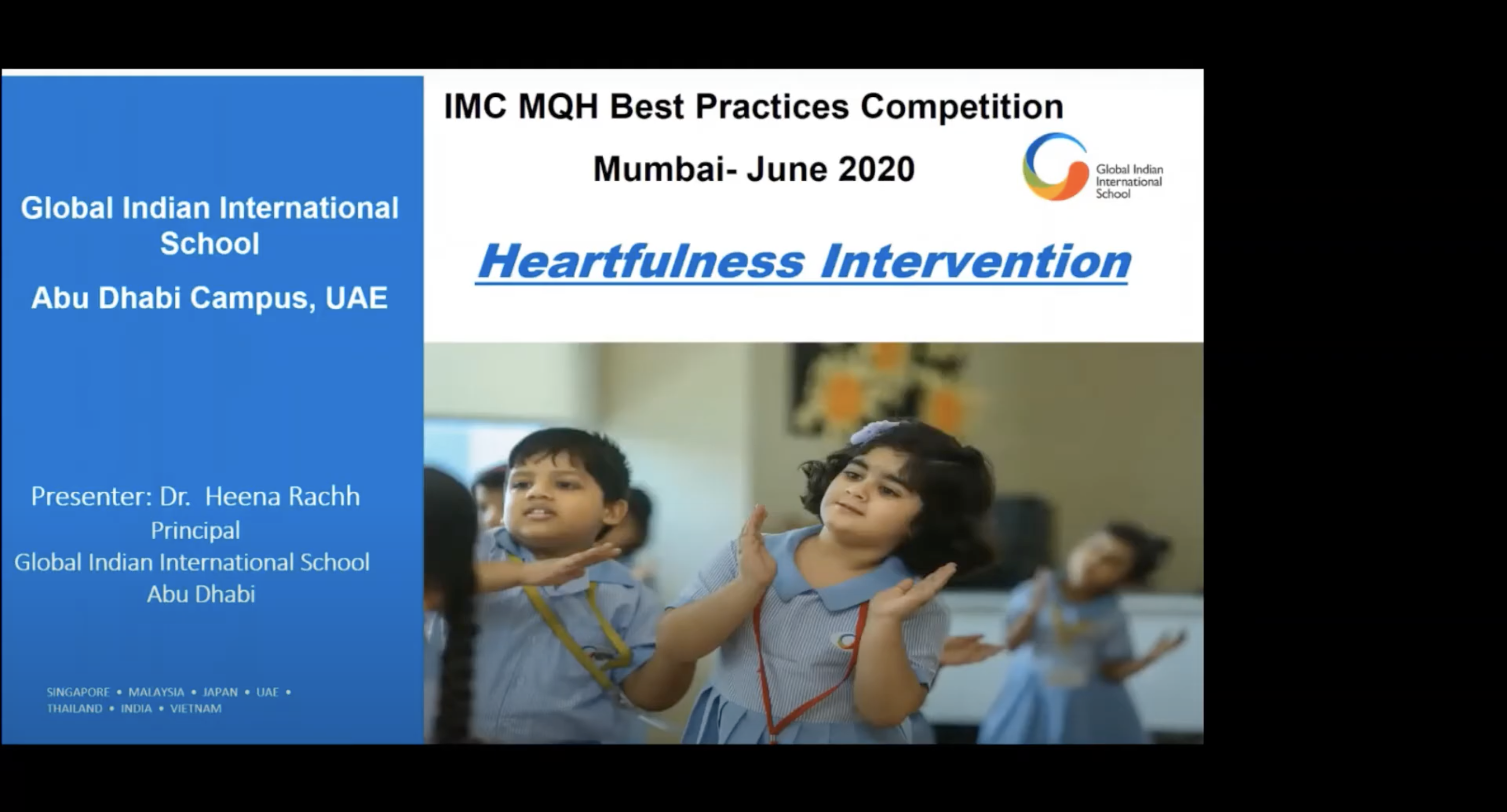 Eight GIIS campuses won awards in the MQH Best Practices Competition organised by IMC Ramkrishna Bajaj National Quality Award (RBNQA) Trust. The competition was held virtually from 23rd to 26th June during which students and faculty from various campuses presented on different topics and won accolades for their ideas and presentation skills.
The participating GIIS teams were from - Kuala Lumpur, Bangalore (Whitefield), Abu Dhabi, Singapore (Punggol SMART Campus), Singapore (East Coast), Ahmedabad, Tokyo, Pune (Balewadi).
GIIS Abu Dhabi swept the Winner Trophy for their presentation on Heartfulness Intervention. GIIS SMART Campus was the First Runner Up for presenting on #SMART-TECH-ULARS, followed by GIIS Tokyo and GIIS Ahmedabad as the Second Runner-up. GIIS Ahmedabad's topic was Building Responsible Green Citizens while GIIS Tokyo on The Unival Tree.
Students spoke confidently on their topics and presented information with the help of statistics and data to explain their point of view. Post every presentation, the panel of judges, comprising eminent personalities from various fields, asked questions from the students and the rating was done on were shared during the sessions and along with that are of relevance in today's times and also of possible solutions to control the situation
The competition was participated by over 40 organisations from various categories like Service, Health, Education and Manufacturing participated.
Apart from the above-mentioned eight GIIS campuses, Mahatma Gandhi Global Indian Eklavya School (MGGIES) Tilakwada which is run by GSF participated in NGO category also participated in the competition and won first runner-up for their presentation on Amrut Sandesh.
Below are the details of participants, presentations and awards won:
Name of the Presenter for Q&A

Campus

Project

Designation

Result

Kanak Arjunwadhkar

GIIS Tokyo

Unival

Student

Second Runners up

Neena Sakthikumar

Manager- GCEE

Shriyans Maddikunta

GIIS East Coast Singapore

Plastic surgeons

Student

Padmarani Srivatsan

Teacher

Niyati Manish Anam

GIIS Kula Lumpur

TRANSFORMERS – Be the Change

Student

Varniashree Vignesvaran

Student

Aashi Aggarwal

GIIS Whitefield Bangalore

Implementation of Blended Learning as a Modern Learning Tool in Education

Student

Niyathi Ijjapureddy

Student

Dhyey Buch

GIIS Ahmedabad

Building Responsible Green Citizens

Student

Second Runner up

Caesar D. Silva

Principal- GIIS Ahmedabad

Vasava Nikitaben Gulabsingbhai

MGGIES- Tilakwada

Amrut Sandesh

Student

First Runners up

Ranveer Gohil

Teacher- MGGIES Tilakwada

Melissa Maria

GIIS Punggol

#SMART-TECH-ULARS

Principal- GIIS Punggol

First Runners up

Radha Ganesh

Coordinator- GIIS Punggol

Vaishali Borde

GIIS Balewadi

Shaping Global Citizens with iCare

Head-GMP and Co-Scholastics- GIIS

Heena Rach

GIIS Abu Dhabi

Heartfulness Intervention

Principal- GIIS Abu Dhabi

Winner- Trophy

Merlin Maria

Coordinator - GIIS Abu Dhabi
It was a great learning experience for GIIS students as they participated shoulder to shoulder along with veterans belonging to various industries. They also came across various perspectives as they listened to other speakers sharing their point of view.