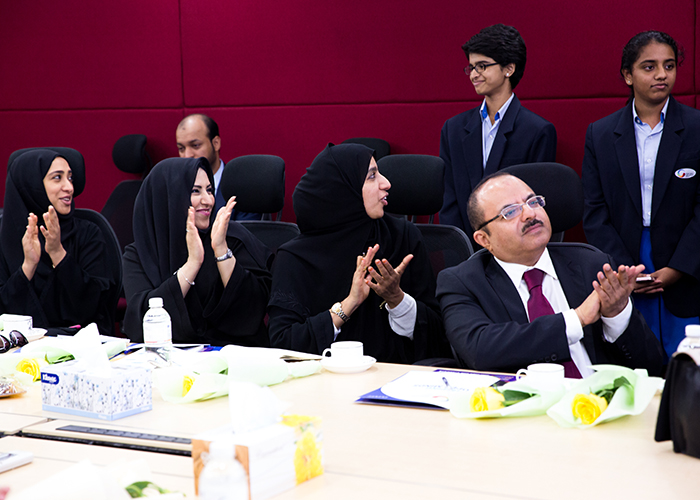 ADEC delegates were impressed by the presentation given by students on prevention of Styrofoam usage
Leading dignitaries from Abu Dhabi Education Council (ADEC) visited GIIS Queenstown Campus in Singapore on Wednesday, 16 November 2016. As a part of a 5-day official exploration visit to Singapore, His Excellency Dr Ali Al Nuaimi, Director General – ADEC and His Excellency Eng Hamad Ali Al Dhaheri, Executive Director, Private Schools & Quality Assurance Sector along with other delegates visited Global Indian International School (GIIS) campus.
After being welcomed by Mr Atul Temurnikar, Chairman and Co-Founder of Global Schools Foundation, Mr Rohit Ambekar, Director Business and Strategy gave an overview of the Foundation. Elaborating about the accolades and awards Mr BG Shenoy, Director Global Centre of Education Excellence, briefed the delegates regarding the innovation in education. These awards were given to the Foundation for excellence in education by various independent international awarding bodies.
A team of five students, Aishwarya Singh, Ana Cerise, Deethya Ganesh, Pranati Rajagopal and Sahana Mahesh, who are also part of Quality Circle (QC), impressed the delegates with the presentation with their project "Prevention of Styrofoam Usage". These students from GIIS Queenstown Campus took up the challenging task of creating awareness about the devastating effects of Styrofoam usage based on their extensive research findings.
This project was also selected to represent Singapore at Monterrey in Mexico for the Design for Change (DFC) conference from 25 to 26 September 2015. Even at 'Be The Change Exposition 2015' held at Singapore, GIIS students presented and received positive feedback, with teachers and SoCH (Social Change) staff on how students addressed the Styrofoam problem and came up with a simple yet feasible solution of 'Bring Your Own Box'.
Concluding the interaction with ADEC, Mr Ms Melissa Maria, Principal at GIIS East Coast Campus, highlighted about the Happiness Index and related initiatives. She explained to ensure optimal happiness at GIIS, the school measure it according to the factors like, feedback, testimonials, attendance, academic performance, level of participation in school activities, among other factors.